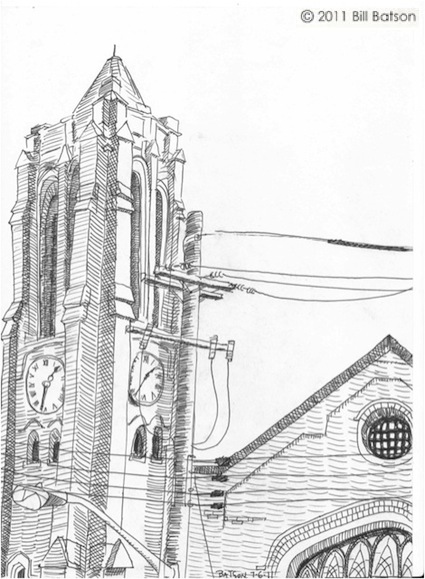 by Bill Batson
The design of a building announces its function. Take the towering clock and fortress architecture of the First Reformed Church of Nyack. The purpose could be deduced as public, by providing the village the service of knowing the time, and the inhabitants are promised safety inside by its imposing walls. These features are powerful symbols as well. The clock could be the measurement of the time between the departure and return of the Christian messiah and the battlements, a declaration of spiritual warfare. But for the hungry, the tower is a beacon of hope. Inside the building an organization called the Soup Angels delivers food and comfort to the needy. I am probably so drawn to the tower, not only because it is an impressive object to sketch,  but because I was once homeless.
In 1983, I found myself in Los Angeles without money or a place to live. I traveled across country on a whim. My father was disapproving, telling me that I was certain to find myself in a jam, but that I was not to worry because there was always Western Union. As he predicted, after a week I contacted him and went to a Western Union office to receive his assistance in the form of a wire transfer of cash. He sent me ten bucks. It must have cost him ten dollars to send the ten dollars. I got the message. I was on my own.
There is a circuit of public and private agencies that a person without means must run in order to cobble together enough food to survive and a safe place to rest. Being a stranger to the landscape and customs of the mean streets of LA, the missteps and mistakes of my first week were near fatal. Without a door that locks behind you, a bathroom and a kitchen, each daily detail that we take for granted requires Herculean effort, guile and the kindness of strangers to accomplish. After a week, the supply of these three elements is exhausted.
With the 1984 Summer Olympics around the corner, real estate speculators in Los Angeles had taken every available rental apartment off the market, saving the units for world travelers with deep pockets who would be attending the global sports spectacular. Even though I found a decent job right away, I could not afford the astronomical first and last month rent and the security deposit realtors required. I could afford a 1965 Buick Special. The bohemian glamour of living in a station wagon on Venice Beach wore off quickly, but that didn't mean that I wasn't one of the lucky ones.
At the bottom of the social ladder, what exists beyond that final rung is the point of no return. In the short course of time that I lived like a vagabond, I would meet people one day that would not survive to the next. I felt the scorn of the working and affluent classes as they passed my four wheel shanty. More menacing was the constant harassment of a pre-Rodney King era LAPD enforcing quality of life criminal codes. Being poor felt like a crime in and of itself.
After he thought I had learned my lesson, my father changed his tune and urged me to come home. He met me at JFK on my return and did not have a single scolding or sarcastic remark to greet me. He had made his point. He got me a job at a factory in West Nyack that summer. I soon put this fiasco behind me, but would never look at a homeless person the same way again. There, but for the grace of god, went I.
When I was living in my station wagon in L.A., I sought out programs like the one that operates on Wednesday nights at the First Reformed Church. Organized by the aptly named Soup Angels, the program offers homemade meals served by volunteers. Their guests are described on their Web site as elderly seeking companionship, the working poor and their families and those that are homeless.
Living up to their title, their Website is not just for self-promotion and directs those in search of sustenance to other local churches and social service programs that provide free meals. If you are feeling angelic yourself, you can go to their SoupAngels.com and click on Support Us to make a contribution.
The doors of this food program opened in the fall of 2005 when another local program closed theirs. Since 2005, national and regional economic decline has driven a greater need for food programs like Soup Angels. According to the United States Department of Census, more than 1 in 10 Rockland County residents — 33,000 of our neighbors — live at or below the poverty line. In recognition of the growing number of people who are experiencing food insecurity, the region's food pantries recently held a hunger summit at Rockland Community College.
Images of the hungry forming lines four across and thousands long are still relegated to the depression era. Today, if you see a mob that wide and deep, they are most likely lining up on Black Friday to shop at a mall, not on Thanksgiving looking for succor. The continued frailty of our economy and the continued materialism and gluttony of our culture however, is a recipe for longer, not shorter soup lines.
For the people of Nyack, those who are secure in the prospect of their next meal and those who are not so fortunate, the Soup Angels provide an opportunity. Some arrive to feed their bodies and others to nourish their souls. As a village we are a better place by virtue of having a venue where both of these most fundamental of human needs can be met.
Soup Angels serves dinner every Wednesday from 5:30p until 6:30p.  Everyone is welcome, no questions asked.  The entrance is on Burd St. between Cedar and South Broadway and is accessible to the disabled.  To donate or volunteer visit SoupAngels.com.
Artist Bill Batson, an activist and former NYC resident, draws sketches and writes essays curbside in Nyack, NY.

"Nyack Sketch Log: From Soup Lines to Soup Angels" Copyright 2011, Bill Batson.
The Nyack Sketch Log is sponsored by The Corner Frame Shop at 40 South Franklin Street in Nyack, NY.