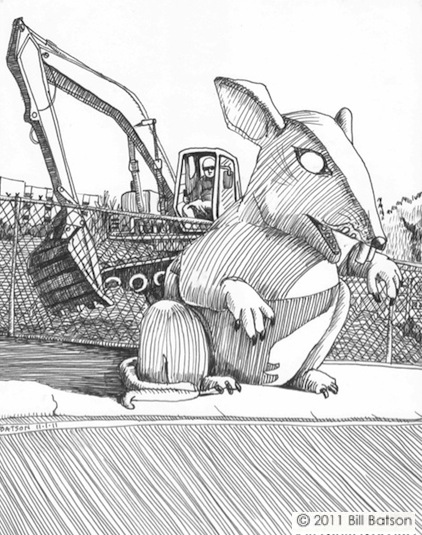 by Bill Batson
Earlier this month, a super-sized rat was seen near the corner of Main Street and Midland Avenue in Nyack, NY. No doubt, some motorists were startled. And others maybe mystified or just amused. Some even honked their horns at the sight of a 12 ft. tall inflatable rat keeping an eerie vigil at the gate of the construction site of a new Walgreens.
When I saw the rotund rodent, I knew that the union was in town. The rat has become part mascot, part publicity stunt for a construction workers union for over a decade. The International Laborers Union, Local 754 brought the rat to Nyack to protest the absence of unionized and local workers on the construction site operated by the Bannett Group and their client, the Walgreens Corporation.
Movie fans and older Americans may hear the words "you dirty rat" in a James Cagney snarl when they first see the giant gray louse. And a younger generation might wonder how a rogue Macy's float found its way North 20 miles up the Hudson and two weeks early for the Thanksgiving Day parade. The portly picket line prop has deep meaning for me because my father, a proud union man, introduced me to the benefits of union membership at a young age.
For the uninitiated, a picket line is a political border made of human bodies. The workers that form a picket line are asking other workers, consumers and ancillary service providers to quarantine an entity until a labor dispute is resolved. In the tradition of Rev. Dr. Martin Luther King Jr. and Mahatma Gandhi, the modern picket is a direct action tactic designed to draw attention to the union cause and invite the public and other union members to join in the action by refusing to cross the line and do business on the other side.
In the old days, a picket was the front line of a land war where blood was spilled by both sides. Today, the picket line is almost quaint. One out of every dozen cars passing the Local 754 picket beeps their horn in solidarity, but non-union workers and deliveries pour through gaping holes in the human fence.
The term picket actually comes from the fence posts that workers would use to hold up placards articulating their demand while marching in protest. In the not so distant past, the trade union was as much a part of Americana as the white picket fence.
Forty years ago, my father was a member of the United Automobile Workers. He was a quality control engineer at Curtis Wright in Lodi New Jersey. The engines that flew off an assembly line powered cars and nuclear submarines. My dad was such a loyal employee that when he was laid off as the factory closed in the 70's, he had accrued two years in unused sick and vacation time during his 32 years of employment.
I imagine management was shocked to see how quickly he fell into line when the union called a walkout. But for my dad however, the words "solidarity forever" were gospel. My father would arrive for his picket line duty with a dozen bags of groceries to distribute to his co-workers who were struggling through the deprivation of the work stoppage. A strike cuts off profits for the company and paychecks for the workers. He made these donations of food at a time when his own family was suffering the loss of his wages.
My father's example made a big impression on me. I once refused to enter the National Civil Rights Museum at the Lorraine Motel in Memphis Tennessee, because I wouldn't cross a one-woman picket line. Her grievance was a mandatory $5 entry fee for a museum dedicated to the memory of the father of the Poor People's Campaign. I think that Dr. King, who was in Memphis at the time of his assassination to walk the picket with sanitation workers, would have approved of my gesture.
I have always been shocked by the skepticism my generation has towards labor. Whether it's the Hollywood stereotype of the mobbed up union leader or the relentless corporate funded conservative assault on organized labor, the anti-union message seems to be working. Union membership continues to decline. The word boss is not a pejorative unless you put the word union in front of it.
You can't have a strong America without both healthy workers and healthy companies. When labor and management have had a symbiotic and synchronized relationship, we have won world wars; built cities connected by modern highways and in so doing, produced the largest middle class nation the world had ever seen. But when the labor movement and corporate America are at odds, the fortunes of the nation tilt downward. If workers thrive and companies fail, we won't prosper globally. But now, in a time when companies are experiencing record profits, mostly from overseas, and American workers are idle: the nation is in decline.
The structural symmetry of organized labor bargaining with organized capital would seem to be a system of unassailable logic. Yet many seem to aggrandize the formation of individuals into corporations and simultaneously deprecate organizing workers. Republican presidential candidate Mitt Romney was recently recorded saying that he believes that corporations are people. Would Romney extend that logic and say that unions are people too? Apparently not. Romney supports Governor Kasich's effort in Ohio to deprive public employees of their collective bargaining rights, an initiative that is on the ballot in today's elections in that state.
In my drawing, The Rat seems to be protecting us from the Caterpillar backhoe. The drawing is up for interpretation; but the point of view of this essay is unequivocally pro-labor. So my conclusions about the issues in dispute at the future home of this Walgreens are admittedly biased. Considering that this battle on Route 59 and 9W is in the heart of our community where two beloved institutions, Hilltop Restaurant and Moger's Auto Body Works once stood, you should form your own opinion. Please allow me to help.
Visit the web sites of the protagonist to this very public battle royale: Laborers Local 754 of Chestnut Ridge, New York, the contractor, the Bannett Group of Cherry Hill New Jersey and the corporation Walgreens, of Deerfield, Illinois. Contact these organizations and simply say '€œI live in Nyack, what's up with the rat?'€ See what they say. These links (Walgreens, The Bannett Group, Local 754) will allow you to easily send an email. Any organization that operates in our community should be available to talk with a concerned neighbor.
To quote a sign seen at the Occupy Wall Street encampment in Zuccotti Park, "we are a society, not an economy." In decent society neighbors communicate. The organization that is most responsive and reasonable will be the side that you should want to prevail in this dispute. I am going to place my bet on and my faith in the side of organized labor.
Artist Bill Batson, an activist and former NYC resident, draws sketches and writes essays curbside in Nyack, NY.

"Nyack Sketch Log: A 'Dirty Rat' on Route 59″ Copyright 2011, Bill Batson.
The Nyack Sketch Log is sponsored by The Corner Frame Shop at 40 South Franklin Street in Nyack, NY.