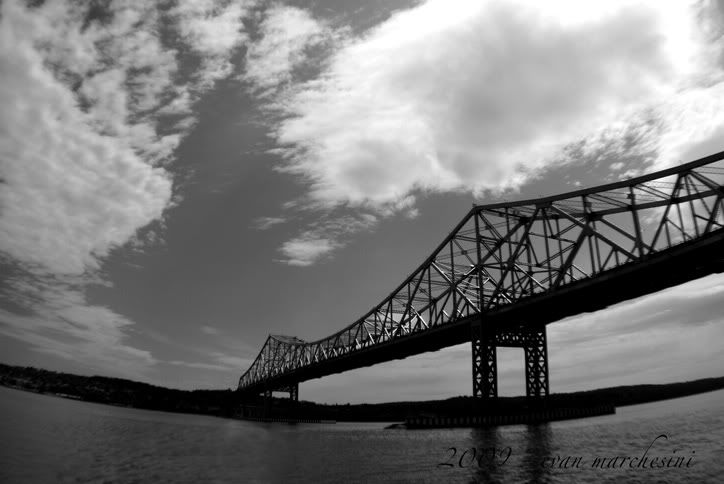 by Dave Zornow
Nyack, Nov 29 — The polarizing national health care debate would seem to have little to do with the regional discussion about a future Tappan Zee Bridge replacement. But there are two similarities: both initiatives are being justified by their long term cost savings and most reasonable people agree that what we have now doesn't work very well.
Over the past month, transportation officials have been meeting with local leaders and the public to present plans for a $16 billion Tappan Zee Bridge replacement just to the north of the current TZB. If funds can be found, construction of the five year project will start in 2013.
For planners, there are alot of choices still to be made. Project managers have their work cut out trying to find the funds to finance this new project. And commuters have a new vocabulary to learn.
The proposed BRT (Bus Rapid Transit) is a dedicated "busway" lane in the I-287 corridor letting buses behave like above ground subways. BRT buses could also share HOV/HOT lanes with High Occupancy Vehicles and High Occupancy Toll drivers that pay extra for the privilege of life in a fast lane. If BRT is approved, the Nyack bus stop will be located on Rt 59 between the Old World Market and the dormant Nyack Burger Hop.
Rockland will get a new CRT (Commuter Rail Transit) train running along the Thruway offering a "one seat ride" from Suffern to Grand Central. When the CRT reaches Tarrytown trains will go underground in a big turn merging into the Hudson River line to Manhattan. The nearest-to-Nyack CRT station will be adjacent to the Palisades Center.
Five options which add new car, bus and rail capacity are under consideration. Transportation planners have asked the public and local officials for input regarding
Where the commuter rail should be placed (in the center of the Thruway or to the south of the highway)
Location of the bus rapid transit lane (to the north or the south of the Thruway)
Busway vs HOV/HOT lanes
Current plans include a new pedestrian/bike path to run along the new Tappan Zee Bridge, a small feature in the big picture which could make Tarrytown and Nyack a major recreational destination in the tri-state area benefiting downtown merchants and the arts communities on both sides of the river.
Two more community meetings are scheduled for December in Westchester on Tues 12/1 (in Elmsford) and Wed 12/9 (in Port Chester). All sessions run from 6p-8:30p and are open to the public.
Sources:
See also: Journal News, 11/24/2009
Photo Credit: Evan Marchesini