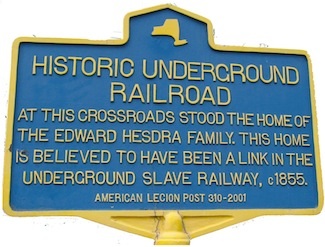 It's the middle of the 19th century and a lone fugitive slave has missed his "safe house" while traveling through Nyack on his way north. He's tired. And he's frightened, and for good reason: most of Nyack supports the Fugitive Slave Act. If captured, he will be returned to enslavement again in the South. Fortunately, the runaway has stumbled across the Upper Nyack farm of abolitionist George Green, who guides this fugitive to a nearby place of safety.
The details of how the Underground Railroad worked in Nyack — or whether it existed at all — are a matter of debate. Even the name, the "Underground Railroad," suggests a more organized system than probably existed. However, there is often truth in rumors, and it's widely believed that Nyack was a "station," a free black local businesswoman named Cynthia Hesdra was a "conductor," and that Nyack Brook was an important landmark on the Underground Railroad.
Nyack People & Places, a weekly series that features photos and profiles of citizens and scenes near Nyack, NY, is brought to you by
HRHCare
and
Weld Realty
.