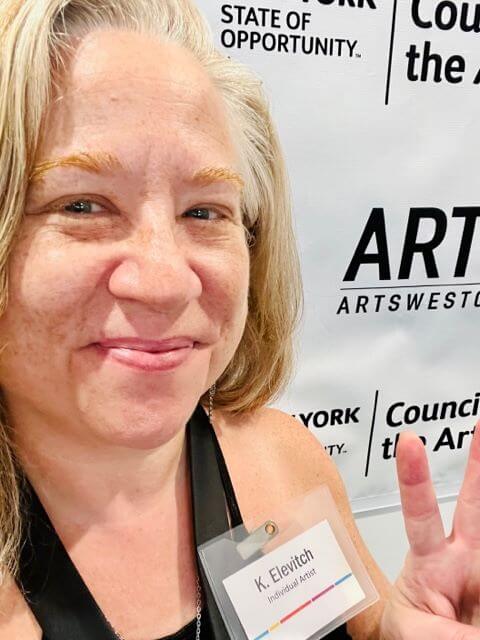 Nyack is home to a myriad of talented folks, such as musicians, writers, dancers and other creative individuals. One of them, Katie Elevitch (she/they), is someone who has bolstered and nourished other artists along the way. Most recently, she has focused on people in the LGBTQ community, continuing a career-long passion for amplifying the voices of others.
This year, Elevitch received an Individual Artist grant from ArtsWestchester/N.Y. State Council of The Arts (NYSCA) in support of her multi-arts installation, "Abandoned Places: Sight, Stories, Sound," which was on display at Rockland Center for the Arts in West Nyack (along with other artists on display) through September.
… Sitting By The River shines a spotlight on locals in Nyack and Rockland County who make a difference. Listen to the full interview with Katie Elevitch by scrolling to the bottom of this article.
The project utilized songwriting, photography and video. To complete it, Elevitch collaborated with Nyack-based musicians Joel and Maks Newton, New Media Artists Melissa Welland, and Erin Cardullo of the Nerdy Duo, and mixed media artist Lou S. Through this installation, Elevitch explored her own gender identity, mental illness struggles, and thoughts about what belonging means to her. Elevitch is an artist seeking to satisfy her creative callings, while also finding ways for other artists to shine.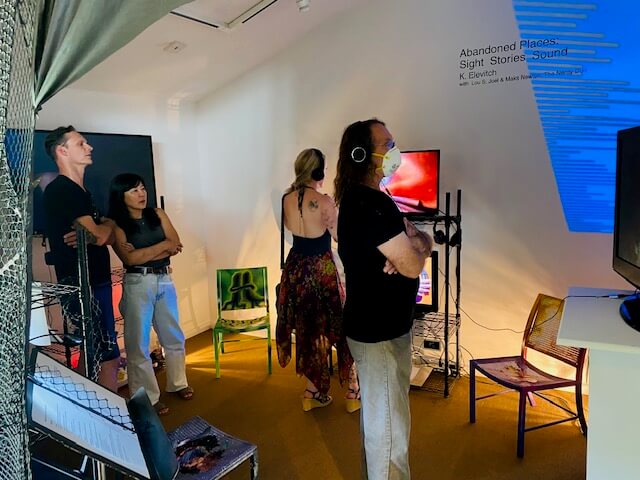 Elevitch grew up in Palisades, NY, where music and theater were her first passions. From a young age, her dream was to sing and perform with a band. She taught herself how to play the piano and, at 15, was recording her own songs and playing guitar. Soon after, she learned the electric bass guitar and in her early 20s, eventually took up drumming.
Coming from an artistic and supportive family, this foundation paved the way for her to explore her options and apply her creative passions. After attending Barnard College, where she earned a degree in Women's Studies, she immersed herself in a mentorship, musical showcases, and was eventually producing musical performances as well as touring in Europe.
In 2017, Elevitch opened 95 ½ Main on Main Street in Nyack. Although she was the proprietor, she lovingly referred to it as a community-run arts space. She says much of the impetus for this effort came in response to the national political leadership at that time, and its detrimental effect on women, people of color and the LGBTQ+ community.
She set out to create an atmosphere of empathy and nurturing. Almost like an experiment, Elevitch developed programs she hoped would help artists and creatives feel safe and give them new outlets for expression and community building. This included poetry readings, open mic sessions, solo exhibitions, short films and live music.
"The idea was that everyone has a story, and every story matters," Elevitch explains.
She learned a great deal from this experience and, in 2018, received a Community Arts grant for Oral Storytelling from the NY State Council on The Arts. This led to a project at The Garner Arts Center and at 95 ½ Main called "Women's Storytelling Project ".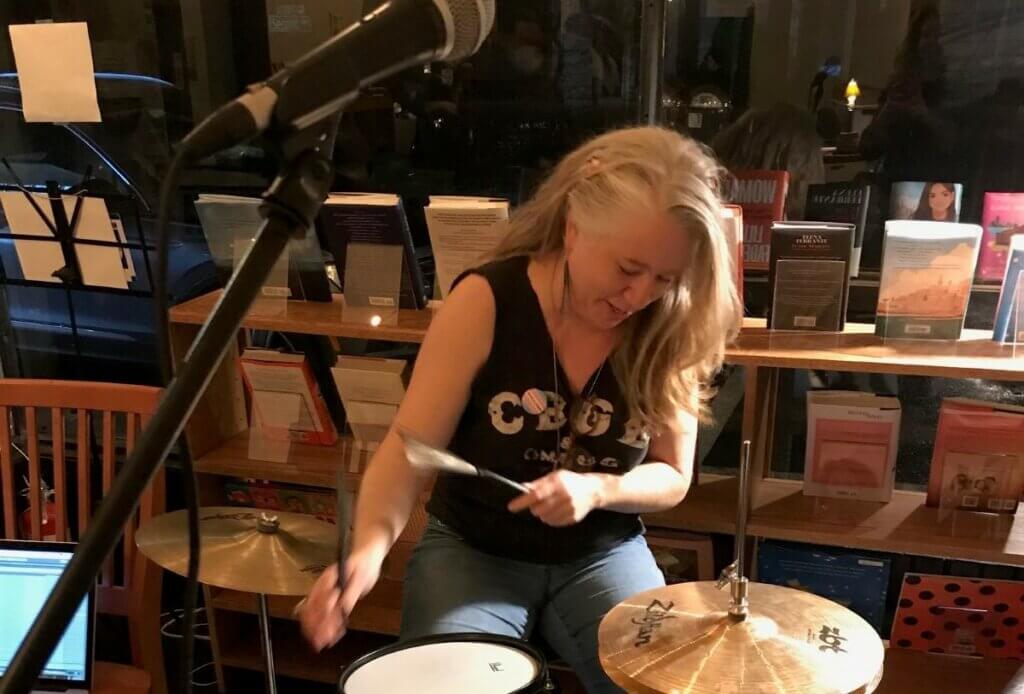 However, in 2019 Katie closed 95 ½ Main as she grieved the passing of her mother and quietly chose to go inward and focus more on raising her daughter.
It was during this time that she began to connect more fully to herself in terms of her own gender fluidity. But instead of "coming out", she says her process has been more of a "coming into."
She gradually re-started her open mic program at the (now closed) bookstore Ketonet Passim on Broadway in Nyack. Abbie Cohen, the bookstore's owner, a self-proclaimed "trans elder," has helped many in our community who, once again, needed a place to share and have a voice. As a result, many young people came to express themselves in this open environment, which was very much needed, especially during Covid and mask wearing.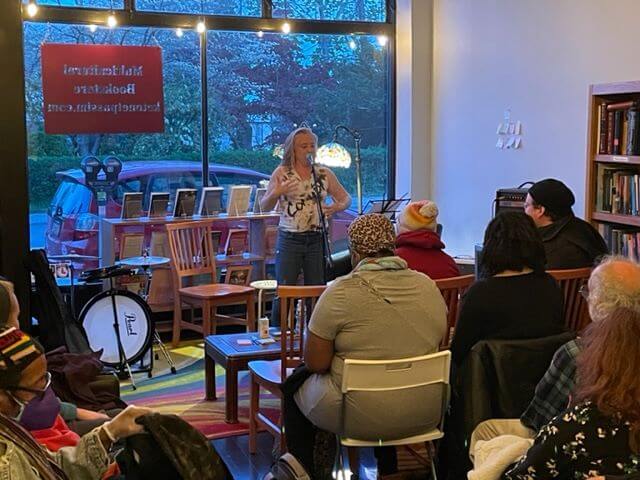 As the world began to open up after the pandemic, Elevitch slowly began to create again, collaborating and befriending younger innovators who also happened to identify as non-binary. Her connection with Gen Z artists was illuminating and energizing for her.
"There are a lot of young people out there doing amazing things in their community and in the arts," Elevitch says, "and I really want to support them."
Consequently, Elevitch began to mentor young with a focus on helping trans and non-binary people learn to develop tools for self-expression and self-love through writing, meditation and music.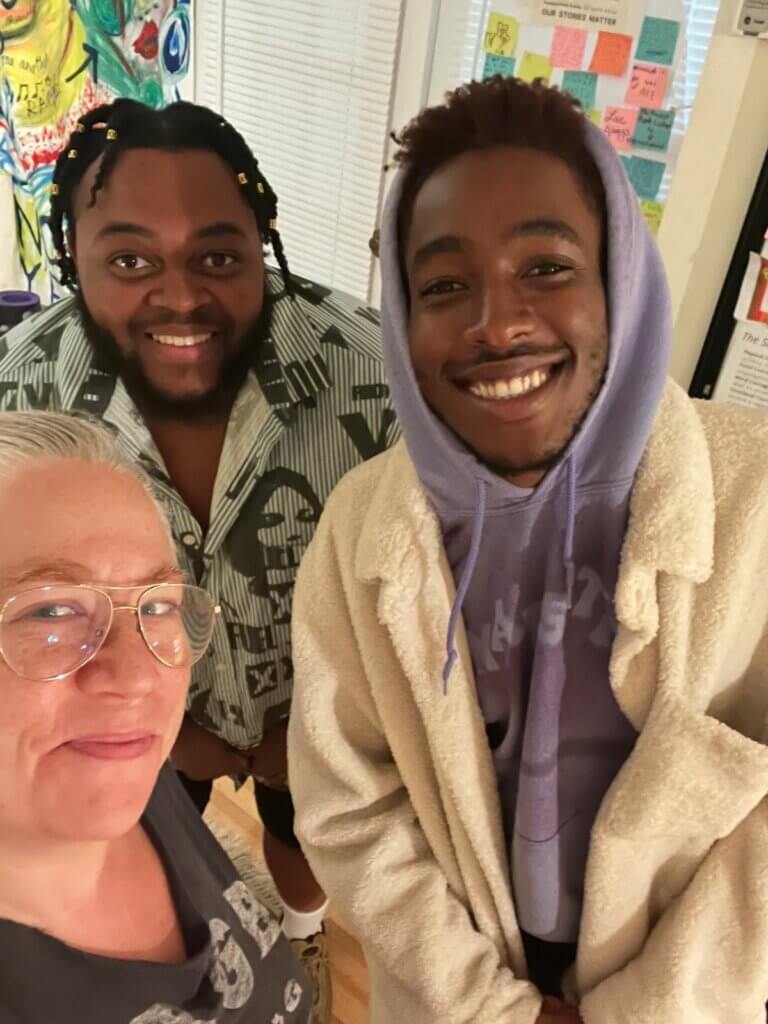 To aid this new effort, Elevitch has recently re-started her open mic for those interested in sharing at Studio 101 inside 48 Burd St. in Nyack at the historic St. George Hotel. This is supported by teen and young adult interns who assist with all aspects of production.
End notes: Elevitch's next open mics at Studio 101, 48 Burd St., are October 21 and November 18, from 8 to 10 pm. For more information about Katie Elevitch, go to @Storyspacearts and 95halfmain.com; you can email her at storyspacearts@gmail.com.
Listen to the full interview with Katie Elevitch here: