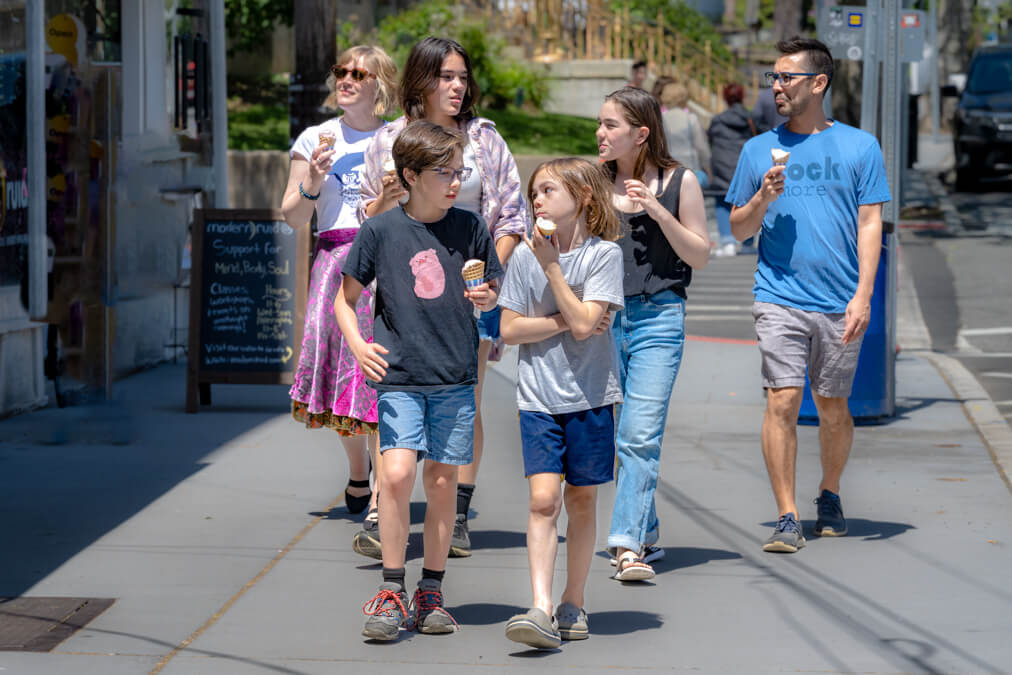 Nyack's deputy mayor, Joe Rand, a longtime resident who is currently running unopposed to become the Village's next mayor and also happens to be one of its most successful realtors, sees both the beauty and the curse of his home's post-pandemic popularity.
"Over the last 30 years, Nyack has drawn from the same well and the Village has become whiter and richer," he said, "especially since the pandemic, which created a surge [of people] from Brooklyn and Manhattan, particularly the Upper West Side. The real estate market caught on fire and worsened our current affordability problem."
A recent Pattern for Progress report found that while Rockland County lost almost 2,100 people in 2019 and 2020, some 4,848 migrated into the County from New York City during those years, almost four times more than those moving in the other direction.
"The combination of low-interest rates plus lockdown was the ultimate push for them to move 30 to 40 minutes away from New York," said Christian Lugo, a real estate agent with Rand's company.
Nyack's population, which has remained remarkably steady over the past two decades, grew by 500 people from 2015 to 2021, according to latest Census data, and now sits at 7,189. (The greater Nyacks include thousands more, but this article will focus on the Village, specifically.)
The new Nyack is decidedly wealthier. Anecdotally, it is younger and, perhaps, hipper. Despite the changes, it appears to be very much still "Nyack."
Recent Census data shows the sharp increase in wealth. In 2015, the median household income was $64,464; in 2021, it was estimated at $95,000.
This was a much larger jump than for Rockland County as a whole, which saw median income increase from $85,392 to $99,707 from 2015 to 2021.
The biggest drawback of this new wealth is that local renters are getting forced out, Rand said – a pervasive challenge as almost 70 percent of Village housing is renter-occupied, according to the Census.
Affordability is not just a Village problem, it is shared throughout the metro area, aggravated by the effects of high inflation.
Rand worries about the trend.
"We need diversification [in population]. If not – it's not an interesting place to live," he said. 
Reversing a decades long trend, however, the Village actually emerged from the pandemic a more diverse place to live, at least racially.
From 2015 to 2021, the percentage of white residents decreased from 60 to 55 percent, while the Black (from 17 to 20.5 percent), Latino or Hispanic (from 17 to 18.5 percent) and Asian (from 2 to 5 percent) populations all rose, according to new Census data. (The rise in Black residents represents a recent shift upward after a steady decline over previous years; in 2000, 25 percent of village residents were Black.)
While age is tougher to measure in terms of who is moving into the area, Lugo says more than half of his clients – buyers and renters – are young, starting careers, starting families, looking to buy their first homes. Lugo says about 20 percent of his clients are remote workers.
"Young families have always been looking at the area, but Covid amplified their desire to move here," he said. "Nyack is a very family-oriented town."
Lugo says about 40 percent of his clients come from New York City, 20 percent from Westchester, 30 percent from the local area, and interestingly, about 10 percent from the West Coast.
Nyack's first exotic car show last year attracted younger families, notably "parents with tattoos"
"It's a similar lifestyle to the West Coast," said Lugo, "near a city, with opportunities for hiking, biking, basketball, and pickle ball. There are a ton of different things to do outside the house in case of another lockdown."
The Village has been attracting new types of visitors since the pandemic, said Roger Cohen, president of the Nyack Chamber of Commerce. For example, the chamber's first exotic car show last year attracted younger families, notably "parents with tattoos," he said.
There are now funky shopping areas along South and North Broadway, responding to the tastes of the newcomers, Cohen said.
"Some newer stores have opened to cater to a younger demographic" and helped combat Covid-related losses, Cohen said. "During COVID, we lost 25 businesses, but these have been replaced with 40 new ones over the last 3 years."
In retrospect, the pandemic may have left a lasting positive economic impact.
"When the pandemic came, we began to see day trippers with families," said Maria Whittingham, owner of Maria Luisa Boutique. "Nyack was seen as a safe haven because masks were mandatory and we followed the rules."
She has noticed many younger families frequenting the store in the past five years, responding to her store's ethical sourcing of products and what she calls Nyack's "authenticity."
"Twenty-somethings started to shop here, not just their parents. What we do represents what they liked in Brooklyn, for example, [and found in a small town]. It has brought a boost in sales," Whittingham said.
The pandemic boosted sales for other retailers as well.
"The business definitely got busier, especially during COVID," said Colin Holmes, owner of the store of the same name. "When we reopened after lockdown, we found that [newcomers relocating] from the city needed more furniture after moving from small apartments to bigger homes."
Matt Hudson, co-owner of the Hudson House Restaurant has been seeing "lots and lots of new faces" – specifically young couples coming from the City.
"The biggest driver was the pandemic. But there's always been an influx of new people to Nyack. Even before the pandemic, it was always a desirable town," he said. "It's not a typical bedroom community."
Hudson has observed that, because it's not that easy to commute into the City, many newcomers have non-traditional careers with flexible schedules. As such, he knows a number of residents who work in the film industry.
Since the pandemic, demand has increased at the restaurant. Friday dinners are busier than ever and have necessitated two seatings.
But also, since the pandemic, the labor shortage has worsened. Because they can't find help, they've had to close down shifts, such as Sunday brunch and Tuesday service.
Hudson sums up the recent demographic changes simply.
"It's the same kind of people, but more of them," he said. "They appreciate the diversity of Nyack and they want their children to experience that diversity."
Author's note: Deborah Nason is a freelance business journalist who has covered the investment industry for Investment News since 2005 and CNBC.com since 2013. She has been awarded the Investment Foundations™ certificate from the CFA Institute. Her writings can be seen at www.cnbc.com/deborah-nason/ and www.c4sb.com.