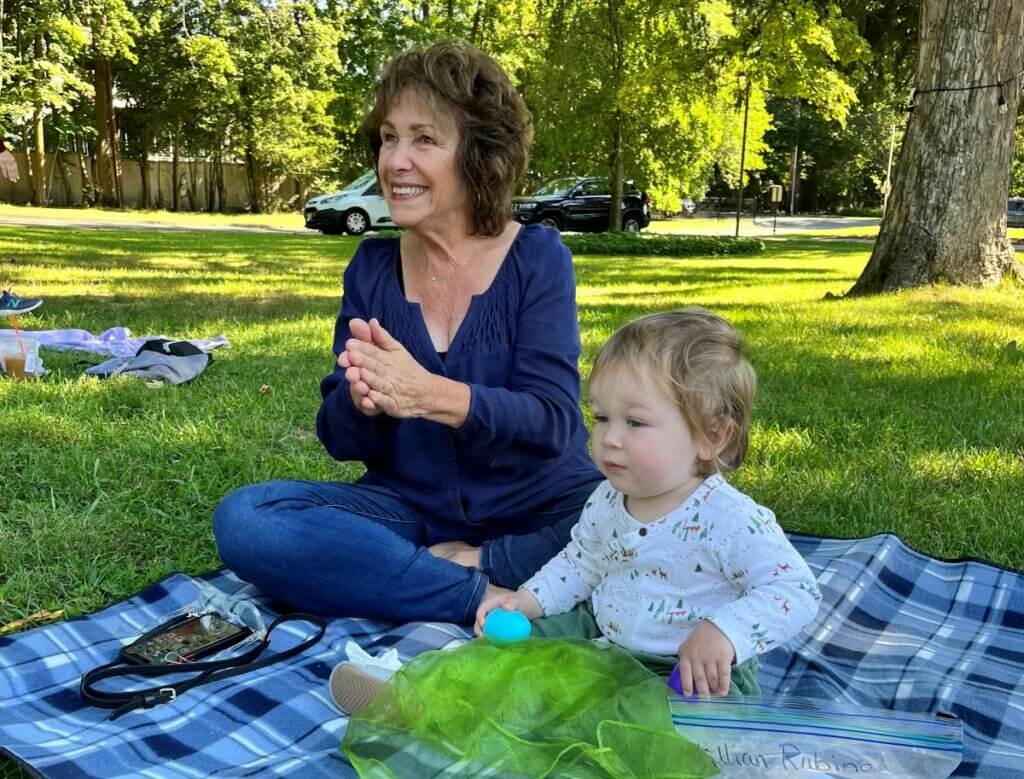 The landscape of our beloved town of Nyack is sprinkled throughout with bright and beautiful personalities. Katie Berry is one of them.
She has a bold, kind and unassuming manner and brims with a life force that seeks to help others. She is a Nyacker who, for 40 years, has changed people's lives for the better as a social worker and co-creator of Nyack's most precious charity food programs — Sunday Supper and Soup Angels.
… Sitting By The River shines a spotlight on locals in Nyack and Rockland County who make a difference.
A Child Raised to Help
As the oldest of five children born to a World War II vet, Katie grew up in Yonkers. Her family moved to Rockland County when she was entering high school (she went to Clarkstown H.S.), and interestingly, Katie's father was one of the first people to travel across the new Tappan Zee Bridge when it opened in 1956. She met her husband, Ed, at a local college and in 1974 they bought a home in Upper Nyack, where they raised their three children and have lived now for 40 years. 
Katie says her childhood upbringing provided the impetus to help and nurture others. From the beginning, her grandmother and great-grandmother played influential roles in the family's lives.
"We were very much a matriarchal family," Katie notes, "in that the women had a profound influence on us. They were the heart of our home and directed how we children were raised."
Katie also grew up next door to six cousins and says those relationships, along with the church's inclusive foundation, played a key role in her life.
Her grandmother, who was secretary to the dean at Fordham University, would sometimes take Katie to work.
"My grandmother always kept a pile of single bills in her pocket as she traveled through the city," Katie recalls, "and would hand out dollar bills along the way to anyone she deemed needy."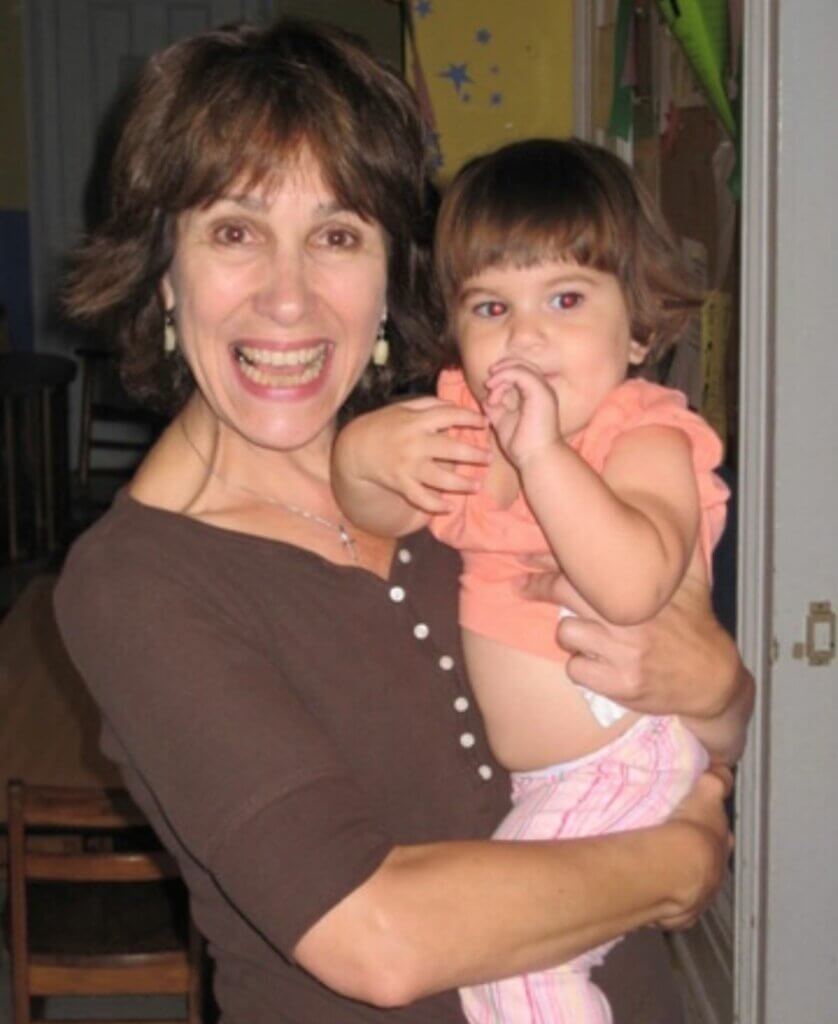 Katie remembers asking, "Grandma, why are you doing that?" and her grandmother replying, "Because when I see someone like that, I see someone's child; somebody loves this person and they matter." And this spoke deeply to Katie's heart.
Developing a Passion for Support
With a degree in psychology, Katie went on to become a social worker, which eventually increased her passion for wanting to support those in need. After college she worked at Saint Agatha's home in Nanuet with the developmentally disabled and then with the state of N.Y. at a satellite program at Rockland Children's Psychiatric Center. Katie paused in her career for 11 years as she raised her children, yet she regards parenthood as one of the most challenging and rewarding work she has ever done.
She returned to her professional work life in Nyack to run the Rockland Parent Child Center, which provided play for children and most importantly, a support group for new mothers who were able to share in a protected and supportive environment.
When Katie discovered that St. Ann's Church in Nyack would be closing its soup kitchen, she wanted to help, even though she knew little about soup kitchens.
Eventually she and Gary Hecht, another local Nyack resident, imagined creating not just a soup kitchen that ladles out the bare minimum, but a place where people who required a meal could meet in a respectable, communal setting. They didn't consider these people "clients," but rather "guests."
So, in 2005, Sunday Supper began operating and donations and volunteers came pouring in and local businesses got involved.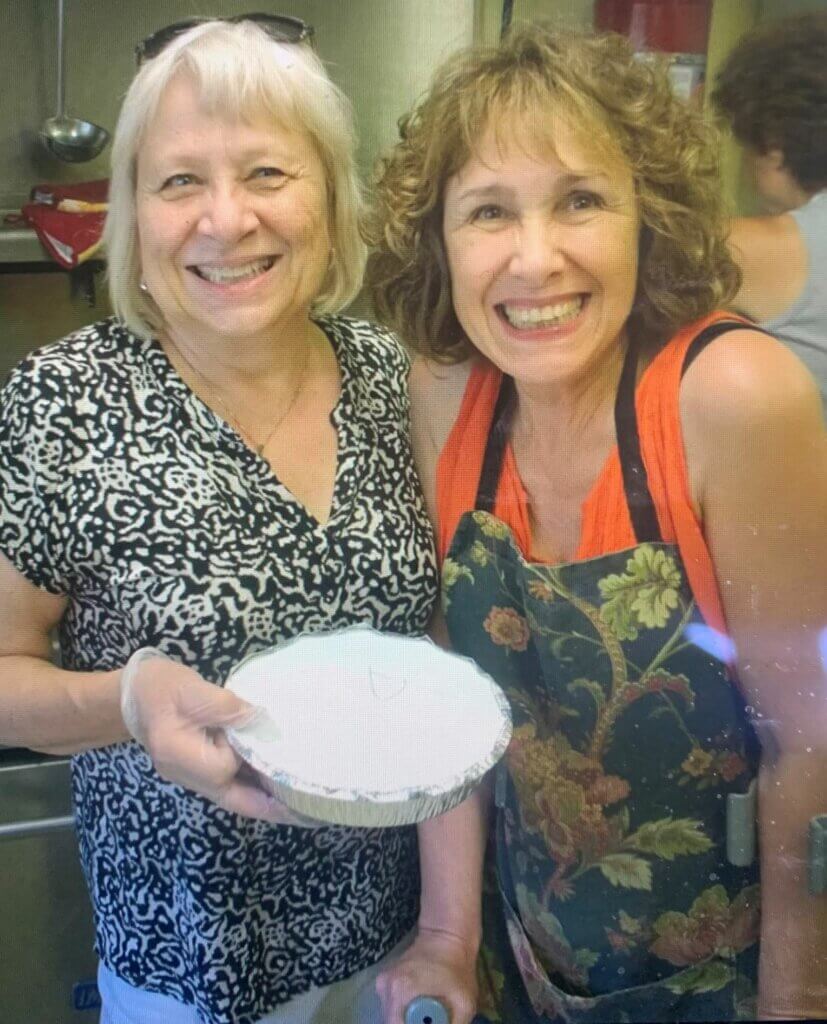 Tappan Zee Florists kindly donates flowers weekly and Didier Dumas provides delicious desserts. Sunday Supper has now reached its 18th year — surviving even through Covid by shifting to take-out service.
The Birth of Soup Angels
With the success of Sunday Supper, Katie thought, "If people are hungry on Sundays, of course they're hungry the rest of the week."
Concurrently, First Reformed Church, which was looking for its congregation to put words into action, launched Soup Angels. Again, this effort received a huge number of volunteers and support from the community.
They started with Thanksgiving meals, which became Soup Angel's signature offering, but they also now provide hot meals on Mondays and Wednesdays. And since Covid, a food pantry is available where companies donate recovered food and drink through Touch and the Hudson Valley Food Bank.
For Katie, her accomplishments exemplify how her background and faith have played out into pure action. However, life has now taken her to the next phase. She retired from her job as a social worker five years ago, then worked for over three years at her church developing a Mercy Ministry.
In 2017, New York state created a mandate for all counties between November and April to provide shelter for the homeless. Even with everything being done to help the homeless, Katie believes that social workers are still urgently needed.
Now, Katie is officially off the clock.
With her daughter and family recently moving back to Nyack, she revels in the joys of being a first-time grandmother. Yet, she still remains the director of Sunday Supper and continues to help people in the community in her own way.
Our community has certainly been the beneficiary of Katie Berry's beautiful heart.
Author's note: For more information on Sunday Supper or Soup Angels, please contact Katie at askkatie@gmail.com. To volunteer at Soup Angels: Soupangels@gmail.com