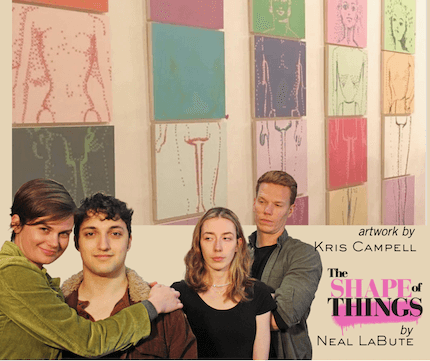 Neil LaBute's The Shape of Things opens on Friday, May 12 at Elmwood Playhouse. The production explores the questions and issues around the nature of art and what–if any–boundaries should govern the creation of art. In a unique collaboration with Nyack Art Collective, a "pop-up" gallery will be installed at Elmwood for the run of the show..
The Shape of Things opens on May 12 and runs through June 3. Audience members may enjoy the gallery before the performance and during intermission.
On May 19, audience members are invited to participate in a post-show discussion with the cast of The Shape of Things and artists from Nyack Art Collective.
Tickets are on sale now. Ticket price includes gallery access. Tickets are available online or by calling the Box Office at 845.353.1313