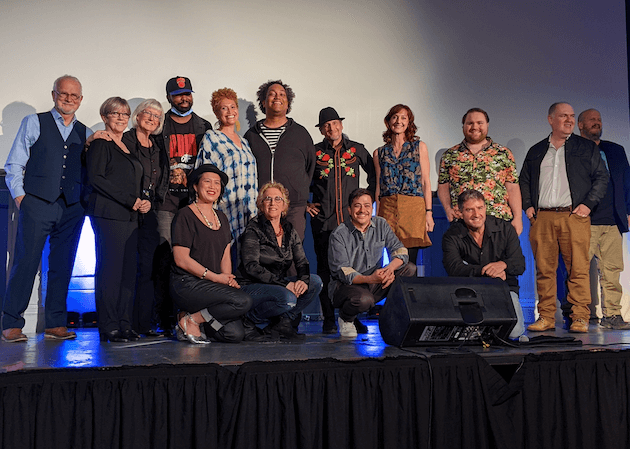 Guest Rec by Holly Caster
The 8th annual Inspired! is April 21st ! This Rivertown Film fast-paced fundraising event celebrates the art of creation. It's also a community get-together, with hors d'oeuvres, refreshments, desserts, plus a silent auction, a raffle, and a chance to mingle with neighbors, friends, soon-to-be friends, and the artists themselves.
Inspired = of extraordinary quality, as if arising from some external creative impulse
Inspired!
What is Inspired?

At the Nyack Center, 15 local artists will take their turn presenting 10 slides for 20 seconds each, sharing a glimpse into their minds and creative process and sources of inspiration.

Before and after the presentations, attendees can enjoy food, wine, and talk.
Tickets to this unique, entertaining, and enlightening evening are $35 for general admission and $25 for Rivertown Film members, and are sure to go quickly.
Purchase tickets online at rivertownfilm.org today.
Scheduled to present at this year's Inspired! are:
 Event MC: Glen Schloss—film and television composer and producer
 Dru Pluhowski—chorus director
 Elliott Forrest—broadcaster, director, producer, designer, and filmmaker
 Elena Melener Schloss—actor, creator of the Mom List comedy series
 Trey Bohnam Schloss—drummer
 Ray Levier—drummer, composer, and producer
 Kim Cross—actor
 Dorothy Gillespie—sculptor represented posthumously by her son Gary Israel
 Susan Hillary (aka Shapiro)—filmmaker and painter
 Kimberly Fennell—social media content creator
 Hernz LaGuerre, Jr.—journalist and video storyteller
 Charu Krishan—Hindi storyteller, writer, and translator
 J. Faith Almiron—cultural studies scholar and critic
 Peter Artin—sculptor
 Oscar González-Barreto—scholar, teacher, playwright, and radio host