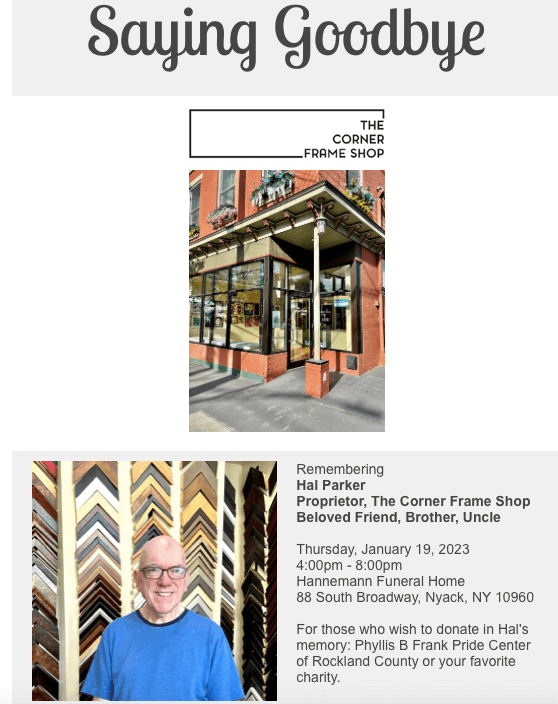 Just this last August, Hal Parker and friends celebrated his 50th anniversary of art and picture framing. in Nyack. This month we celebrate the passing of Hal Parker, one of the most important interior decorators in Nyack. He framed tens of thousands of works for satisfied customers for over 50 years. Think for a moment of how many homes and how many walls in which his framed art are found. Then think of how many people have seen each piece of those works. It means, whether they know it or not, that Hal Parker has touched almost everyone in the Nyacks and beyond with his own art form, the perfect frame.
Last ensconced in the historic Corner Frame Shop at 40 Franklin Street, he delighted customers, a few of which have been with him since his first frame shops. What made Hal so successful, how did he get started, and where have his shops been located over time? In his memory, here is Hal Parker's story.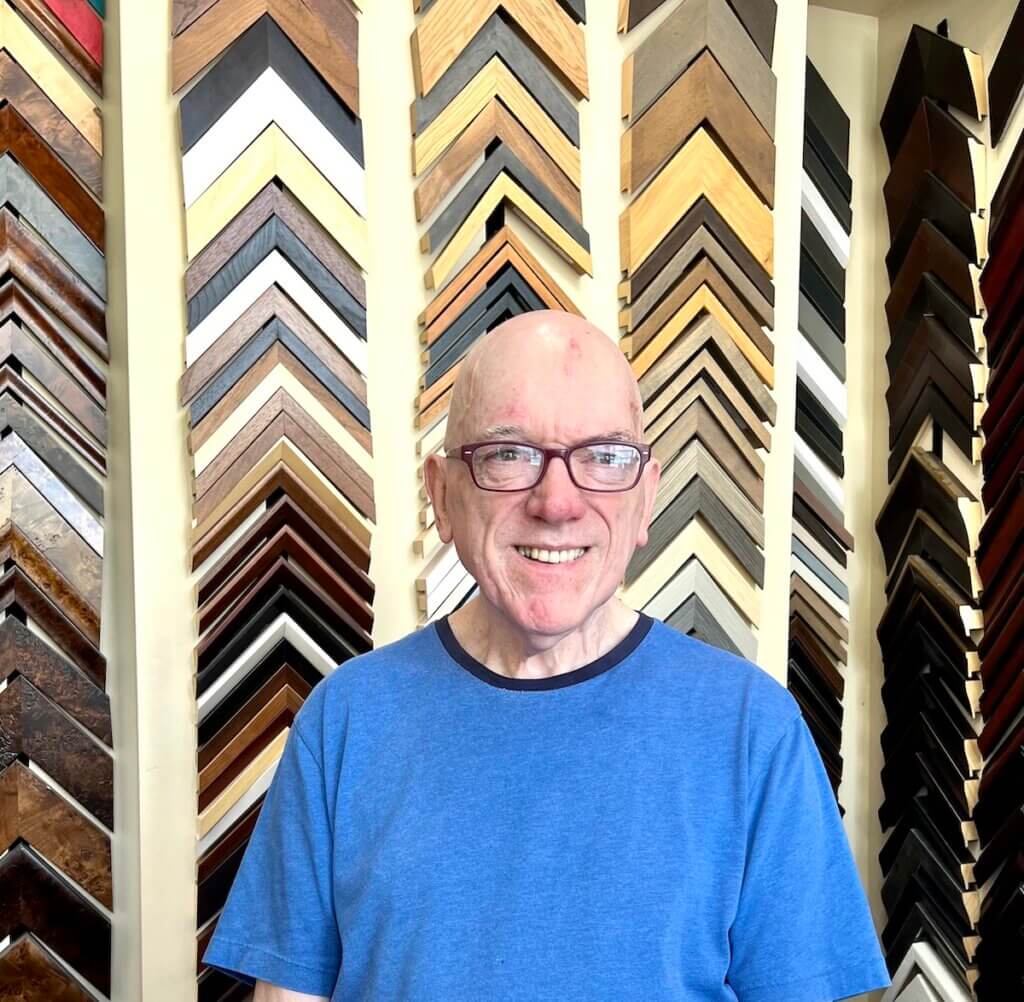 What Makes him Successful
Hal had a soft, personable style with his customers. He said, "I like working with a customer to find out what they are looking for. Some customers have a fixed idea when they come in. I show them something and say 'What about this?'. Very often my choice wins out. "
Other customers were less sure. They asked, "what would you do?" Parker would probe to get a feel for what they like, and then channeled his energies into finding a solution. "It doesn't matter what I like," he said. It was obvious to everyone how much he enjoyed working with his customers and hearing the "Oh, wow" comment he got when he pulled the finished work out of its wrapper.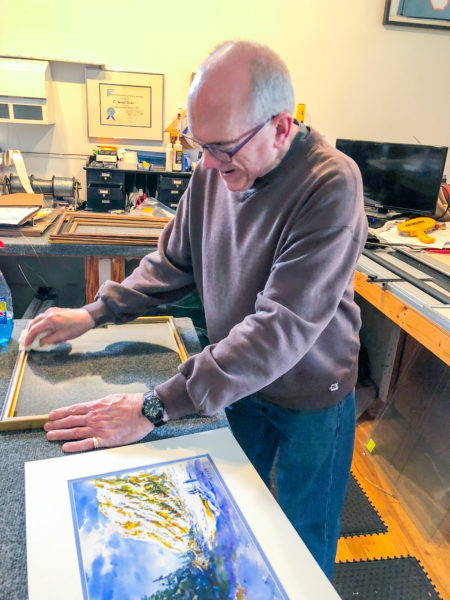 Hal had the perfect personality for working with customers. He was easy going, appreciated art, and was a master technician. "Every piece is different, and it makes the job so interesting and appealing.
Apprenticeship
Hal Parker was born in Maine. He came to Nyack in 1966 to attend Nyack College intending to become a minister. Like many students, he needed a part-time work to pay his college bills. A friend suggested he take over his job, framing art in the back of Sam's Glass & Paint shop. Sam's was a long-term family-run business located at 163 Main Street (now the home of Patisserie Didier Dumas).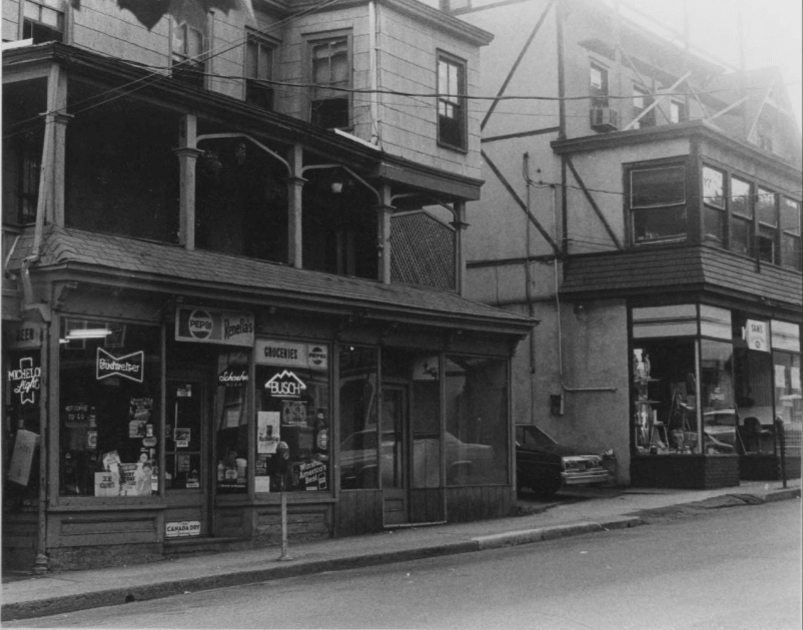 Parker was a perfect apprentice because he was good at math and could work with his hands. He learned how to join frames, cut glass and mats, and dry mount art. Parker worked at Sam's during the school year and full-time in summers. Reassessing what he wanted to do after college, he found himself staying on full-time at Sam's for several years.
Burd House Frame Shop
In 1972, he opened his own business, the Burd House at 55 Burd Street, in a beautiful early-19th-century two-story building that slopes toward the river and sports an unusual card-deck frieze. Parker shared with one of Nyack's early antique stores, Burd House Antiques, owned by Clint Lyndley, the president of the Nyack Antiques Association. A door on the right went to the antiques store; the door on the left led to Parker's shop. Parker did his framing in the basement.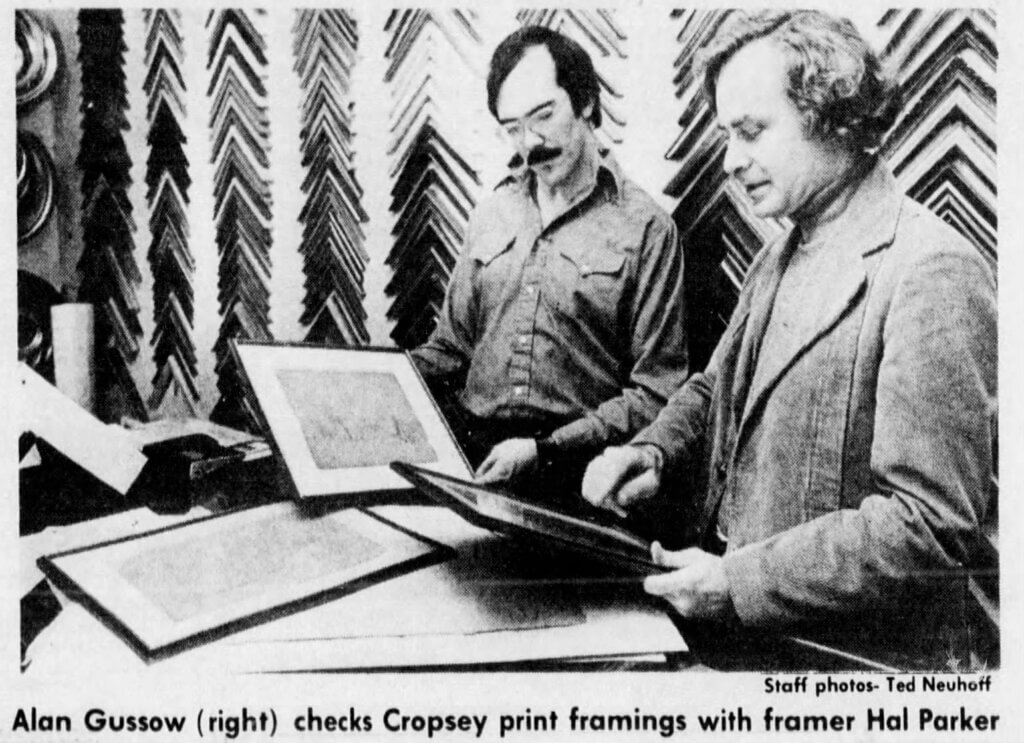 The first year for most businesses is tough. To make ends meet, Parker had a second job as the breakfast chef at the Strawberry Place, a popular local restaurant. He remembered the owner, Gwen Franco, fondly, for she took him on at a time of need. The long days at two jobs paid off and Parker established himself in Nyack.
Burd House Moves
In 1975, Parker moved to a more visible location at 6 South Broadway, now the home of Tree of Chocolate. The front of the store housed The Gallery in Nyack, and Parker did his frames in the back.
In the late '80s, Parker moved to an even better location at 102 Main Street where he had enough room for his own gallery in front, as well as a workshop in the back. But his stay at 102 Main was short-lived. Next, he moved across the street to 125 Main Street, on the second floor of the aging shopping plaza now called Riverspace.
The Corner Frame Shop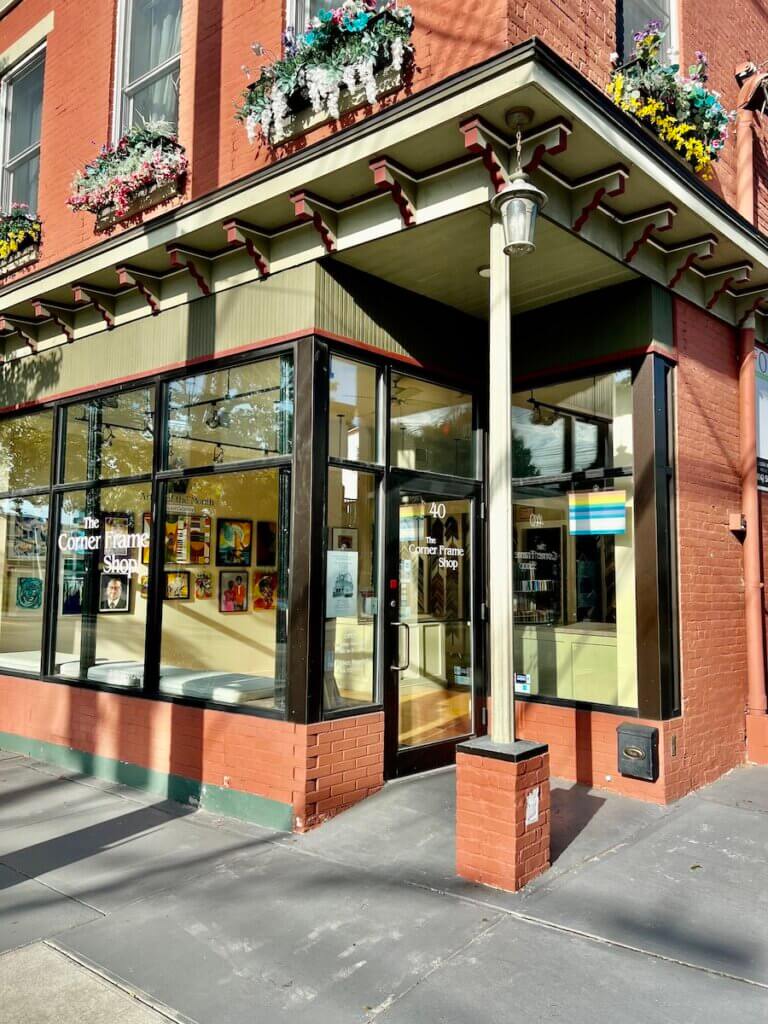 In 2009, Parker opened The Corner Frame Shop at the southwest corner of Franklin and Depew St. Parker said it was his best location out of his five shops. Aptly named, the store had an attractive cut-out at the corner with a supporting post and a lantern. The attractive two-story 19th century brick building was restored in the early 2000s. The space is light and airy with a view of the Nyack Community Gardens across the street. On the back wall of the front room, Parker displayed frame samples.
Historic Building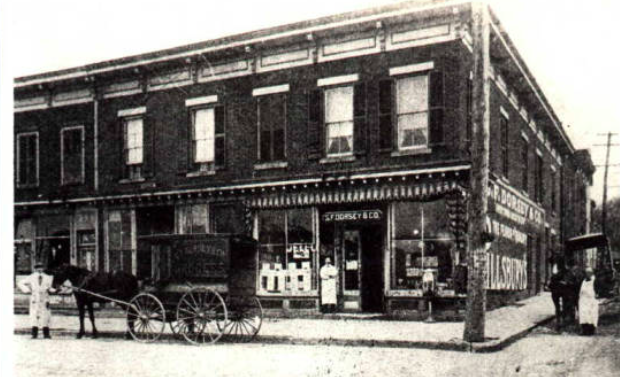 Built nearly 150 years ago, the building housed grocery stores for many years including the J. T. Gaynor grocery store and the G.F. Dorsey Grocers. Like the frame shop, both offered excellent service. In the case of the groceries, they did home deliveries. The popular Opera House was kitty-corner from the building. Just one block away was the Nyack train staton until it closed in 1965. It was a busy place.
Art & More Art
Each month, Parker hosted a new Artist of the Month, featuring an artist or a group of artists on the south wall in the showroom. As an indication of the success of Parker's business, his Artist of the Month gallery was booked through 2023.
Change & Stability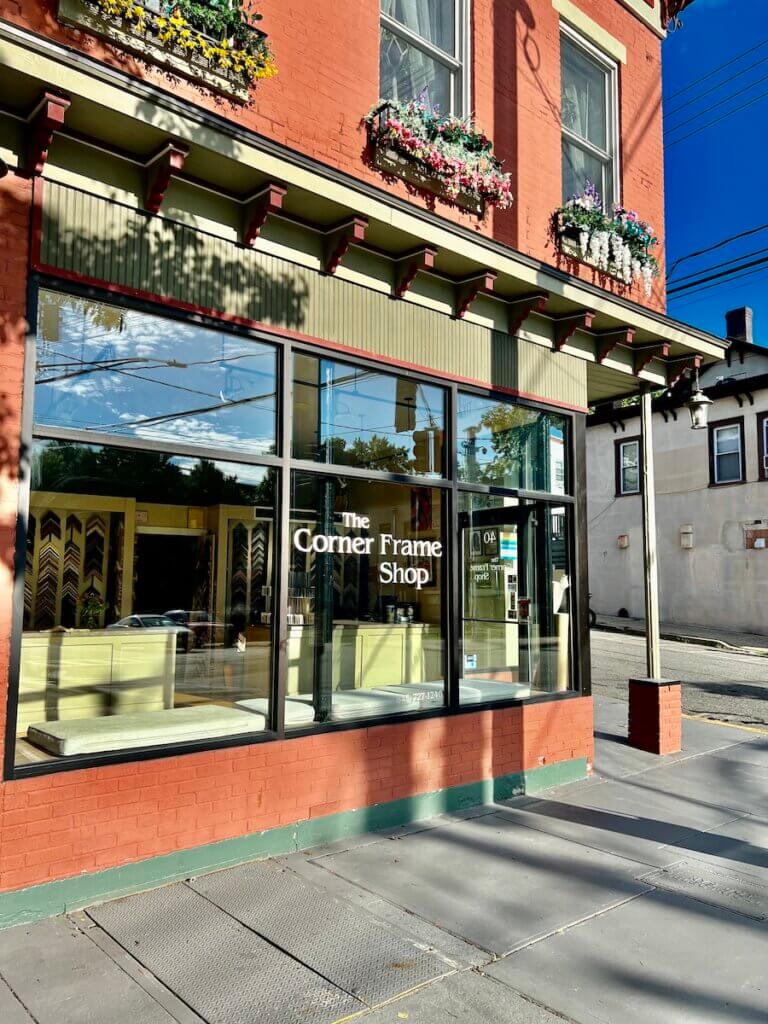 Parker's frame stores have been a source of stability in the village. The village changed, Hal didn't. At the beginning, Nyack had antiques galore with over 40 shops. People came just to shop for antiques. Now those stores are mostly restaurants.
History, art, and soft music made The Corner Frame Shop a fun place to visit. Those of us who knew him are heartbroken. He was such a nice man. His legacy, aside from his kind words, hang in the homes of villagers. Hal, you are gone, but you are still with us.
Michael Hays is a 35-year resident of the Nyacks. Hays grew up the son of a professor and nurse in Champaign, Illinois. He has recently retired from a long career in educational publishing with Prentice-Hall and McGraw-Hill. Hays is an avid cyclist, amateur historian and photographer, gardener, and dog walker. He has enjoyed more years than he cares to count with his beautiful companion, Bernie Richey. You can follow him on Instagram as UpperNyackMike.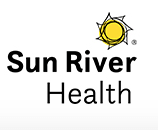 Nyack People & Places, a weekly series that features photos and profiles of citizens and scenes near Nyack, NY, is brought to you by
Sun River Health
and
Weld Realty