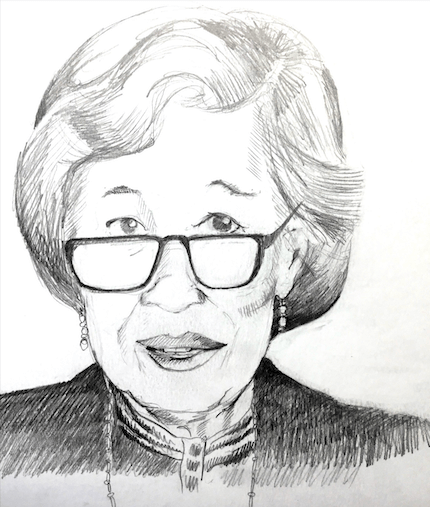 Orangetown lost a champion for open spaces when Catherine Minford Dodge passed away on November 23, 2022.
Catherine grew up in Nyack, where she lived at the top of High Street. As a small child, she could walk to a pond each winter, where the West Gate Lounge now stands, to skate on its frozen surface. Catherine attended Liberty Elementary School and Nyack High School were she was active in sports and student clubs. She married her high school sweetheart, Joseph Griswold Dodge Jr. who predeceased her in 1986.
Her grandfather, James Locke, was a Civil War veteran whose name is inscribed on the memorial boulder that sits in front of the Nyack Library. Her father, Harry Minford, served as a Chief of the Mazeppa fire company.
After graduating from Cedar Crest College, Catherine became a buyer for Bloomingdales in Manhattan. After her husband passed away, she ran the family business, J&J Dodge with her son James until her retirement in early 2010. However, her greatest joy, according to her son, was serving the public as a member of non-profits boards and with the town of Orangetown.
Catherine served on the Board of Rockland County Historical Society, was a founding member and longtime chairwoman of the Orangetown Museum, and Chairwoman of the Orangetown Parks and Recreation committee. Catherine became the first woman to serve as Orangetown Supervisor when Jack Cassidy was hospitalized in 1995.
But it was during her tenure at Orangetown Parks and Recreation that she built a legacy as the driving force behind the creation of the Joseph B. Clark Rail trail. "When they stopped the Erie Lackawanna rail line, people decided to expand their backyards onto railroad property," James Dodge remembered. "She had to deal with a lot of hostility to get the project done. She was happy that during COVID so many people had access to the path for their mental and physical health." The Joseph B. Clarke Rail Trail is a paved 3.8 mile north-south rail trail that begins at the Blauvelt Free Library on Western Highway in the hamlet of Blauvelt, and ends at the intersection of Oak Tree Road in the hamlet of Tappan.
She is survived by her son, James Locke Dodge and her daughter in law, Phyllis Jean Dodge and her grandson Andrew Joseph Dodge, of Pearl River, NY. Also, her son Joseph Griswold Dodge III and his wife Trudie Dodge, grandchildren Zachery Dodge and Katy Dodge Apex, of North Carolina. Survived by her daughter, Laura Davie and her children, Catherine Davie & James Davie and his wife Kari Davie, and great grandchildren, Cheyenne and Memphis.
In lieu of flowers or food the family asks that donations be made to the Orangetown Historical Society (https://www.orangetownmuseum.com/membership) and Joe Raso Hospice House, New City NY. (https://unitedhospiceinc.org/donation/)