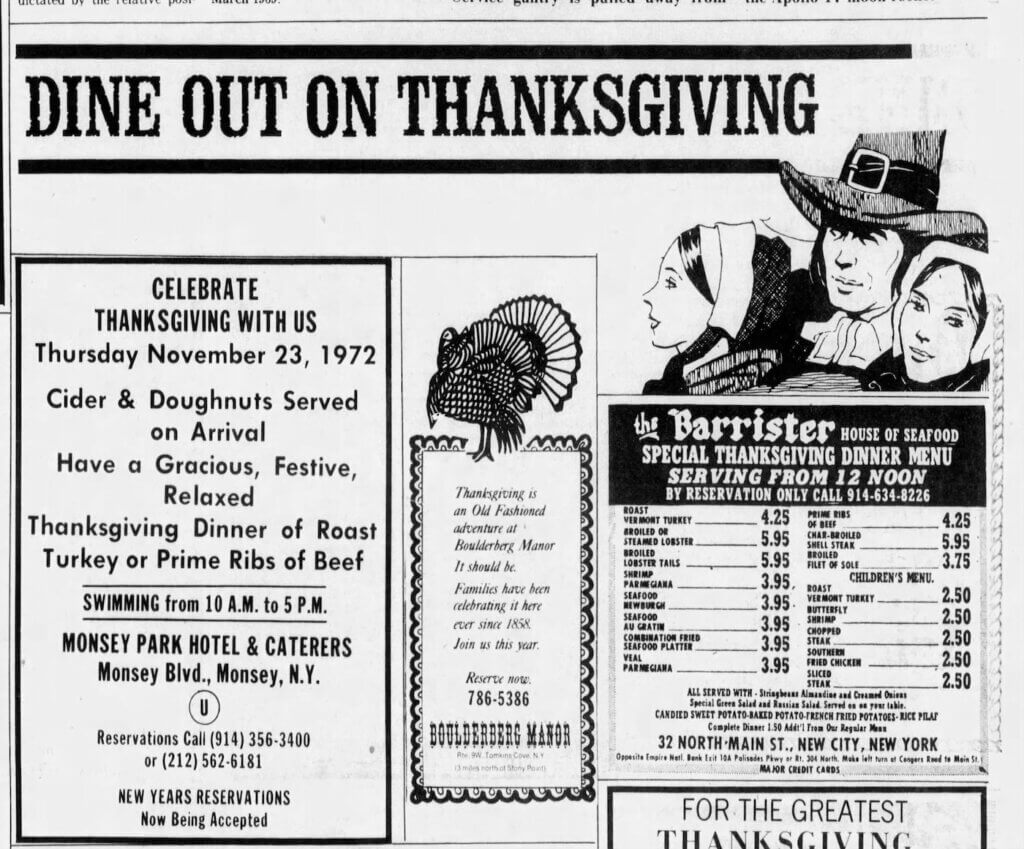 Not everyone wants to cook a turkey at home. Many choose to dine out on Thanksgiving as they did fifty years ago. Over 20 Rockland County restaurants advertised Thanksgiving dinner in 1972. Today, the number has dwindled to 13.  Only two of the 1972 restaurants advertising Thanksgiving dinners remain under the same name today. Cornetta's in Piermont and the Old 76 House in Tappan are still at it fifty years later.
What Was in the News on November 23, 1972
Henry Kissinger was busy working on a Vietnam War ceasefire in Brussels. Israel sealed off the Golan Heights in the wake of a big battle with the Syrians on November 22. An Appellate Court overturned the conviction of the Chicago 7 from the 1968 Chicago protests. Richard Speck who killed seven nurses on the Chicago South Side received a sentence of 1,200 years in prison after his execution by electric chair after the Supreme Court halted all death penalties. Apollo 17 was about to blast off for the moon. Lawyers made pretrial arguments in the IBM antitrust suit.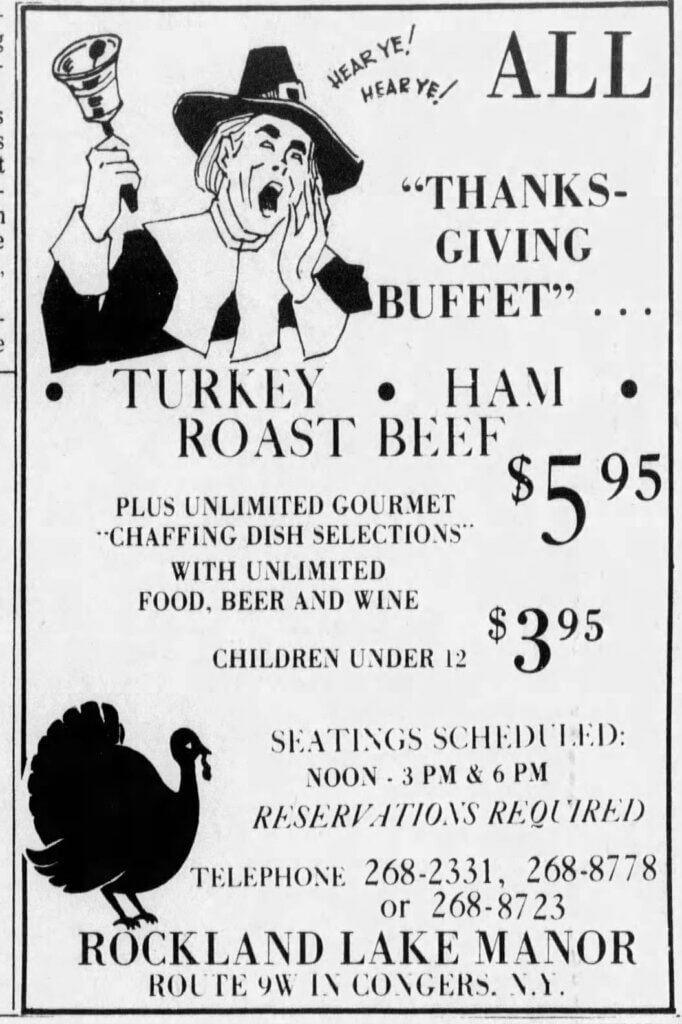 New York, Rockland County, & Nyack News
In New York, Democrats agonized over Nixon's New York State win in the election. New York Mayor Lindsay denied that the Democratic party had been left in "tatters and shreds". In Rockland County, newly elected US. Representative Ben Gilman held a town hall in New City. The biggest and most controversial topic raised by the public was women's right to abortion.
The State Board of Appeals upheld an Upper Nyack ruling that the Luau Restaurant in Upper Nyack be declared a health hazard and ordered it to be demolished. The Nyack school board investigated building a new athletic field on a 46-acre tract on Christian Herald Road west of Route 9W that is now the site of the new high school. The Journal News celebrated the return of the blue claw crab to the Hudson River.
Thanksgiving Entertainment
On TV, Walter Cronkite anchored the news, I Love Lucy, Dr. Kildare, and Mod Squad highlighted the Thanksgiving night listings. The Niners and the Cowboys and the Jets and the Lions (the Jets lost) faced off in NFL afternoon football. Movie theaters had a full schedule. Nyack Cinema showed Swiss Family Robinson, the Nyack Drive-In had The Bridge at Remagen and the Mechanic, and Everything You Wanted to Know About Sex played at the Nanuet mall. Local bowling league news took up an entire sports page in what was probably the biggest non-Sunday Journal News issue of the year at 80 pages (about a weeks-worth of pages in today's paper). Sears alone had 23 pages.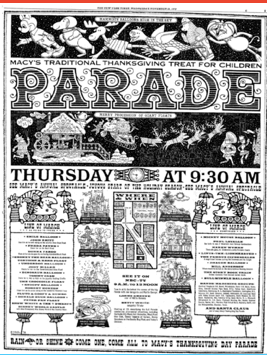 Thanksgiving Wine
If you wanted wine, local liquor stores advertised jug wines, non-vintage Muscadet, Cabernet Rose D'Anjou along with a phonetic spelling guide, cab-air-nay rose-dawn-shoe, and a Lambrusco semi-sweet sparkler that "has everyone talking". Village Chrysler and Plymouth in Haverstraw offered a free turkey and wine to anyone who bought a new car before Thanksgiving.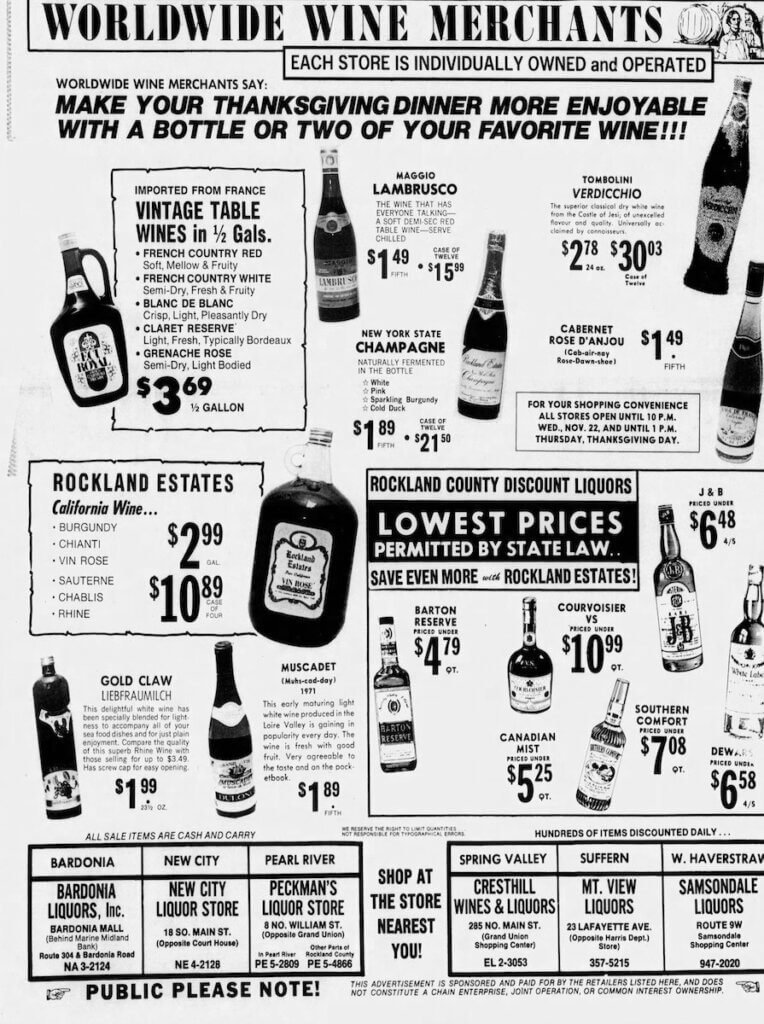 Thanksgiving Dinner Prices
1972 was the last year of low inflation for a while at 3.7%. For the next nine years, inflation averaged 9%. Gas cost $0.36 a gallon and Butterball turkey was $0.45 per pound. The Dow Jones average closed at $1,012.8 on Wednesday before Thanksgiving. Thanksgiving meal prices were roughly equal to a custom vente drink at Starbucks. Some prices were as low as $4.75. By contrast, the high-end Silver Pheasant in Pearl River across from Lederle Labs offered an $8.00 surf and turf dish.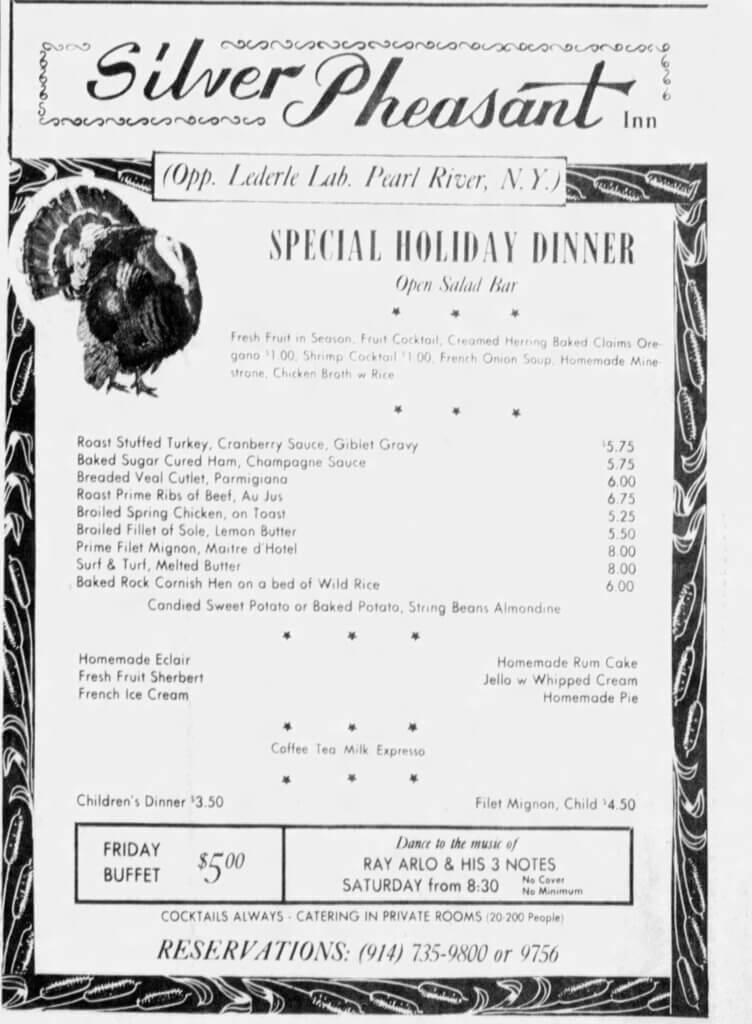 Two of the restaurants promised huge portions, the Beef Baron in Stony Point with unlimited salads and the Buccaneer on Van Wyck Road in Blauvelt, the home of the swashbuckler cocktail.
Quaint Names, All-You-Can- Eat, and Seafood for Thanksgiving
In 1972, restaurants sported quaint names like the Raintree in Palisades, Ye Olde Inne in New City at Rt. 304 and Congers Road, or The Dear And The Doe in Upper Nyack. Many stuck with their all-you-can-eat buffets, some with all-you-can-eat salads. The Rockland Lake Manor on 9W where Kennelly's was located until recently offered unlimited food, beer, and wine. Just about all restaurants had some seafood on the menu. Some specialized in seafood. In addition to Cornetta's, Tony's Lobster House in Sparkill and the House of Shell and Fish in West Nyack featuring the Big Bird in person had Thanksgiving dinners.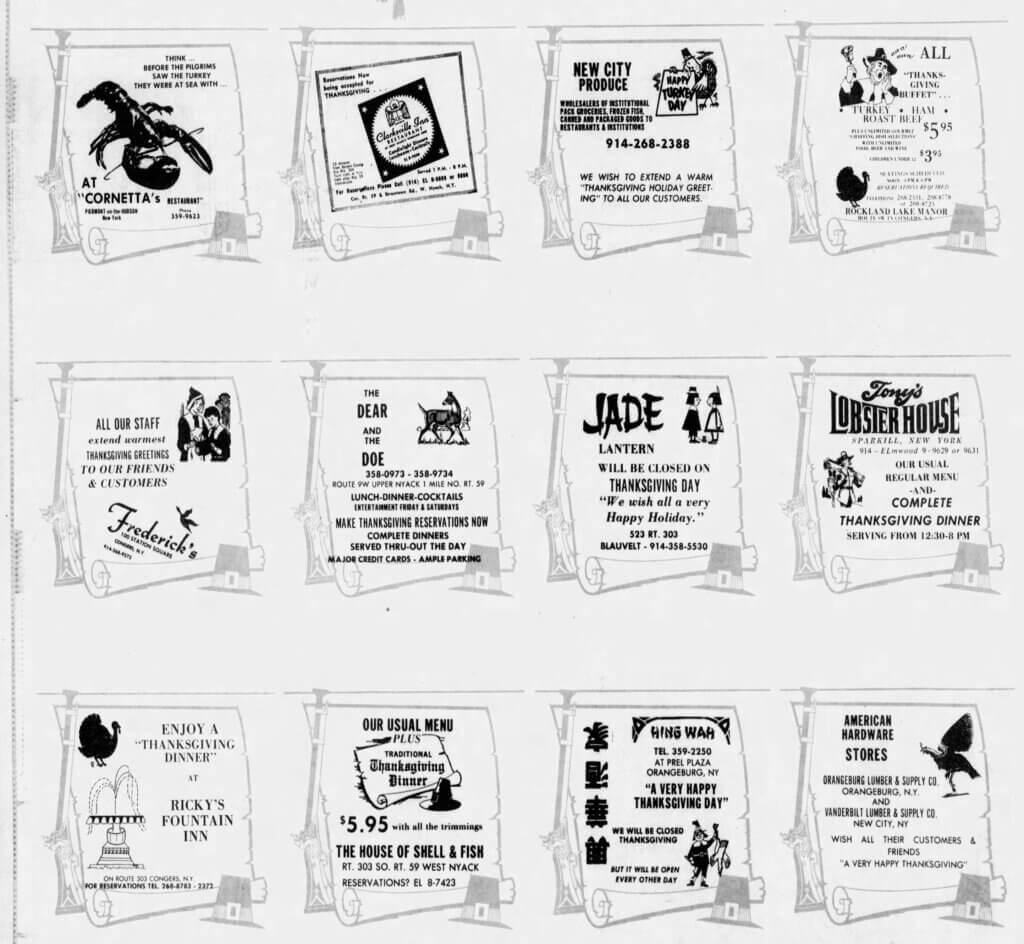 The Nanuet Mall & Hotels
The Nanuet mall featured the Hungry Lion with unlimited salad and coffee. The Mardi Gras, across from the ten-year-old Korvettes department and grocery store, offered a turkey dinner and the finest cocktail lounge in Rockland County. Hotels got into the act. The Spring Valley Holiday Inn at NYS Thruway exit 14 had its daily $2.75 smorgasbord on Thanksgiving. The midcentury modern Tappan Zee House at Thruway exit 11 in Nyack offered a full menu with an extensive list of appetizers including seafood nelson, pate maison, old fashioned barley consommé, and Maryland clam chowder. The Monsey Park Hotel on Monsey Blvd. opened their pool from 10a-5p during Thanksgiving dinner.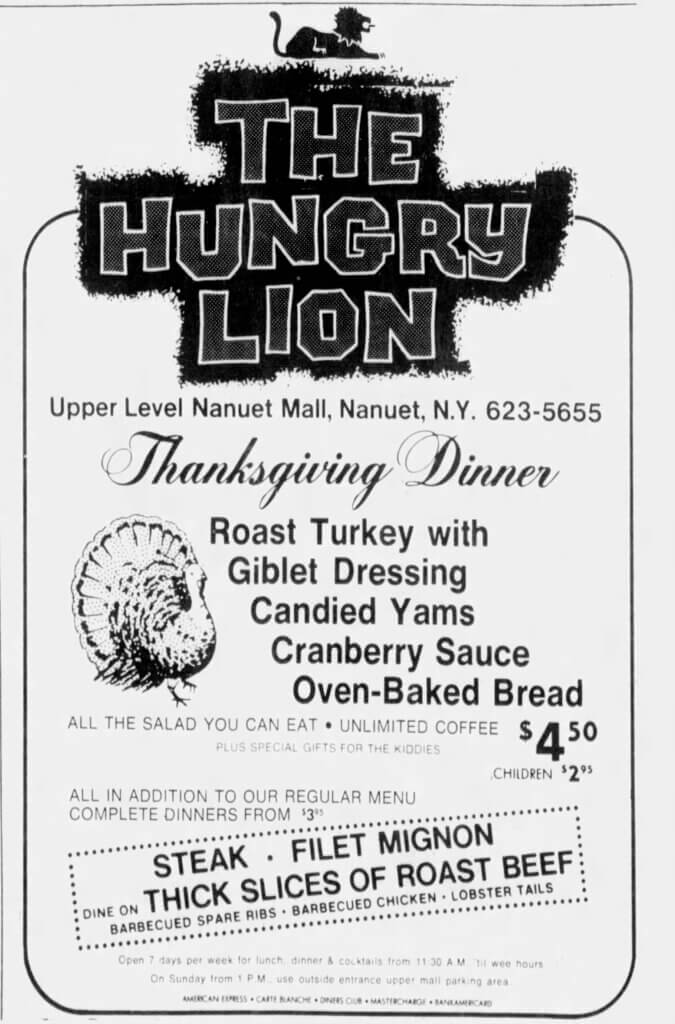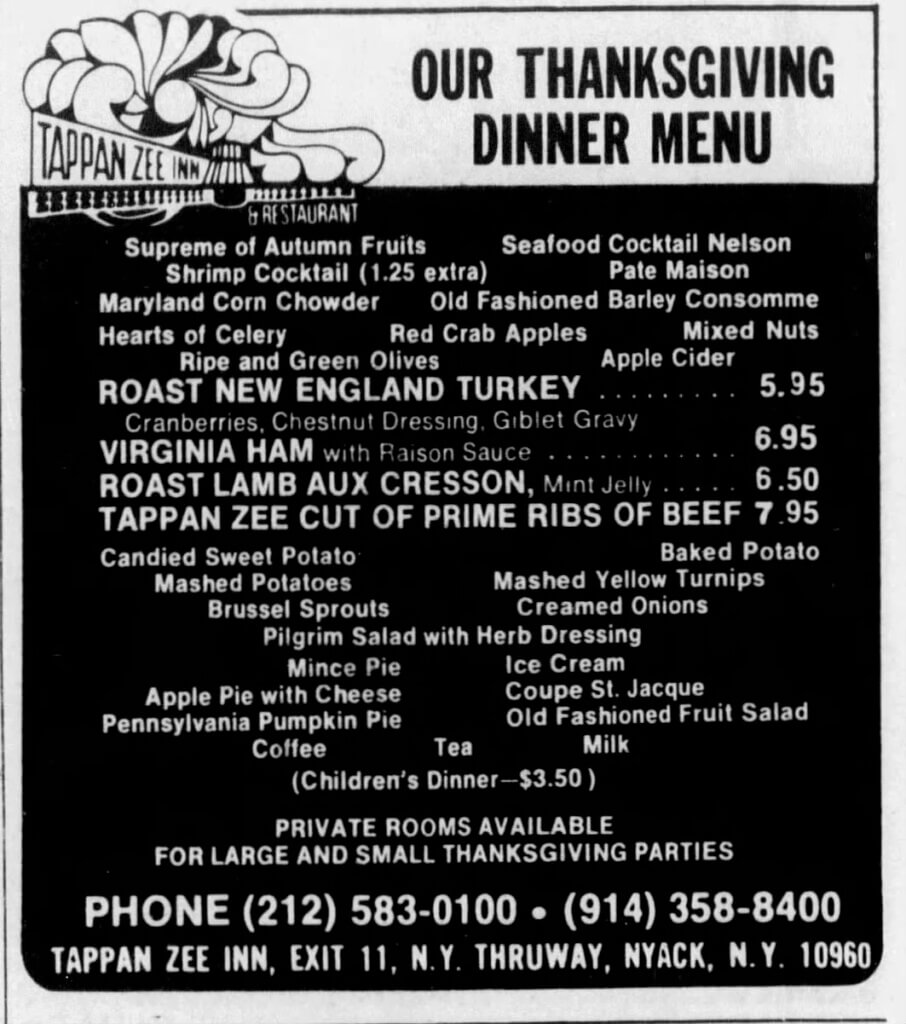 Inns, Apples, & Doughnuts
Two classic inns had dinners, the Old 76 House had its fireplace going and the Clarksville Inn (still in operation as the 1840 Tavern) featured candlelight dinners. Boulderberg Manor, a fine example of an 1858 Gothic revival building in Tompkins Cove, noted that families had been having Thanksgiving dinner there since 1858.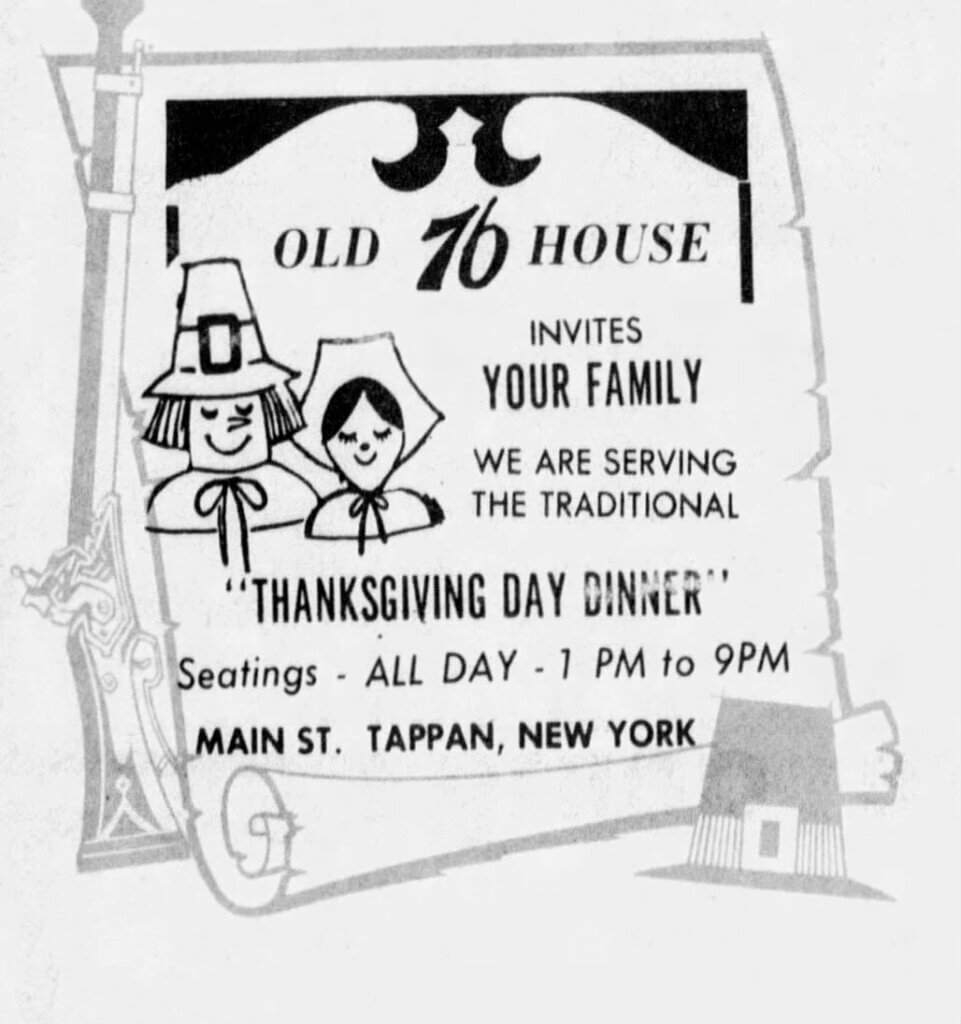 Finally, Van Houten Farms, located then as now on the corner of Blauvelt and Sickletown Roads in Pearl River opened in the morning. They sold McIntosh apples at $3.00 for 16 quarts, cider, and doughnuts.
Out of County Ethnic and Weekend Dinners
If you wanted to travel beyond Rockland, the Jade Fountain in Paramus offered Chinese and Polynesian fare. Kosher food was available in Westwood. The famous Mohonk Mountain House was open for the weekend near New Paltz. A double room with three meals cost $22-30.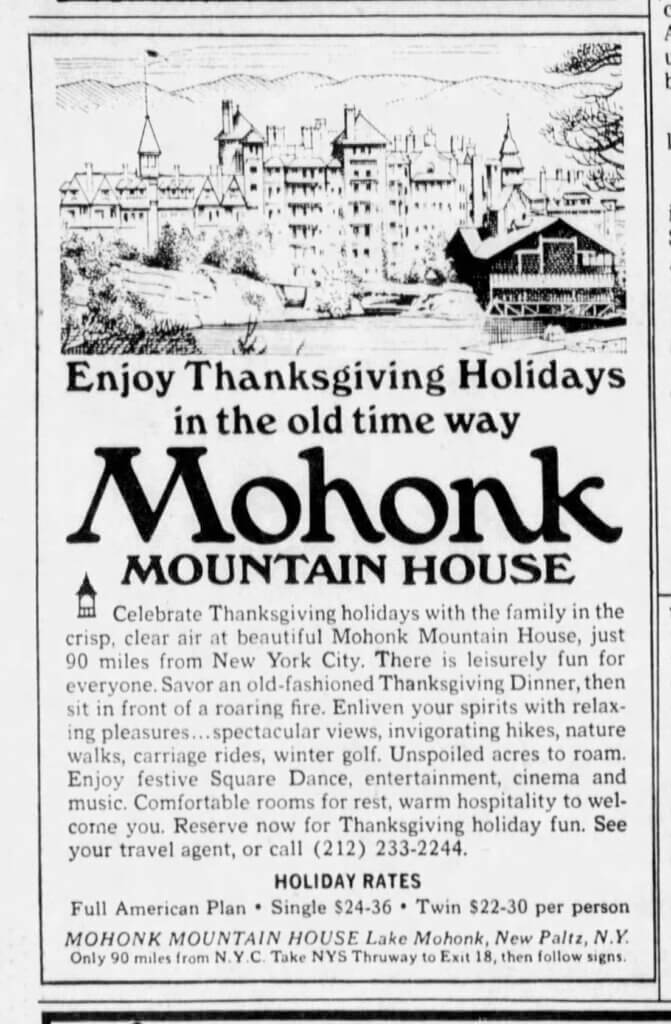 Giving Thanks 1972-Style
Among the meals generously donated, Woodglen Elementary put together donated food to feed 10 families distributed at the Nyack Day Care. North Rockland High School collected donated food and cash to distribute 48 complete Thanksgiving meals.
In addition to being thankful for the return of the blue claw crab, the Journal News gave thanks for Rockland County having the eighth highest income in the nation, religions living peaceably side by side, most kids not taking dope, a steadfast volunteer fire and ambulance corps, a soon to be renovated jail, a new shelter for stray children, and a new shelter for animals.
Michael Hays is a 36-year resident of the Nyacks. Hays grew up the son of a professor and nurse in Champaign, Illinois. He has recently retired from a long career in educational publishing with Prentice-Hall and McGraw-Hill. He is an avid cyclist, amateur historian and photographer, gardener, and dog walker. Hays has enjoyed more years than he cares to count with his beautiful companion, Bernie Richey. You can follow him on Instagram as UpperNyackMike.
Nyack People & Places, a weekly series that features photos and profiles of citizens and scenes near Nyack, NY, is brought to you by
Sun River Health
, and
Weld Realty
.