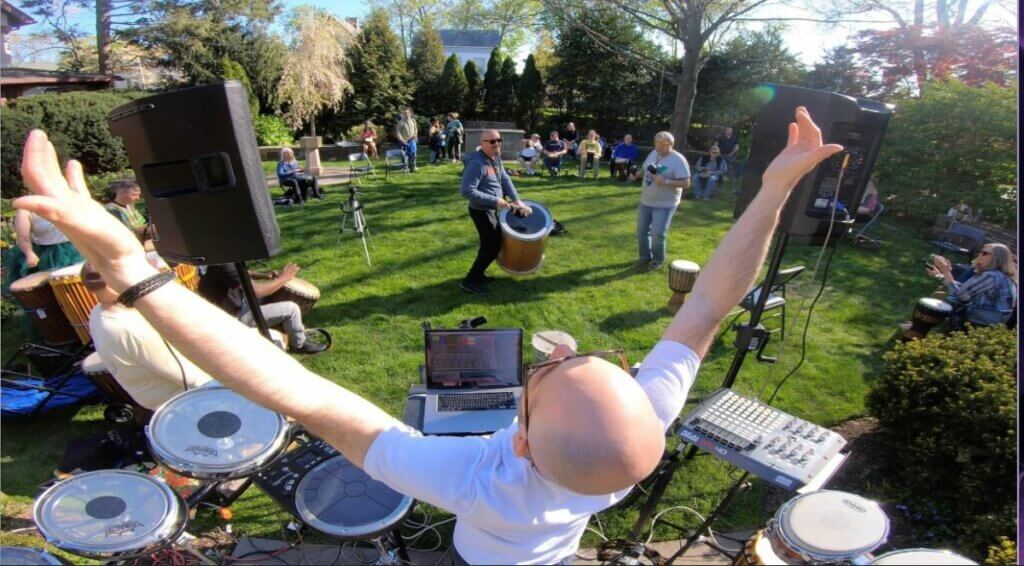 Each month I'll be shining a spotlight on people who have brought about positive changes to Nyack and its surrounding area –people whose life forces have touched others, brightening our everyday world. Also, I will sometimes be sharing ideas, gathering thoughts from others, and hopefully stepping outside the box to wonder, inform and reflect. — Dianne Snyder
Glenn Schloss is someone I've been blessed to know, first as another parent and then as a friend. Glenn, an accomplished music producer, has lived in Nyack for 14 years with his wife, Elena, and their three children Trey, Billie and Levi. They are all part of the artistic landscape that is Nyack, each with their own creative prowess in music, singing, acting and the arts.
Glenn grew up in Tappan the youngest of four siblings and he was guided by his dad, whose devotion to music deeply influenced him.
"I was exposed to so much music from my father," he confides, "since he was the biggest of music fans.
On Sundays it was all Tito Puentes, Hilton Ruiz and Michel Camilo blasting in my house. He would buy all the latest records and come home and share them with us." As a result, growing up for Glenn was music 24/7, prompting him to start drumming at the age of seven, beginning with the xylophone and quickly moving on to drums. Another huge influence was his older brother, Danny, whose musical diet was Steely Dan, Earth Wind & Fire, Jimi Hendrix, Led Zeppelin, Frank Zappa and Iron Maiden.
When Glenn reached the 7th grade, his nascent lust for music and playing led him to participate in the Battle of The Bands with high school seniors.
"When you get on stage," he explains, "we all carry within us a creative badge that for that moment…however long or short it is and it grants us a pass to be who we are, to fully express ourselves."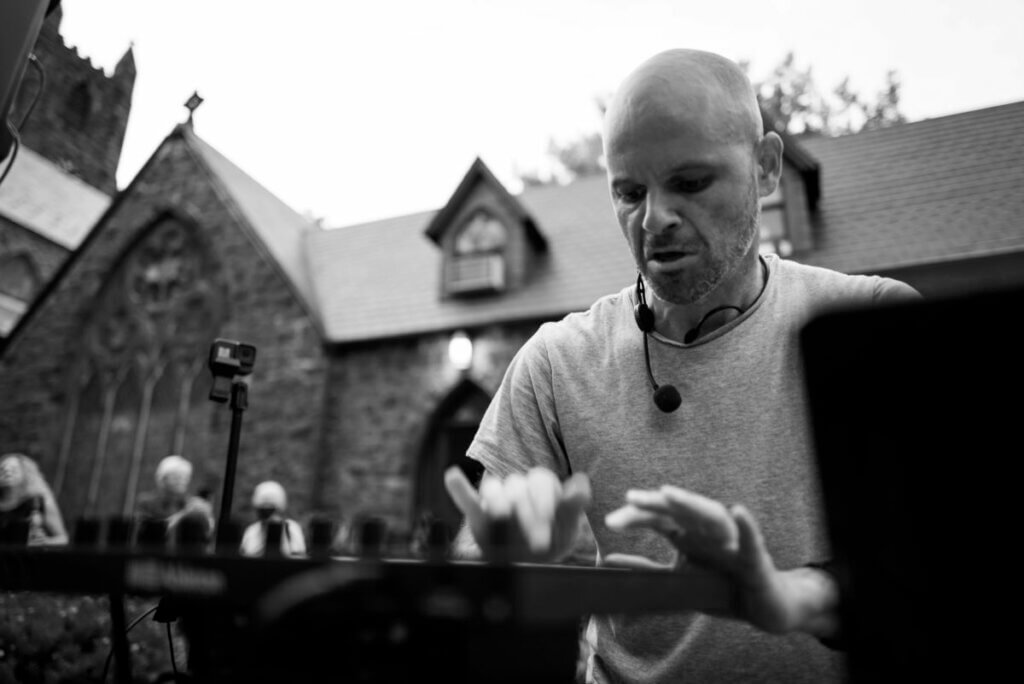 So, one of the major lessons Glenn is grateful to have learned is the ability to express himself fully, as well as show others how they also can without self-judgment.
"It gives me so much pleasure," he explains, "to watch children during a talent show discover their own powerful energies, understanding that they can go on stage and fully express themselves."
Glenn's energy also extends to a senior facility in Westchester. In his Healing Drum Workshop, residents are given a drum and with inhibitions let down, these folks thrive on the beat and their imagination. This is more gratifying to Glenn than he ever could have imagined.
It's no surprise then, that Glenn's combustion of positive energy draws others to him. And this unassuming vitality is what invites the folly to join in his musical romp. I first witnessed this Pied Piper of musical funk when Glenn led children in a Halloween parade for UNES, our children's elementary school. Glenn was able to encourage everyone, including parents, to get their groove on while they shimmied down Broadway.
Later on I was able to work with him on the 5th grade play and talent show, which is when I realized Glenn is a Quincy Jones of sound in multiple arenas, including a humble elementary stage.
Glimpsing Glenn at his home in Nyack, with his loving dog Mabel by his side, you could easily mistake him for a suburban dad with a relaxed love for music. However, upon entering his basement that impression swiftly morphs into something else when professional drums, guitars, a piano and an array of everyday and eclectic instruments come into view. This is where the magic that is Glenn and his company, Flavorlab, reside.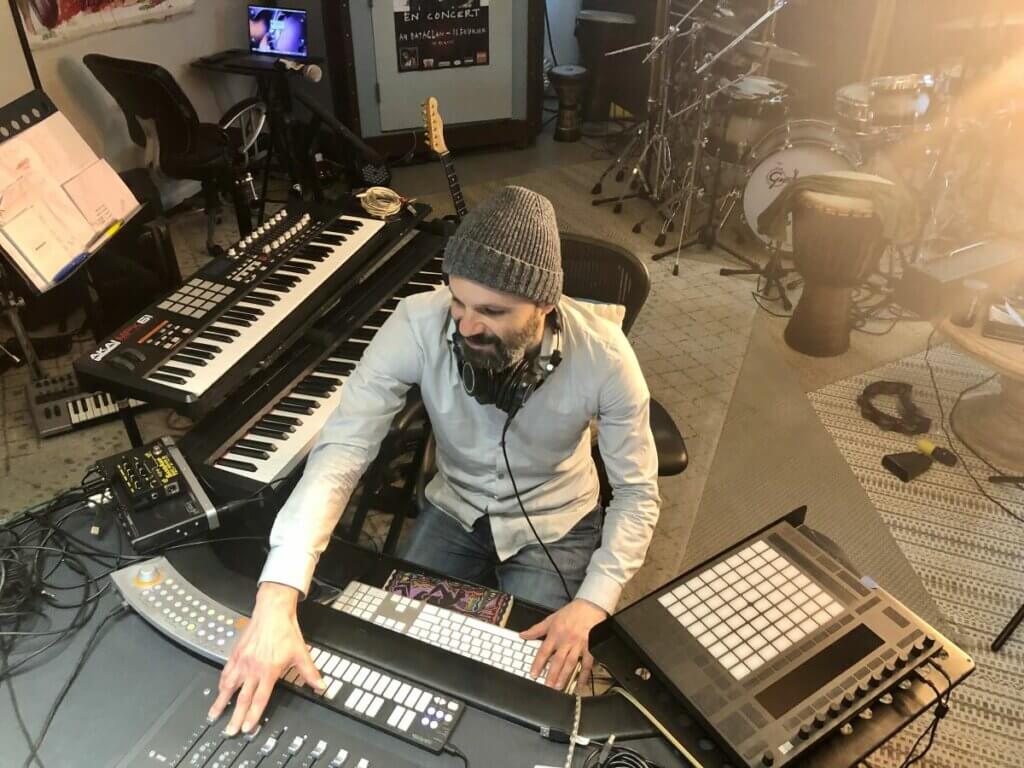 Along with partners Erik Blicker and Brian Quill, Flavorlab is now 21 years into its evolution as an award-winning audio production company in New York City and Nyack. His basement is where he composes, records, mixes and masters music and sound. Their clients include NBC, A&E, PBS Kids, VH-1, ESPN, Disney and HBO Films. Disney's Turning the Tables with Robin Roberts recently won an Emmy with its soulful, deep dive into iconic women in open and honest discussion. And Flavorlab created the warm atmosphere throughout with its music, as well as with the help of vocalist Mai-Elka Prado. Every day that Glenn enters his studio he feels grateful and blessed to be able to fuse his adoration of music into what he does for a living.
When you explore a bit further behind another door in the basement, a fully equipped technical music studio comes into view. This houses various keyboards and speakers. You'll also find a voiceover booth toward the back that Elena and Billie use for their professional work.
Unassuming and joyous, Glenn flows easily from an executive music maker into what he calls "chief drumming officer" for a drum circle he leads called For Vibration. Set in the dreamy garden of Grace Church in Nyack, his electric mantras of sound sweep through and join an array of professional drummers, as well as people wishing to collaborate in the joyous energy and sound. Glenn's drum circle has an almost mystical origin.
When Elena was pregnant with their second child, Glenn played a rhythmic meditation for her and her belly. Elena thought he should share this with their close friends because she believed this "brain massage" would help others too. Along with a vibrational drum, spoken affirmations were weaved through the beats. This was a giving meditation for Glenn and he requested everyone to arrive in silence, leaving their words at the door and to awaken their mind, body, spirit and groove.
"Close your eyes and ride the wave," Glenn would say. The only rule was if they enjoyed it, to bring two more people the next time they come. Glenn now has a large, loving following for the drum circle.
Glenn and Elena have now passed their creativity and absolute love for music onto their own children. Trey plays the piano, drum, guitar and has a rocking voice. Glenn plays with him most nights and they have forged a strong connection. His daughter Billie has the voice of an angel and plays guitar and ukulele. And youngest son Levi is a budding artist.
Elena, who is in real estate, has been an actor and voice actor for many years. "One of the reasons we work well together," says Glenn "is that we have this crazy creative side and we all respect each other completely for it."
Glenn shared that when he was younger there was a piece of paper in his sock drawer that said, "Patient, Prolific, Persistent."
He has tried to abide by these words.
When asked about the road ahead, he said he would like to keep learning and growing as a human and an artist.
One of his favorite quotes is by Milan Kundera, which reflects his optimism: "Music is the pump that inflates the human soul."
Glenn wishes we could all take that ride. "Find your passion," he urges, "it starts and ends there."
Author's note: Find out more about Glenn's work and passions at flavorlab.com and forvibration.com and social media. If there is someone in or around Nyack you think makes a difference, please email me at disny66@gmail.com. Thank you.