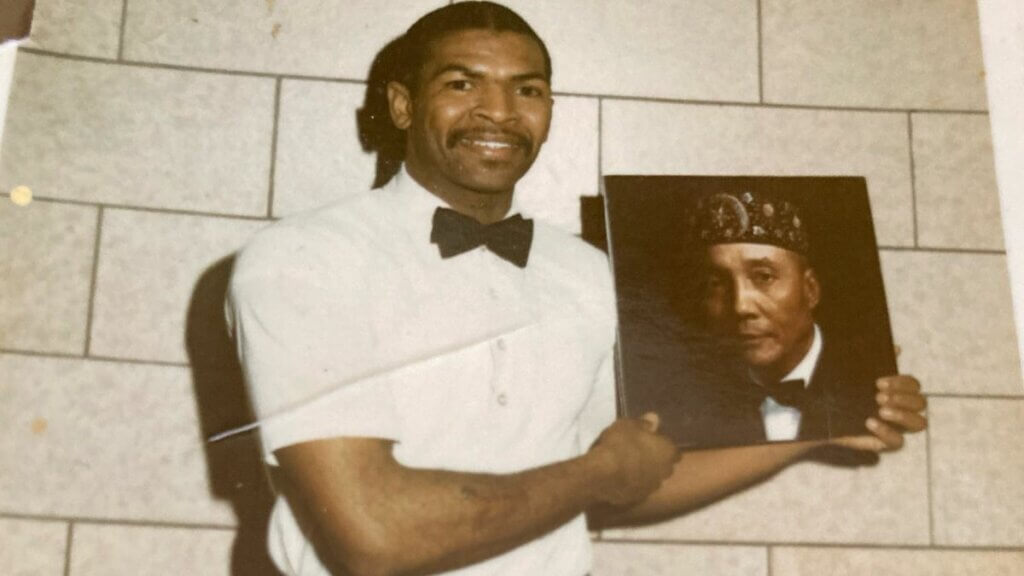 Salahudin Rahim sits on a couch in the video, backlit by warm kitchen lighting. He's talking with a smile in his eyes, recalling the sea change he witnessed in Nyack's racial dynamics as a result of the activism he and others engaged in during the 60s and 70s.
"Things started to improve. We forced people to talk about it. And then a lot of Black people got jobs – except us," Rahim chuckles. "Except the ones that was raising the hell."
"You guys sacrificed for everyone else," Ashley Dawson responds from behind the camera, a deep appreciation in her voice.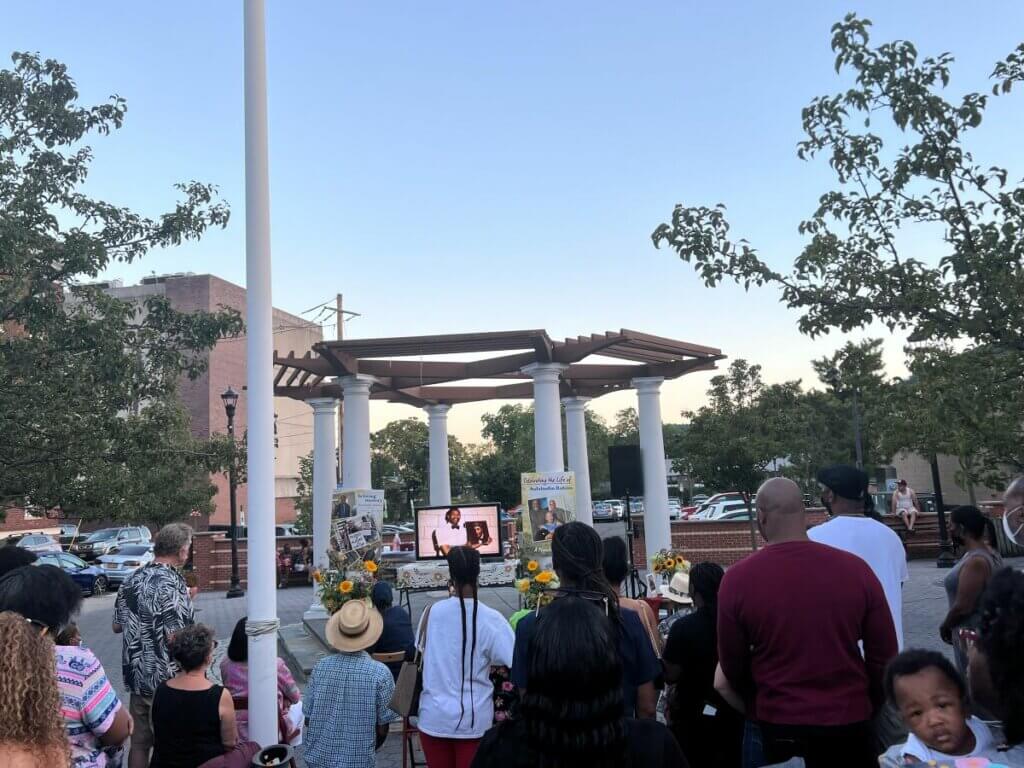 The video is a segment of a documentary in the works by Nyack locals Dawson and Brooklyn Demme. In it, Dawson interviews Rahim about his days in the late 60s fighting back against institutional racism in Nyack. His words are overlaid with archived newspaper clippings from the events he describes.
The documentary amounts to an homage to one of Nyack's most influential activists.
Rahim was a beloved friend and mentor to many — a community pillar, a family man, a proud Muslim, a writer, a poet, and a historian of the "under-known" Black history of the village. He passed away at age 79 on May 5, earlier this year.
In the middle of August, a crowd of about 40 gathered around the gazebo in Hezekiah Easter Square to celebrate Rahim's life.
Organized by the activist group Voices of Rockland and MC'd by Nyack NAACP President Nicole Hines, the memorial included speeches from family and friends, community members, activists, and local officials, as well as a screening of Dawson and Demme's film (see it embedded above).
Nyack resident Andy Minniefield (a leader of the regular Black Lives Matter protests in Hezekiah Square that started in 2020) noted the importance of the moment.
"It's a beautiful thing to see all nationalities here," Minniefield told the crowd. "We all need to come together a lot more often."
Born in Alabama, where he spent his early years, Rahim moved to New York in his teens, and settled in Nyack at age 21. He would soon become a fierce activist, working alongside his peers to transform the social and economic landscape of the village. He lived in Nyack for the rest of his life, and continued his activism tirelessly, with different methods for different moments.
Nyack Trustee Louise Parker described Rahim as "engrossed" with local politics, activism, and community well-being. Rahim died a prominent leader in the community, beloved across generations.
According to Parker, Rahim fought for funds from the local government to create a community center in Nyack, and advocated to make sure that the village maintained its affordable housing programs – like the Nyack Plaza, which Rahim called home.
Parker also described his efforts in pressuring the white-owned businesses in Nyack to hire Black employees.
"He went to every business here on Main Street and Broadway and petitioned them to hire our young kids," Parker said. "Not all of them complied, but some of them did…He got so many kids in there to work. Because that's what he was. He knew that all we needed was that someone to care."
Rahim's daughter, Quenetta Gullifield, spoke about her father and what it was like to be brought up by him. Their family would often read both the Quran and the Bible, she explained, comparing and drawing wisdom from the two holy books. She laughed as she recalled his sometimes-harsh punishments driven by unshakeable morals.
Barbara Gullifield, another of Rahim's daughters, spoke as well. His granddaughter, Kimberly Gullifield, gave a beautiful tribute through song, and Jashad Gullified freestyled expertly about his grandfather's legacy.
On display by the gazebo was a book authored by Rahim and his aunt, titled All of Our Days. The writers narrate select periods of their lives in rich imagery and thought-provoking commentary.
Of particular interest to Nyack locals will be Rahim's descriptions of the overt racism that dominated the village, and his memories of leading the charge to transform Nyack – by any means necessary – into a place where Black residents could live better lives.
"It exploded in Nyack one hot summer's day as a group of us were standing on the corner of Jackson and Franklin Avenues, right there where two dead presidents met and crossed," Rahim writes.
He details the pivotal Summer of 1967, when riots proliferated across Nyack in response to an increase in intrusive, discriminatory aggression by the police department. He and other young Black activists, under the title UBA (United Brothers of Armageddon) physically fought back against police harassment, damaged the property of racist businesses, and more – resulting in real, material change.
Here's how Rahim describes his fight and its impact:
"I used to think that we bloomed into revolutionaries overnight, but now that I am older and look back on it I see that it was a rather slow process. From Black boys hating to eat from the swiveled fruit of the tree of second class citizenship, to high school dropouts and rebels against institutionalized racism, to outlaws and criminals, to bonafide revolutionaries fighting against an unjust system, we actually changed the face and direction of a racist America. Did we remake America into the perfect society? No, but we redirected the flow of economic oppression, forced blatant bias to go underground, and kicked a crack in the door of equal opportunity which had been closed against us for so long."
For those interested in reading more, head to the Nyack Public Library. They have two copies in circulation, and one more kept in the archives.
Rahim is serious and purposed in his writing, focusing on the determination with which he and his peers fought, and the price they paid for turning the needle. Newly integrated businesses refused to hire them, they faced time in prison, and the mental toll of a life laden with sacrifice was often severe.
Though he spends little time detailing the smaller, everyday ways he uplifted his community throughout the years, you'll hear no shortage of these praises from those who knew him.
Nyack Mayor Don Hammond recalled often seeing Rahim walking around Nyack with his grandkids, "showing them the way of Nyack."
"He was a mentor to everyone he came across," Hammond added. "Whether you allowed him to be or not, he was your mentor."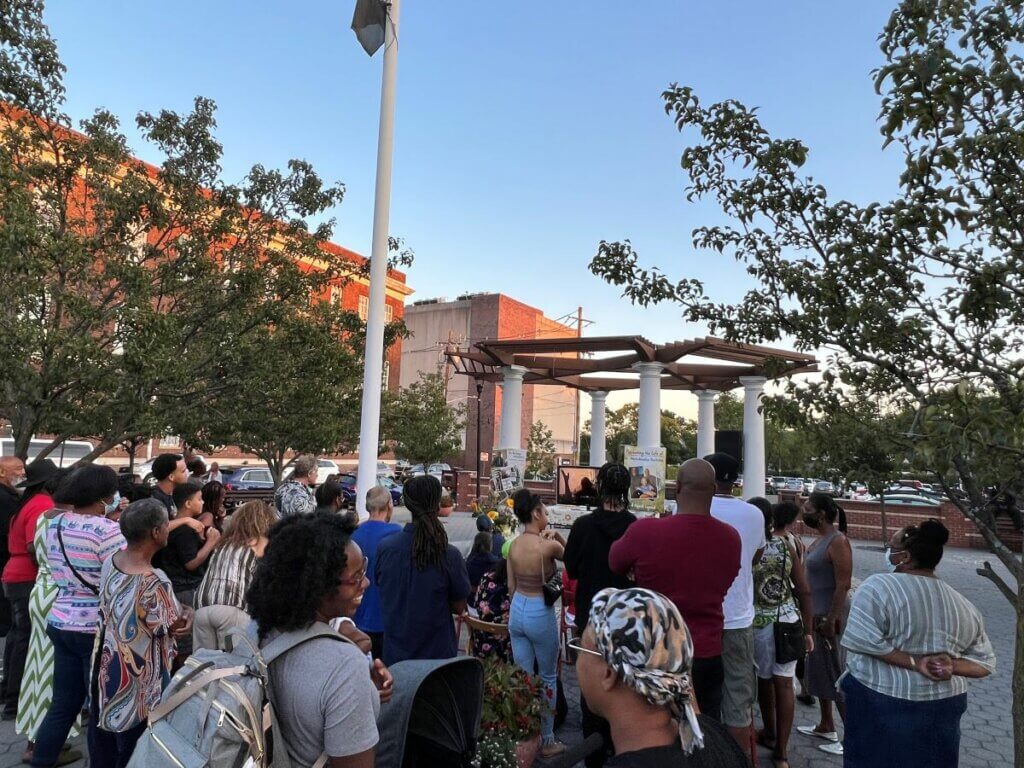 Minniefield said that when he was younger, Rahim saved his life.
"I was a lost child," Minniefield said. "Salahudin pulled me aside, said 'you ain't gotta live like that.' He found me a job… he saved my life, he really did. He had such a peace. I don't know where the brother got it, but he had a peace about him, and it was real nice to stand next to the brother and feel that peace."
Parker, too, said Rahim altered the course of her life.
"He's probably the reason I'm a trustee today," Parker said, to applause from the crowd. "He talked to me and he said, 'Lou, you can do it'… we need people who care about people in there, so we have a voice."
It's clear that Rahim's legacy and love will outlive him in the village.
As Hammond said at the memorial: "His spirit walks these streets every day."
Editor's note: we were not able to record all speeches and performances, which is why some are heavily quoted and some, namely his family's, are not.