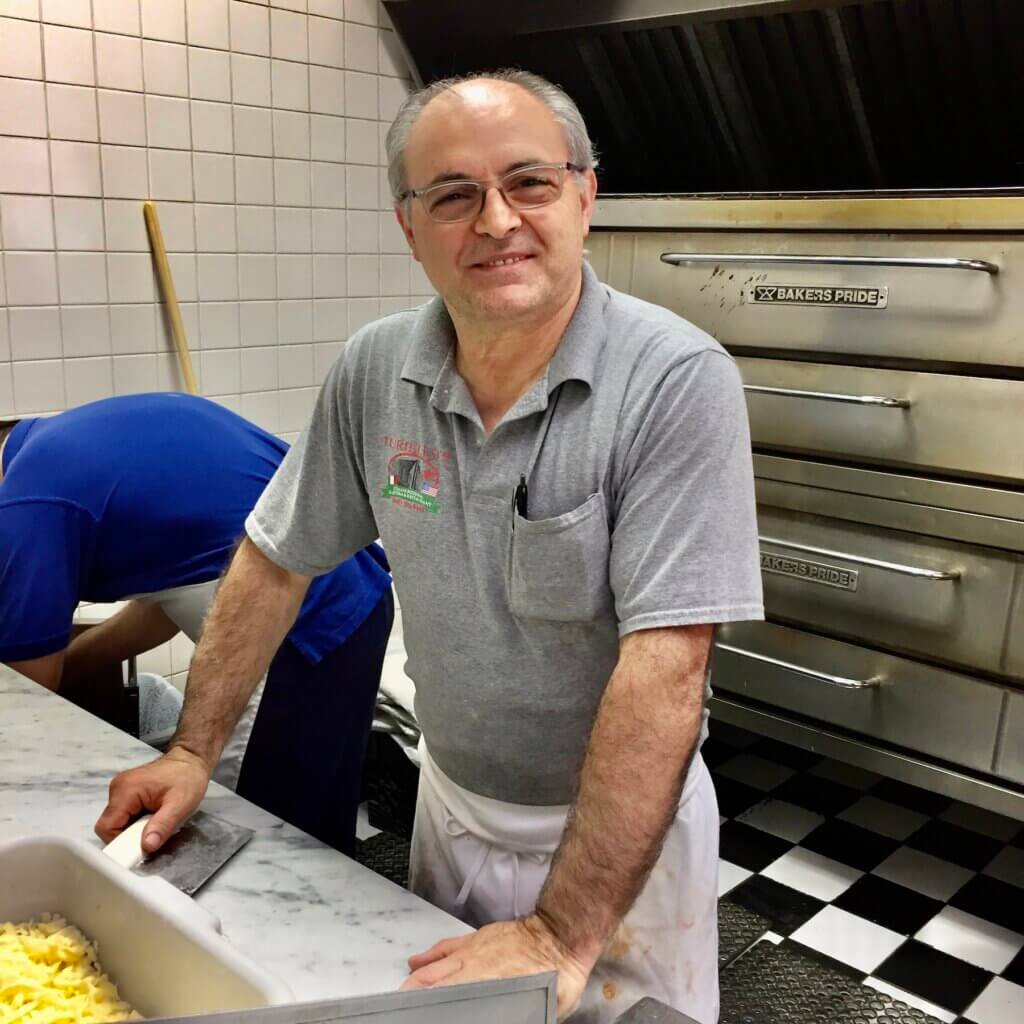 Turiello's Italian Restaurant is a home away from home for many of us. Located in the heart of downtown Nyack since 1980 under the ownership of Girolamo (Nino) Turiello's has served many millions of hot slices and pies. When asked where he lives, Turiello says "in the store", although his real home is in Brooklyn.
Immigrant to Owner
Turiello came to America in 1972 from Bari, Puglia in Italy. In Bari they made focaccia (grandma pizza) instead of Neapolitan-style pizza. Two days after arriving in America he went to enroll in school with his passport and green card. The Brooklyn principal asked if he had a utility bill. Since he lived at his grandmother's home he could not prove residency. He was told to come back when he could.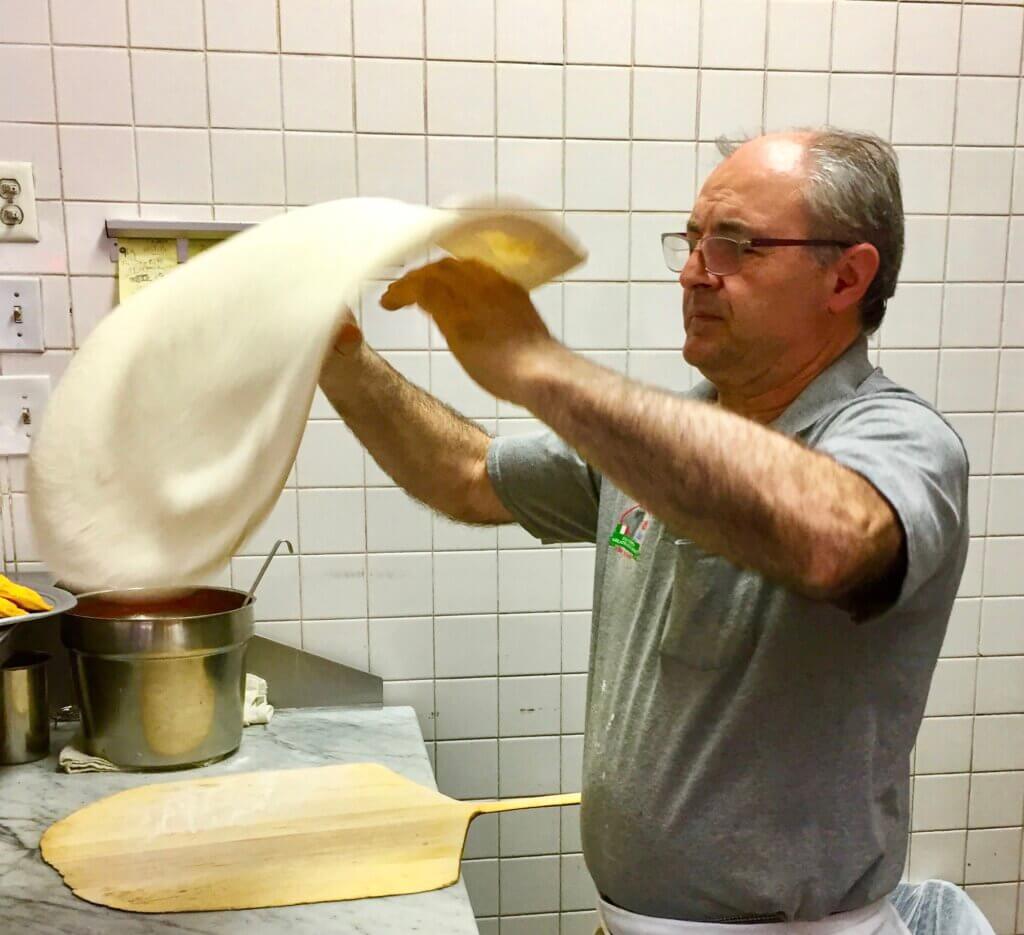 In 1974, he began working at Lenny's Pizza (of Lenny's Clam Bar and Italian Restaurant fame) on Nostrand Avenue in Brooklyn as a dishwasher. He learned English there and quickly moved up to making dough, sauce, spaghetti, and then working the front of the store.
In 1979 he heard about a pizza store for sale in Nyack at 3 S. Broadway whose owner was returning to Italy to help his family after an earthquake. The owner and shop was named Puriello's. All Nino had to do was change one letter when he moved in. He took over the business and made it a village institution. In 1993, he moved to its current location at 76 Main Street taking over from the owner who had run Horse Feathers and also rented to a number of antiques dealers. Sew What's New was renting the space in the basement (where Maureen's Jazz club is now located.)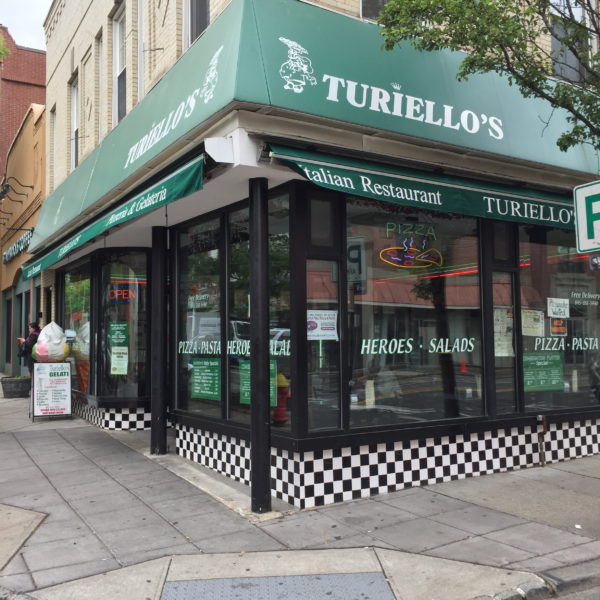 The Pizza
The dough, sauce, and toppings Nino uses are made daily from the same supplier he has used for 43 years. When asked if he eats pizza, he says every day. He tastes a slice to make sure it is still of high quality (no topping on his pizza by the way). Sometimes, he has a second slice because he loves his pizza.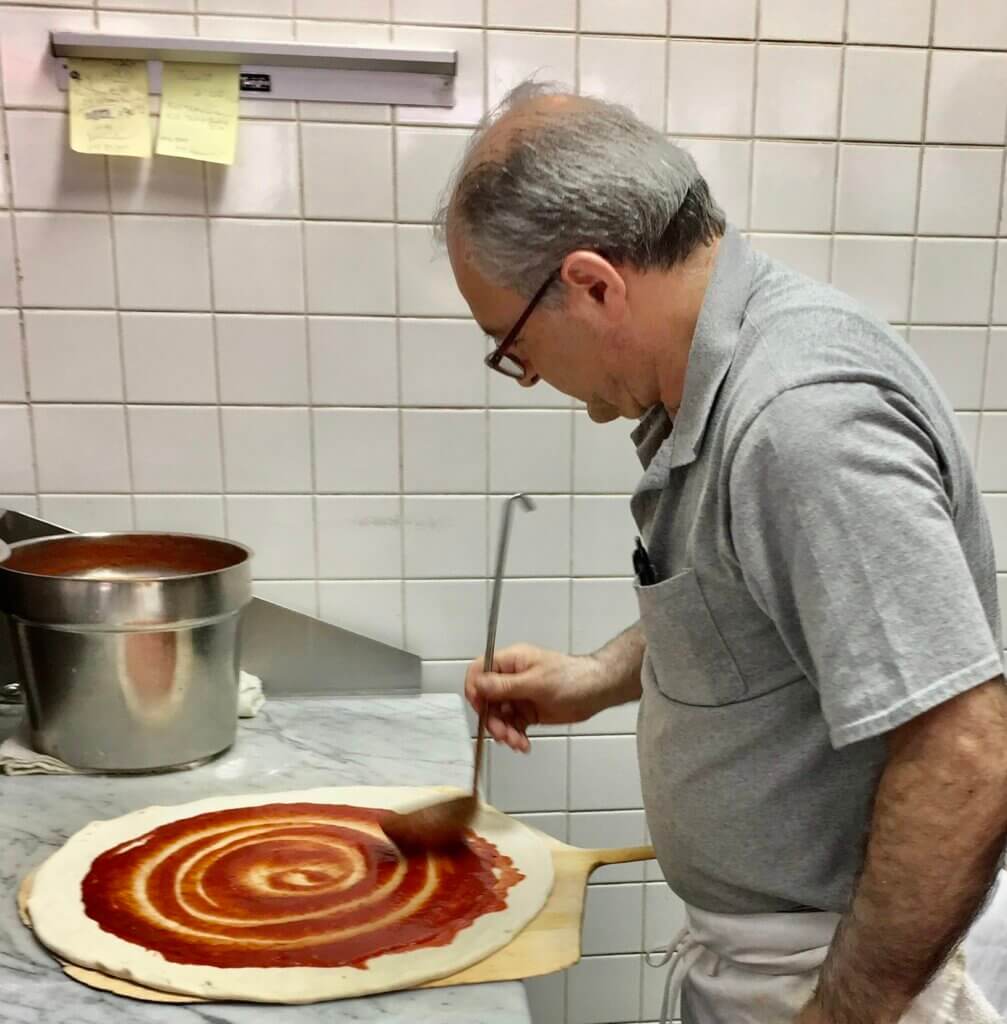 His sons, Umberto, Nicola, and Nino Jr., work with him in the store. They have just about every Italian dish you can imagine including gelato.
200 Years of Shops at 76 Main St.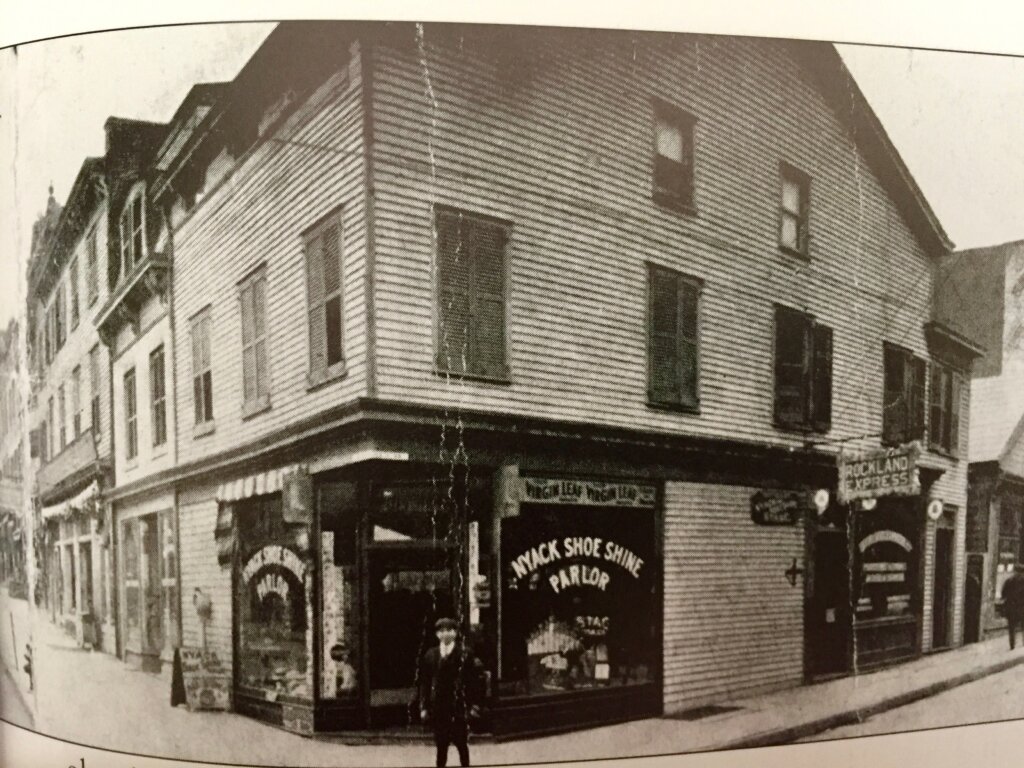 The history of #76 Main St. stretches back to Nyack's earliest days. The first building seems to have been a large shed-like structure occupied by Charles Humphrey and his blacksmith shop. At some point, circa 1870, a three-story wooden building was erected by the Humphrey family with apartments above a retail business. Orlando Humphrey, Charles son and also a Nyack Postmaster, was born and then died in the building, having lived his entire life at the center of Nyack. Over time the "Humphrey" building housed a grocery, a shoe shine parlor, and perhaps a saloon.
In 1919, a new 2-1/2-story white brick building replaced the aging wooden building. It was the first home of F. W. Woolworth & Co. 5 and 10 Cent Store (Woolworths would later move up Main St.). The building then housed the Blue Bird Shop and then Mae-Moon, both selling women's apparel. In the 1970s as Nyack became an antiques center, Horse Feathers occupied the building along with a number of small shops.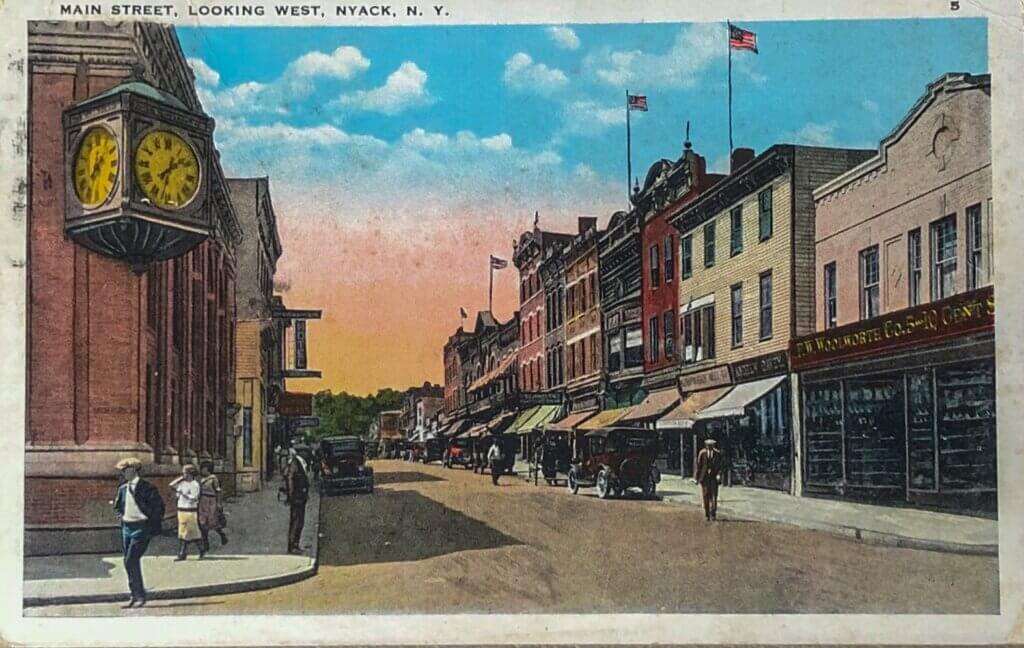 A Short History of 3 S. Broadway Street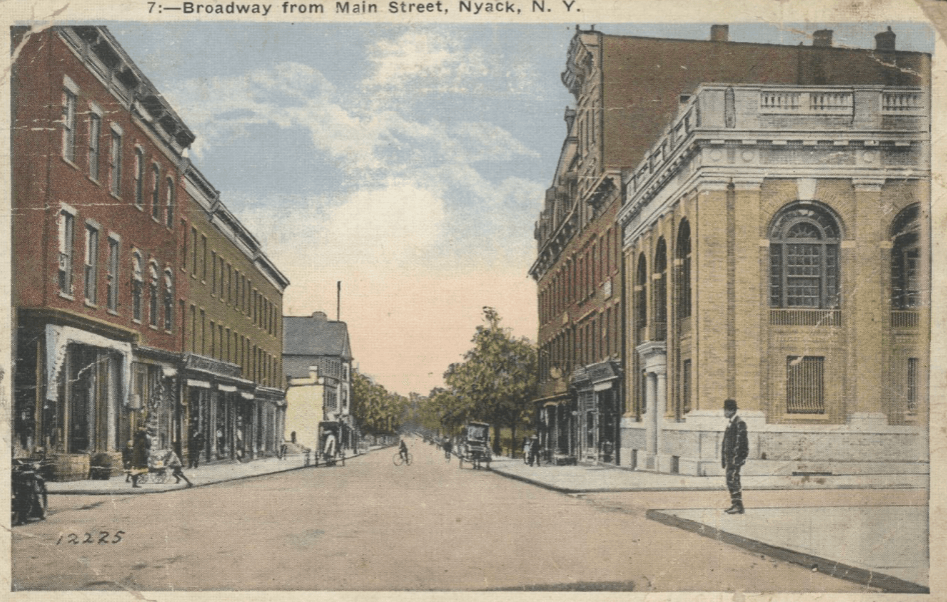 After Turiello moved his store to its current location, his old store on 3 S. Broadway became Lanterna's Restaurant and then, currently, Broadway Bistro. Moeller's Block, the three-story brick buildings along the east side of Broadway between Main and Burd Sts.) was built in 1874. #3 South Broadway's first tenant was a pharmacy with a famous soda fountain that cost $2,000, a fortune at the time.
Millions of Pies
Nino Turiello, Nyack's master pizza chef, is also an acute businessman for locating his store in the the heart of downtown where everything from iron goods to shoe shines to clothing were once made and sold. Turiello has literally sold millions of pies along with a smile for every customer. Whether its a slice in the store or a hot box on your lap, Nino Turiello has made Nyack a happier place.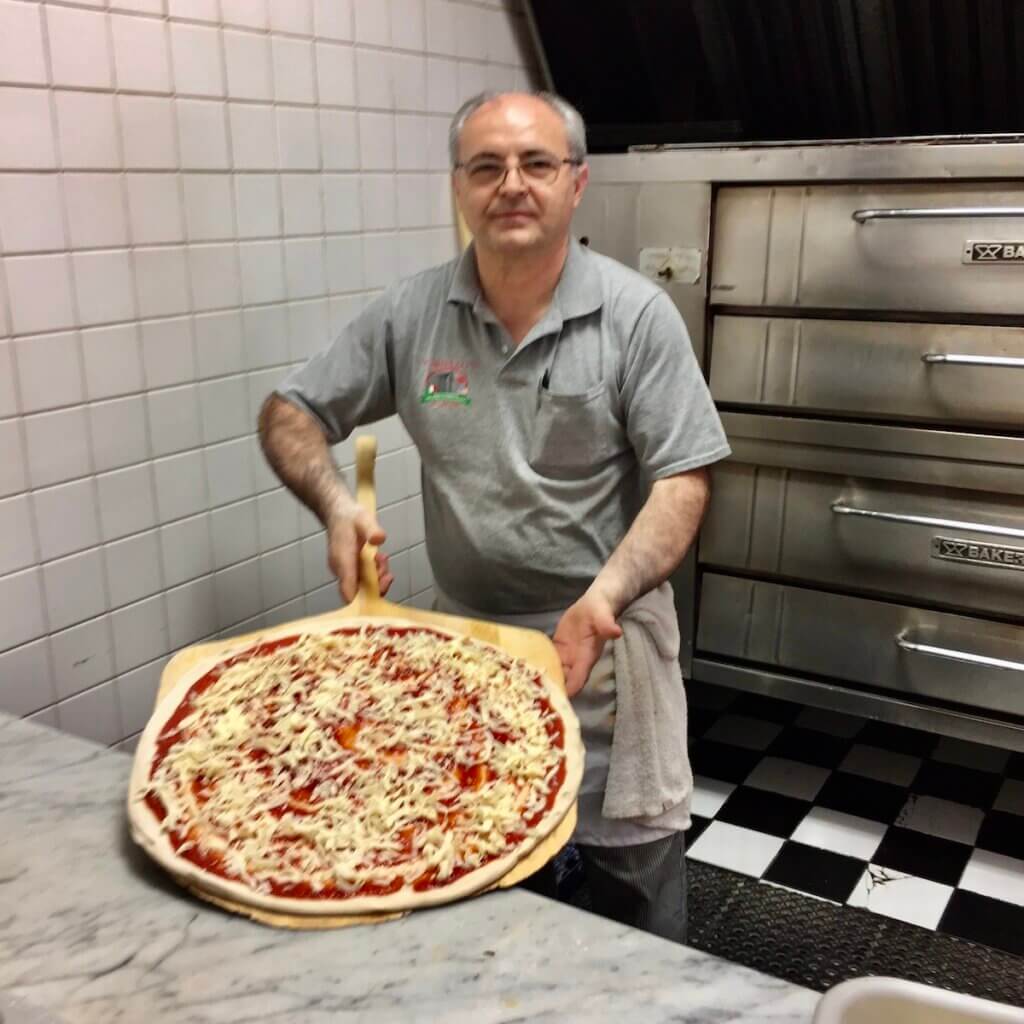 Michael Hays is a 35-year resident of the Nyacks. Hays grew up the son of a professor and nurse in Champaign, Illinois. He has recently retired from a long career in educational publishing with Prentice-Hall and McGraw-Hill. Hays is an avid cyclist, amateur historian and photographer, gardener, and dog walker. He has enjoyed more years than he cares to count with his beautiful companion, Bernie Richey. You can follow him on Instagram as UpperNyackMike.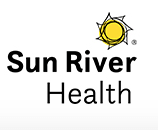 Nyack People & Places, a weekly series that features photos and profiles of citizens and scenes near Nyack, NY, is brought to you by
Sun River Health
, and
Weld Realty
.