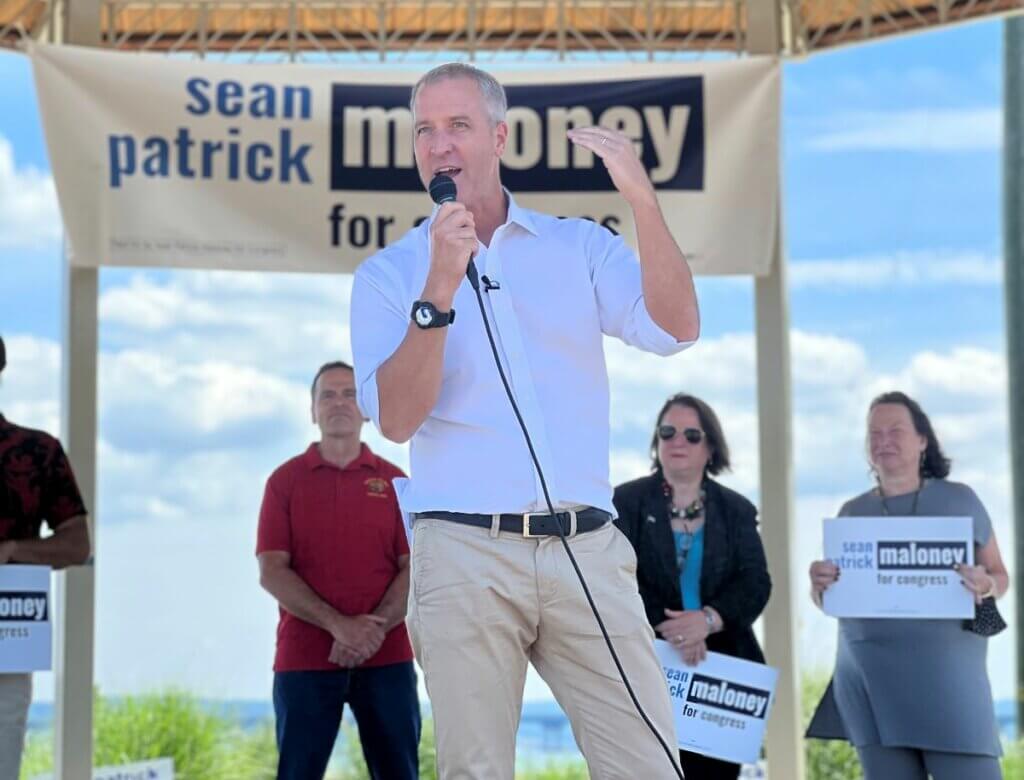 Despite a whirlwind of controversy around his candidacy and a spirited challenge from the party's left, Sean Patrick Maloney easily won the Democratic primary for New York's 17th Congressional District, which encompasses most of the lower Hudson Valley.
Blessed with an enormous fundraising advantage and widespread institutional support, Maloney soundly defeated Alessandra Biaggi, a progressive state senator backed by left-leaning local and national groups, taking almost exactly two-thirds of the vote (66.7% to 33.3% with about 95% of votes counted, according to the NY Times).
Polls closed at 9 pm and the Associated Press called it for Maloney 50 minutes later.
In November, Maloney will take on Mike Lawler, who represents parts of Nyack in Albany as an assemblyman in 97th District.
Lawler, a Suffern native, received almost exactly three-fourths of votes tallied so far (75.8% with around 95% of votes counted).
Coming in second with 11.6% of the vote: William Faulkner (who's relationship to the controversial American literary icon remains unclear).
The general election should be closer than either of the primary matchups, but Democrats will be favored and showed some strength in numbers during the primaries. Democrats cast more than two votes (32,000+) to every one vote made by Republicans (15,000+).
That won't be the case in November, but Democrats will enjoy a decided numbers advantage. Most political analysis sites, like the Cook Political Report, have the 17th district "leaning Democratic" in November.
Despite a rocky, tense primary campaign that included harsh accusations and broad criticisms, John Gromada, the head of the Rockland County Democratic Committee (which declined to endorse a candidate in the race), said the competition between candidates was good for Democrats.
"The passion, energy and debate that Senator Biaggi and her supporters brought to the race is truly the lifeblood of our party," Gromada said in a press release.
Gromada added that "I know that we can count on Biaggi supporters to join in keeping Representative Maloney focused on the issues that matter to us here in Rockland."
In a press release, Maloney congratulated Biaggi on a strong campaign.
"Thank you to Senator Alessandra Biaggi for running a good race," he said. "This primary made us stronger and together we will keep fighting for a better future for our country, starting with holding this seat and holding the House."
Maloney, who was criticized by Biaggi and others for forcing out current NY-17 representative Mondaire Jones (who lost his bid in NY-10 last night) in the redistricting fallout, ended with specific words about his upcoming opponent, saying he's working to make sure Hudson Valley voters reject "the radical, anti-choice, pro-gun policies of MAGA Republican Mike Lawler."
In a Facebook post, Lawler didn't mention Maloney, instead focusing his case to voters on how Democratic ("one-party") rule, locally and nationally, has damaged the country.
"We need to tackle the issues of affordability — inflation, taxes, and gas prices — crime, education, energy and immigration," Lawler writes. "One party rule in Washington and Albany has destroyed our economy, made our communities less safe, and divided our country more than ever before."
The general election will be held Tuesday, Nov. 8. Early voting will begin Oct. 29.