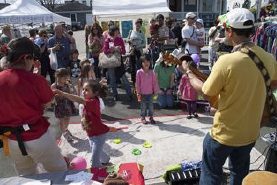 Two vibrant Nyack traditions resurface this week as we unofficially enter the dog days* of summer: Nyack's "famous" street fair and summer music.
(*Fun fact I just learned: So, I always thought "dog days" was a metaphorical term for the general sweaty lethargy Americans experience during peak humidity season. But it turns out, way back in the day, people associated this middle period of summer with the concurrent rising of Sirius, also known as "the dog star." Hence, "dog days." Either way, it works and now you have a fun fact to tell your friends this summer!)
On Sunday, July 10, Nyack's distinct flair for fun will be on full display during another street fair for the masses. From 10 am to 5 pm, head into downtown Nyack and enjoy 250 vendors and exhibitors with crafts, gear, home decor and more, as well as live music and all kinds of food options.
This past Thursday (July 7) marked the beginning of the summer's Thursday jazz nights at the Edward Hopper House. But if you missed it or just need more harmony in your life, there's more free music options coming up, including:
Enjoy the fair. Enjoy the music. Enjoy the dog days and the rising of Sirius!