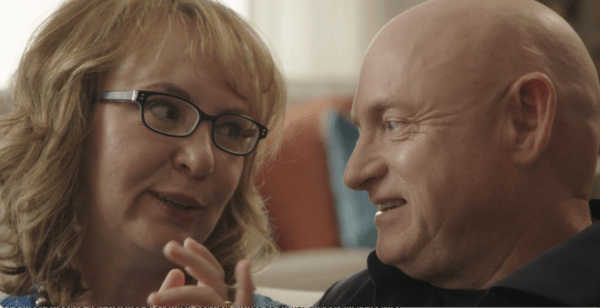 In Gabby Giffords Won't Back Down, the new film from Academy Award nominated directors Julie Cohen and Betsy West, the former Arizona Congresswoman and one of the country's most effective gun violence prevention activists invites us on her extraordinary journey of recovery following an assassination attempt in 2011.
The film features verité footage of Giffords', filmed by her husband, astronaut-turned-Senator Mark Kelly, as she fights to regain speech after being diagnosed with aphasia. Throughout the film are interviews with former President Barack Obama, friends, colleagues, and Giffords' speech pathologists.
Rivertown Film Society will screen Gabby Giffords Won't Back Down in partnership with Moms Demand Action in Rockland County on Tuesday, July 19th, to be followed by a conversation with Cohen. The discussion will be moderated by former Nyack Mayor Jen Laird White. "We thought it was important to screen this film because, as so often happens when you show a documentary, it's an opportunity for our local community to come together to discuss an urgent national issue," says Rivertown Vice Chair Vera Aronow. Proceeds from ticket sales will benefit Rivertown Film Society and Moms Demand Action.

Cohen and West are no strangers to telling the stories of inspiring women; perhaps their best-known film, RBG, chronicles the career of Supreme Court Justice Ruth Bader Ginsburg to great acclaim, having been nominated for the BAFTA Award for Best Documentary and Best Documentary Feature at the 91st Academy Awards. It was chosen by the National Board of Review as the Best Documentary Film of 2018.

When asked what attracted the two to the former Congresswoman's story, Cohen offered, "My directing partner Betsy West and I love making movies about spectacular women who've done big things. Gabby certainly fits that bill. And this story has a lot of elements we couldn't resist: a really dramatic comeback from near death to a purposeful, rich life. And a great feminist love story."
This is also the tale of a marriage that was faced with unthinkable hardship and became a sustaining force in both Giffords' and Kelly's' lives. "The biggest surprise to me," says Cohen, "was how fun these two people are. They do serious work and they have been through one of the worst tragedies a couple could face, yet they're often laughing, and in Gabby's case pretty much always singing."
The film also follows Giffords' work towards gun violence prevention. "That [Giffords] took her tragedy and has become such an important voice in this movement is inspiring," says Shari Maurer, Local Group Lead of Moms Demand Action, an organization which focuses on "promoting gun safety as well as electing Gun Sense candidates at every level of government and advocating for laws that will protect communities while blocking bills that are dangerous."
Cohen herself hopes the film will motivate people to get involved in their communities to work for sensible changes to gun policies, "… but also to follow Gabby's example of living life in a joyful, music filled way, even when the challenges are tough."
The screening and discussion will take place on Tuesday, July 19th at New City Cinema, 202 S. Main Street in New City. The film will begin at 7:00 pm. Click here to purchase tickets and learn
more.
---
The free Music on the Hudson outdoor concert series continues at Nyack's Memorial Park on Tuesday, July 19, from 7 to 9 pm (and every Tuesday afterwards until Aug. 9).
Don't miss Bob Samuels' summer concert series at Piermont's Flywheel Park on Thursday, July 21, starting at 7 pm.
The Hopper House hosts its annual Jazz at the Hopper House series starting Thursday, July 21, and continuing every Thursday through August 25th.
Send the Weekly Rec your own recommendations for outings and events at info@nyacknewsandviews.org