True story: My wife and I sang Katy Perry's "Firework", a huge hit at the time, to our baby daughter, Naya, almost every night during her first year of existence. It was a strange choice, but nonetheless, a hilariously uplifting lullaby.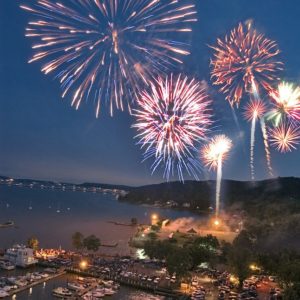 Now, when I hear the song, which is still relatively often, the sound makes me tear up with nostalgia for things like changing diapers and rocking babies to sleep at 3 in the morning. (Also true: at 18 months, my daughter's favorite Katy Perry single sadly became "Wide Awake" for obvious reasons all parents and babysitters can relate to.)
Outside of our nursery, of course, Katy Perry's "Fireworks" became a staple of fireworks shows of all occasions, including perhaps the upcoming Independence Day weekend festivities in Nyack, which kicks off on the actual 4th of July, Monday night, at 9:30 pm off of Memorial Park.
There are a multitude of firework shows going down in various locales this weekend, including in Pomona, at the New York Boulders' stadium on Sunday and Monday, where you can see pyrotechnics after the both ball games. (LoHud has a more expansive list of other shows happening this weekend.)
(Editor's note: If you go, please send pictures to us at info@nyacknewsandviews.com.)
Finally, I'll leave you with the one and only Katy Perry (a true American treasure!) for any time you need a good nostalgic cry of joy this weekend. We all need it!