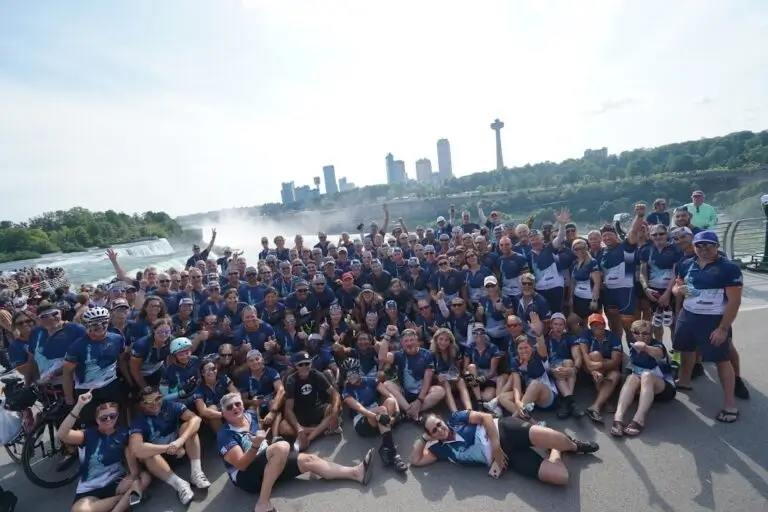 Interview and text by Suzanne Buchauer
Terry Bourgeois is the founder of the Empire State Ride, a 7-day 500-plus-mile annual ride that raises money to fund research and clinical trials for cancer research at the internationally-renowned Roswell Park Comprehensive Cancer Center in Buffalo, New York.
This year, the ride stretches from July 24 to July 30. Organizers are still looking for riders and donors. So far, the ride has raised more than $866,000.
Below is an excerpt from an interview I conducted with Bourgeois earlier this year. We touched on the importance of ride in relation to funding cancer research, as well as some details about the ride itself. But first, here's a hype video from last year's ride:
Terry, I am curious to ask a few questions about the ride for our reading audience here in the lower Hudson Valley.
Where does the ride start and end? Terry: We start on Staten Island, with a beautiful view of the Statue of Liberty as we take the ferry over to Battery Park. We then ride along the Hudson River to Albany and then through the incredibly scenic Mohawk Valley and to Niagara Falls, NY.
How did you get the idea to start this ride to raise money for cancer?
Terry: I love bike riding, and I hate cancer. With most of the population of New York State living near the Hudson River and Erie Canal, I believed we could create a fantastic experience for riders while raising funds for research and clinical trials. I decided to ride the route by myself in 2014 to try it out, and then we opened it up for others to sign up in subsequent years. We have a wide variety of ages and abilities that can do the ride. We have had people in their seventies and as young as eighteen. All are most welcome to contact us and learn more.
What if I live a long way from Staten Island? How do I get my bike and myself there?
Terry: We provide transportation to Staten Island from Buffalo at the beginning and the end of the ride. For people across the nation or other countries, we have designated bike shops people can ship their bikes to, and they will assemble it, and we will have it at the start line.
What if I want to come alone? Who will I ride with?
Terry: People come alone all the time. You will be with like-minded people who are all here for the adventure and raise money for Cancer Research. We have people with all abilities who ride at their own pace; you will fit in just fine with a group of riders. Every year we have people that start as strangers and end as family.
Where do I sleep and eat?
Terry: Individual tents are set up for you each evening for the duration of the trip. Meals are also prepared by an amazing catering company that is with us for the entire week. We consider allergies, and the meals are designed for endurance riding.
How much does it cost?
The minimum fundraising commitment for the week is $3,500.00.
Where do I learn more?
Go to the website: www.empirestateride.com
Author's note: Suzanne Buchauer lives in Upper Nyack, New York and is a Davis Dyslexia Correction Facilitator, Licensed Davis Concepts for Life, Davis Autism Approach Facilitator. Email: suzanne@dyslexia-works.com. Web: www.dyslexia-works.com.