The unmistakable aroma of strawberries permeated the farm lanes of Rockland County as millions of picked berries were transported by wagons to steamboats known as "Strawberry Boats" and later to train depots to be loaded onto "Strawberry Trains". Beginning in early June and continuing into July, these express boats and trains ensured that berries arrived fresh and unbruised in New York City.  In 1846, some 5 million baskets were shipped from Rockland County.
Strawberries were one of the earliest 'cash crops' in Rockland County. Millions of filled splint baskets known as "punnets" would be loaded into larger baskets known as"'hampers" and then stacked on boats and trains ready for a fruit-starved population. Today, we are accustomed to having fruits year-round. Back in the day, strawberries would herald a new season of fruits capped by  numerous strawberry festivals throughout the county.
Wild Strawberries
Wild strawberries were once prevalent along the east coast and along the Hudson River valley. "Wee can not sett downe foote," wrote an Englishman in Maryland, "but Tred on strawberries."  In 1897, according to the Rockland County Journal, wild strawberries were still "very plentiful" on South Mountain in South Nyack. Wild strawberries are smaller, more acidic, and have more seeds than modern hybrids.
The berry was coveted by Native Americans, who ate them fresh and dried. A special bread was made by bruising strawberries in a mortar and then "mixe them with meale and make strawberry bread," as an Englishman's description read. Festivals were held in June, when strawberries ripened. A special drink made by mixing strawberries with water and a little maple syrup was shared with the entire community during the festival.
Wild strawberries were once harvested in Bergen County by African Americans for sale in NYC. They invented splint baskets with handles so that baskets could be strung on poles and thus sold in the city.
The 'Modern" Strawberry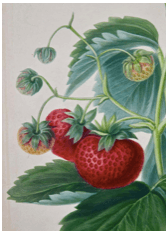 The North American wild strawberry was larger than the European alpine strawberry. It was later hybridized with a Chilean strawberry to create the beginning of the modern strawberry. The scientific name for the American strawberry, Fragarai Virginiana, reflects its aroma and abundance in the coastal regions. By 1830, new hybrids appeared on a regular basis improving the size, quantity, aroma, color, and longevity. One of the favorite varieties grown along the Hudson River was the Boston Pine a reliable variety that became known as the Bartlett.
Demand quickly outstripped the amount of fruit available from home gardens. Large strawberry fields were planted in rows spaced far enough apart that people could easily pick the fruit. The fruit was picked without their 'hulls', leaving the green cap on the plant.
Some of the first commercial strawberry fields were in Hackensack. For a time, strawberries were called Hackensacks by city dwellers.  By the 1850s, Bergen County, Long Island, and Rockland County became major berry producers. In 1858, 1,100 wagons loaded with berries were logged at the second tollgate on the Bergen Turnpike bound for the Hoboken Ferry.
Strawberry Baskets
As a delicate fruit susceptible to bruising, commercial fruit was packed in small splint baskets known as "punnets", each containing about a half pint of berries. Punnets were loaded in "hampers" or long trays for transportation. Many farmers made their own splint baskets from hickory trees over the winter. Others would hire a basket maker. Each basket was labeled with an identifying mark so that the returned baskets could be retrieved by the owner at the train station or wharf. Square whitewood fruit boxes appeared around 1858 having been invented by Nicholas Hallock of Flushing, New York.
Strawberry Picking
Aside from the vagaries of weather, one problem in growing strawberries is having the labor to pick the fruit. Fortunately, most farm families were large, and children could help with the daily harvest. During late June in Ramsey and Mahwah, schools were closed for a time because so many kids were absent picking berries. Picking was so important that picking contests were held. In June 1897 on a farm owned by Josiah Young in Tallman, two young men tied their picking contest after they both filled 155 quart boxes in eight hours.
In Nyack, the largest known strawberry farms were in Central Nyack. The Waldron family farm near the intersection of Waldron Avenue and the Nyack Turnpike (Route 59) was a big producer. John Baker, a Civil War veteran, and the Nyack toll taker on the Old Nyack Turnpike, also grew strawberries in Central Nyack.
Over time the strawberry fields disappeared, but as late as 1967, the 70-acre third-generation Duryea farm in South Monsey was still growing strawberries. Labor was hard to find so it was a pick-your-own operation.
The Strawberry Boat
By the 1830s, steamships were providing ready access to New York City, and they were a convenient and relatively inexpensive way to get strawberries to city markets. The nightly runs of the strawberry boats began sometime in the 1840s. Farmers paid six cents per hundred baskets (nine cents for fancy baskets) to have berries shipped. Stops were made at Nyack, Piermont, and Closter. Two that advertised in the local paper were the locally built Arrow and the Marshall Nye, a freighter out of Haverstraw.
The 200-foot -long Arrow with a draft of 4 ½ feet that was built in 1838 was perfect for the wharfs on the shallow western side of the Hudson River. It was owned by the Smith brothers of Nyack (Isaac, Abram, Tunis, and David), who also controlled the Nyack docks. The Arrow had a habit of getting in accidents (as did many steamboats). On December 19, 1845, a fire of unknown origin started at night. Someone had the bright idea of casting off the boat from the pier and it drifted away from the arriving Orangetown firemen. Capt. Isaac Smith arrived, jumped on board the burning ship, and tossed mooring ropes back to firemen at the dock to pull the boat ashore. In 1851, it happened again in Nyack, with fire starting as the boiler was heated up for a morning run. Much of the boat was burned along with much of the adjoining lumber yard.
Like a phoenix, Arrow arose from the ashes, and in 1854 there were advertisements for the strawberry boat in local papers. The boat left New York City at 7p, stopping at Yonkers, Piermont, and Nyack. It was loaded with berries, and left Nyack at 10p, stopping soon after in Piermont. At 11, the strawberry boat left Closter Dock.
The Strawberry Train
People thought the railroad could never compete with steamboats in the Hudson River Valley.  But after the trains came to Peekskill, for example, 80% of the people traveling to the city went by rail rather than steamboat, even though the cost was higher. Even cutting the steamboat price to half the rail fare didn't draw people back to the boat. The faster trains quickly became the main avenue for people and produce.
When the eastern part of the Erie railroad opened a million baskets of berries were shipped via rail to Piermont Pier to be picked up by the Strawberry Boats.
In May 1859, the Northern Railroad of New Jersey opened, providing rail service from Sparkill direct to Jersey City without an extra step of connecting to a steamboat.  The Northern Railroad began running a Strawberry Train on June 6 of each year during the berry season, leaving Piermont at 7:10p and arriving at Jersey City at 10:30p, returning the same night. The regular daytime trains, the 6a and 3.25p trains from Piermont, also carried berries. The cost was $1.50 per 1,000 baskets to NYC ($1.00 to Jersey City). Empty packages and baskets were returned free of charge.
In 1859, it was estimated that 192,648 baskets of strawberries left Sparkill station. Customers paid three to five cents for a basket. Local farmers netted the "handsome sum" of $4,000 on these berries, deducting costs for freight and a 10% commission to the market men who sold them. Other trains left from Suffern. In 1859, a train left with 16 cars full of strawberries, some 400,000 baskets. Farmers also sold berries to other villages, and in other directions than New York City.
Nyack Strawberry Festivals
During the days of strawberry farming, strawberry festivals were held throughout Nyack in June. The Methodist Episcopal Church held an annual strawberry festival with ice cream. In 1869, a strawberry festival and concert was held at the Wigwam, a grocery store and meeting hall located on S. Broadway, on three consecutive nights. Soda, strawberries, ice cream, and cakes were available, with purchases going to fund the church next door. There was music played by an extremely talented 10-year-old violinist, a choir, and a piano-forte.
Strawberry Dreams Forever
With strawberries available year-round, we are a little more jaded today in how we think of the ubiquitous strawberry. Still, the aroma of local, fresh strawberries can be found at the Nyack Farmer's Market, at the few remaining you-pick farms in the Hudson River Valley, or in home gardens. The days of strawberry festivals, of letting school out for strawberry picking, and the piquant strawberry aroma that followed the strawberry boats and trains bound express to NYC are but a pleasant strawberry dream forever.
Michael Hays is a 35-year resident of the Nyacks. Hays grew up the son of a professor and nurse in Champaign, Illinois. He has recently retired from a long career in educational publishing with Prentice-Hall and McGraw-Hill. Hays is an avid cyclist, amateur historian and photographer, gardener, and dog walker. He has enjoyed more years than he cares to count with his beautiful companion, Bernie Richey. You can follow him on Instagram as UpperNyackMike.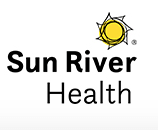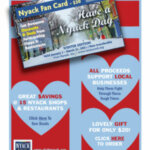 Nyack People & Places, a weekly series that features photos and profiles of citizens and scenes near Nyack, NY, is brought to you by
Sun River Health
,
Nyack Fan Card
, and
Weld Realty