This week in the Villages: We take a brief look at the life of Rockland rock star civil rights activist June Shagaloff Alexander, who fought discrimination and helped shape education policy from Tappan to Topeka. Meanwhile, recreational weed is coming to New Jersey this Thursday, while New York's own pot industry is slowly making headway, a Pearl River defamation suit gets shut down, and East Ramapo's current budget is apparently "DOA." Plus, your local weather forecast, Covid updates, upcoming meetings (yep, it's still budget time) and much more!
Editor's Note: Send us all your feedback, ideas, news tips, meeting details and event announcements at info@nyacknewsandviews.com.
Celebrating June Shagaloff Alexander
In the renewing spirit of recent religious holidays, we'd like to take a few minutes to celebrate the life of civil rights leader and long-time Rocklander (Rockstar?) June Shagaloff Alexander, who passed on a few weeks ago after what LoHud's Nancy Cutler describes in her lovely obituary as a long, significant and impactful earthly existence. [LoHud]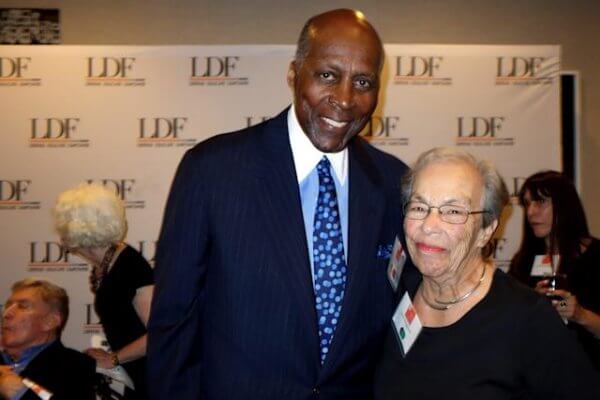 Shagaloff Alexander, who lived in the Clarkstown-area hamlet of Bardonia, not only enjoyed an amazing name, but also a storied career that began as an education researcher for Thurgood Marshall in the NAACP's legal department in the early 1950s.
At the NAACP, Marshall tasked his ambitious recent college graduate with developing the statistical and psychological proof that segregation harmed Black children. This research included teaming with the psychologists Kenneth and Mamie Clark who famously conducted an experiment showing young Black children from segregated schools preferred white dolls over Black dolls.
Once the NAACP began winning cases against education departments throughout the country in the mid-1950s, part based on her research, Shagaloff Alexander was there, fighting on the front lines as places like Cairo, Illinois, and Topeka, Kansas begrudgingly desegrated.
"Most people don't know the name June Shagaloff," Sherill Ifill, a president emeritus at the NAACP Legal Defense Fund, told the New York Times. "But she was essential to the work, and she demonstrates how powerful and important organizing was."
After becoming the NAACP's first national education director in 1961, Shagaloff Alexander took her organizing to the next level. In 1963, she was among a small group of civil rights leaders, including the writer James Baldwin, singer Harry Belafonte and playwright Loraine Lansberry, who made a powerful, hours-long case to Robert F. Kennedy, the United States attorney general at the time, in a New York City apartment. Kennedy soon became a leading advocate for federal civil rights legislation.
Her advocacy and impact continued after she moved to Rockland in the 1980s. The local NAACP quickly tapped her to run their education arm and her influence spread into other places, including as a board member for West Street Child Care Learning Center in Spring Valley.
Shagaloff Alexander's immense contributions were recognized when she was named to the Rockland County Civil Rights Hall of Fame in 2008. (Editor's note: Our very own Bill Batson joined her in that hall last year.)
"She was not exactly light under a bushel," Frances Pratt, a former leader of the Nyack NAACP branch, told LoHud. "She was an unsung hero."
So, as we barrel through April and look forward to May, here's to June Alexander Shagaloff — and all those who follow her example.
In other local news . . .
With near-by New Jersey set to open its doors to recreational weed consumers on Thursday [ABC], The Valley Table checks in on what's going with New York's recreational cannabis industry. [<a href="http://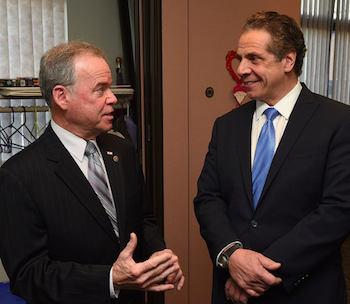 Rockland County Executive Ed Day (left), NYS Governor Andrew Cuomo (right).
This week in the Villages: County Executive Ed Day found himself dealing with another round of ethics questions when all he wanted to do was point out all of Rockland's economic progress. We also have the story of a nutty pitching professor, the return of a treasured theater in Stony Point and where to find Passover and Easter treats. Plus, your local weather forecast, Covid updates, upcoming meetings (it's still budget time) and much more! Editor's Note: Send us all your feedback, ideas, news tips, meeting details and event announcements at info@nyacknewsandviews.com.
Someone was killed in a car crash near Tuxedo on Monday morning. [LoHud]
The East Ramapo board of trustees is at odds over a budget disagreement regarding the use of facilities for private summer camps One board member, who represents a heavily Hassidic population, called the proposal "DOA". [LoHud]
A judge ruled against the plaintiff in a bizarre battle over defamation in Pearl River, saying the woman bringing the $1 million lawsuit was a public figure in her role as former treasurer of Pearl River's chamber of commerce and therefore could be subject to public criticism. [Rockland County Biz Journal]
ICYMI (in-depth): How will the Hudson River be impact by the rising water levels associated with climate change? [Times Union]; Nanuet native Don Mueller, a doctorate in chemical physics, is considered the "Nutty Professor" of pitching mechanics, according to Jane Havsy from the Morristown Daily Record [LoHud]; After presenting a cheery report about economic progress in his annual state of the county speech early last week (more on that below), Rockland County Executive Ed Day found himself, once again, fending off accusations of ethics violations that fused his personal and political lives. [LoHud]
ICYM our stuff last week: Bill Batson's latest "Nyack Sketch Log" on guitarist Jeff Rubin. lace and Mike Hays' most recent "Nyack People & Places" on the death of Nyack's Bell Memorial Tower, which was destroyed to make way for a thruway. The paved paradise and put up a thruway! Our coverage in "The Villages" of the dissolution of South Nyack.
Villages-Area Weather Forecast
Heavy winds and cool rain on Monday night will blow into Tuesday morning. The mid-week will consistent mostly of cloudy days and temperatures hovering between the mid 40s and mid 60s. The weekend should be sunny and into the mid to upper 60s. [National Weather Service]
Villages-Area COVID Update
Through April 15, Covid rates and severe cases in the greater Nyack area remain relatively low. Masks are only required in limited designated spaces. As in other parts of the northeast, there's been a steady rise in new positive test results in New York, but not many have resulted in hospitalization.
The "early warning" detector for Rockland is showing that the percentage of positive tests per day is now up to 3.51% (up slightly from 3.27% last week and less than 1% just a month ago)
We have 1,103 total cases (up from 816 last week).
Hospital capacity is not threatened.
A total of 9 people (up from 4 last week) in Rockland county were hospitalized for Covid related issues, 5 out of 9 of those patients were symptomatic.
Interestingly, 5 of those hospitalized were unvaccinated, although it's unclear if those with symptoms are vaccinated or not. (Last week, 3 out of the 4 hospitalized patients were symptomatic and all those hospitalized were vaccinated.
To find out what case and hospitalization trends look like in your town, click here.
Here's the CDC's data on Rockland.
Covid Testing and Vaccine Info
To get free at-home Covid test sent to your home, visit Covidtest.gov. Every home gets four, takes about a week to arrive.
Get free Covid tests at Village Hall in Nyack, Monday through Friday, 9 am to 5 pm.
More than 80% of eligible people in Rockland County are vaccinated. To schedule an appointment for a 1st dose, 3rd dose (for immunocompromised), or booster COVID-19 vaccine from any Rockland County Department of Health Clinic visit rocklandgov.com/departments/health/. To search for additional COVID-19 vaccination opportunities nearby visit vaccines.gov.
If you need information on where to find a COVID-19 testing site near you, visit coronavirus.health.ny.gov. Individuals who have questions regarding eligibility or access for testing should call the New York State COVID-19 Hotline at 1-888-364-3065 or visit the NYSDOH website covid19screening.health.ny.gov.
A state operated COVID-19 testing site is open at the Patriot Hills Golf Club, 19 Club House Lane, Stony Point. Regular operating hours will be Mon – Sat from 8 am – 6 pm and testing is BY APPOINTMENT ONLY. Appointments may be made at appointments.bioreference.com.
Rockland Community College (RCC), 145 College Rd, Suffern, is open as a New York State COVID-19 testing site. New York State has partnered with Quadrant Biosciences to operate the site which will provide oral, saliva-based PCR COVID-19 tests. Regular operating hours will be Mon – Fri from 8:30a – 4p. Appointments may be made at app.acuityscheduling.com.
A streetscape project is supposed to start this week at the corner of South Broadway and Depew.
The budget workshops are all wrapped up. If you haven't seen it, take a look at the second draft of Nyack's Appropriations budget (what they plan to spend). And the second draft of their Revenue budget (how they make their money). Not clear how or if it all those numbers have changed, but we'll keep you updated. As of now, the budget is $6,055,600.91 coming in and going out 2022-2023.
The Architecture Review Board meets Wednesday, April 20, at 7 pm.
Drop off humanitarian aid for victims of the war in Ukraine (, including first aid, painkillers, blankets, baby food, diapers, non-perishable food, antibiotics and more, at Village Hall, 9 N. Broadway (or at the Orangetown town hall, 26 W. Orangeburg Rd.).
Recycle all of our small electronics on Earth Day, Friday, April 22. Prepare your old laptops, batteries, printers, etc. for a new life.
Here's the list of all upcoming meetings posted for the Village of Nyack.
Order Military Tribute Banners
It's time to order your Military Tribute Banners for 2022. These banners make a beautiful tribute to honor your veterans, active-duty, reserve, and National Guard members. Banners will be displayed from Memorial Day to Veterans Day in the village downtown area. For more information, contact Ann Marie Tisty at 845-358-0548 ext. 283 or at annmarietisty@nyack-ny.gov.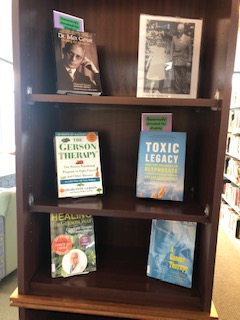 Nyack Library is offering a book exhibit (pictured) that highlights the work of Dr. Max Gerson, a local physician who dedicated his life to developing treatments for cancer. The books were curated at the library by Kay Zakariasen. Check out the exhibit for more info on Gerson's life and work.
Alas, the Village of South Nyack officially dissolved on Thursday, March 31. All municipal services are now provided by the Town of Orangetown after that date. Police and DPW services transitioned to Orangetown on January 1, 2022. For more info on dissolution plans, visit here or here. No word yet on any movement to revive South Nyack's villagehood. Please email us if you hear anything: info@nyacknewsandviews.com.
The Upper Nyack Board of Trustees will hold a hybrid meeting on Thursday, April 21, at 7 pm. Click here for the agenda. The public can attend in person, by Zoom, or by phone.
To participate in person, come to the Old Stone Meeting House, 347 North Broadway, Upper Nyack, NY 10960
To participate virtually:
Please click the link below to join the webinar:
https://us02web.zoom.us/j/84282752496
Passcode: 037557
Nyack public schools are closed for spring break starting Friday, April 15, through Friday April 22. Classes will resume on Monday, April 25.
Applications are now being accepted for universal pre-K and full-day kindergarten.
Masks are currently optional for all students and staff in all Nyack district schools.
However, they posted this notice on circumstances where masking would be required, including close contacts and other scenarios.
The district also posted a listing of resources for parents:
NYSED Social Emotional Wellness
NY Project Hope
Social Emotional Learning Parent Resources (Fordham University)
Find out what else is going on in Villages-area school at Home Page – Nyack Public Schools (nyackschools.org)
Several meetings this week in Orangetown, including a meeting to discuss the town's Comprehensive Plan on Wednesday, April 20, at 3 pm on Zoom.
ICYMI: Here's the official resolution Orangetown enacted with regards to the sale of two South Nyack properties, which appears to say the proceeds will go toward wiping out South Nyack's debt, which is what South Nyack officials were lobbying for as the dissolution date approached.
Help limit greenhouse gasses and curb pollution by joining this new food scraps recycling program.
Check out the Orangetown YouTube channel, and this video of a recent special town board meeting, which included renderings of a new town hall.
Children's Playground at Veteran's Memorial Park To Close Temporarily
The children's playground at Orangetown's Veteran's Memorial Park will be out of service. The old playground will be removed and a new, all-inclusive playground will be installed. The grand re-opening is expected to be held in the spring.
The Technical Advisory Committee, which "evaluates the technical adequacy of land development applications and decides their readiness for Planning Board review," meets most Wednesdays, including Wednesday April 20, from 10 am to noon, in the town hall's Historic Map Room.
Ambulance Corp Volunteers Needed
There is currently a nationwide shortage of EMTs and Ambulance volunteers. Within Clarkstown, there are five ambulance corps serving the community that are in dire need of volunteers. If you are interested, or know someone who may be please consider contacting and volunteering with one of these great organizations: Nyack, Congers/Valley Cottage, Nanuet, New City, or Spring Hill.
Reviving Rockland Restaurants Grant Program
The Reviving Rockland Restaurants Grant Program will reimburse businesses between $5,000 and $25,000 for past expenses or fund future expenses for eligible outdoor dining COVID-19 mitigation equipment. Eligible entities include restaurants, food stands, food trucks, bars, saloons, lounges, taverns, bakeries, delis, cafes, breweries, wineries, and other similar places of business.
Eligible expenses include, but are not limited to:
Tents
Heat Lamps or other electric heating equipment
Additional tables and chairs for outdoor dining
Market Umbrellas
Plexiglass Shields
Tarps
Patio Fencing
For more information and to download an application visit rocklandgov.com
Editor's Note: We want to hear from you! Send thoughts, ideas, news tips, as well as meeting and events announcements to us at info@nyacknewsandviews.com.