Undercliff, the iconic 22-room, Gilded Age mansion at 649 N. Broadway in Upper Nyack that was built in 1885 by Arthur C. Tucker, lasted but one generation. In 1917, Colonel Benjamin Littleton Adriance, a New York City industrial magnate, and his second wife purchased Undercliff, but had other ideas about what a riverside mansion should look like. Undercliff was demolished and replaced by a brick Neo-Georgian Revival estate called Undercliff Mansion. After her husband's death just when the estate was finished, Mrs. Jean Adriance filled the Gatsby-era mansion with Roaring Twenties social events.
While the story of Colonel Benjamin Littleton Adriance (1847-1919) on the surface is a tale of the rewards of hard work, entrepreneurship, and family life, underneath was a sybaritic story of a romantic affair, a new mansion that he barely had a chance to enjoy, and an inheritance frittered away by bad decisions and the crash of 1929. He was a Civil War veteran at age 16, an inventor, a shrewd businessman, and the defendant in a messy lovers' lawsuit that played out in the NYC newspapers.
Benjamin Adriance, Civil War Veteran
Benjamin Adriance was proud of his Dutch ancestry that was traced back to the colonial days. He was born in 1849 in Greenwich Village. He signed up to be a drummer for the Union in the Civil War at age 14. As the army already had enough drummers, he was placed in the fife corps on Governor's Island. He was frustrated by being relegated to chaperoning a woman who sold knickknacks to the troops.
Adriance badgered his mother into allowing him to join the U.S. Navy, which he joined on October 23, 1863, at the age of 14. He first served as a messenger boy aboard the Peterhof, a captured blockade runner, patrolling New York City harbor, and later, blockading against smugglers on the North Carolina coast. In 1864 he served on a new boat, the double-paddle-wheeler, Mackinaw that saw duty in the James River and in the blockade of Wilmington, NC, capturing the British schooner Mary off Charleston loaded with cotton. While serving as "powder monkey" bringing gunpowder from the lower decks to a 100-pound Parrot rifle, he narrowly escaped serious injury when the gun exploded killing the gunnery officer.
Near war's end, he was rated an ordinary seaman and stroke oar on the captain's gig. While serving on the captain's gig on the Appomattox River around the time of the armistice, he saw General Grant and Abraham Lincoln as the gig pulled next to another small boat.
The Mackinaw was decommissioned in June 1865 at Portsmouth, NH. Adriance left the service at the age of 16, a proud and experienced veteran. In later life, he joined the Grant Post of the Grand Army of Republic in New York serving as its commander and earning the rank of Colonel. His ambition to serve in the Civil War was indicative of the ambition he was to show as an industrialist.
Industrial Magnate
Adriance was educated at the Cooper Union Institute and became one of the first to take its new mechanical engineering degree. He was first employed at the E. W. Bliss Company that manufactured machine tools in Brooklyn. After a few years, he went into business for himself setting up shop on Centre St. in Manhattan where he consulted in the building of the Brooklyn Bridge.
In 1888, he established the Adriance Machine Works that was to build a six-story brick factory in the Red Hook section of Brooklyn. Adriance patented many devices he invented and was known for developing automatic can machinery and machinery for working sheet metal to create lids, bottle caps, and can covers. Eventually, the company developed a machine that would automatically syrup, fill, and crown carbonated beverages at the rate of a case per minute. The machines made him a fortune. During WWI, the company pivoted to manufacturing thousands of machines to create gas masks for soldiers.
If running this company was not enough, Adriance also acquired the Savage Arms Company in Utica, NY. When he retired in 1913, he sold the company for some $2M (roughly $56 million in 2022 dollars.) The Savage Arms Company is still in business.
While running all these businesses, Adriance raised a family of 4 daughters and two sons while married to Nellie Madden and living on Greene St. in Brooklyn. One son, Adrian Adriance (named using an old Dutch naming convention), served in the Adriance Machine Works as an officer.
Wife Dies, Marries Jean Purdy Four Days Later
Was his instant remarriage to a woman 20 years younger in 1910 four days after the death of his first wife, Nellie Madden Adriance, shocking to those around him? We do not know, but it is likely many knew of a long-term relationship he had with his second wife, Jean Purdy, while married to Nellie Madden.
Jean Purdy (1867-1930) immigrated from Scotland with her family in 1874 to Erie, PA.  She married James P. Berney at the age of 16 who supposedly had a physical deformity as a "hunchback".  The Berneys lived in Brooklyn and had two children, James T. and Hugh. Berney worked as machinist for $15/week. In 1902, the couple separated with James P. Berney moving elsewhere. In 1903, Jean Berney obtained a divorce on the grounds of desertion in South Dakota, then the divorce capital of America with a rate 3 times the national average.
NYC Headline: Machinist Sues for Loss of Wife. Defendant a Millionaire
All three appeared in court for the five -day trial where each testified. Mrs. Adriance was described as "well preserved" wearing black with a "fancy picture hat" one day, and a blue tailored suit with a striking blue and orange hat with a white ostrich feather on the day she testified.
Berney testified that they had been happily married for 19 years when suddenly, she lost interest in the marriage. She would stay out all night and then sought a divorce. He claimed that Jean and Adriance had met in Brooklyn and conducted a long-term affair that was the cause of her disaffection. He said he was never served any divorce papers. He told the story that in 1905, she moved to a house either owned by Adriance or where he was a boarder in Woodcliff Lakes, NJ. According to one account by a carpenter, Adriance had built a door between their adjoining bedrooms.
Jean Adriance testified that Berney deserted her before she met Adriance. She said Berney was well-aware of the divorce decree and that he had in fact attended her wedding to Adriance in Hackensack, NJ in 1910. Her marriage was  "torture". She became "hysterical" while saying she couldn't believe her divorce was being questioned then years later. Her son, Phillip T. Berney, backed her testimony stating how difficult his father was, requiring that he and his brother Hugh (who died in Mexico during the trial) give him any money they earned.
A Fight Concludes the Fourth Day of Trial
Adriance testified that he met Jean on the Chambers Street Ferry when she was traveling with three other women and asked him for directions to the 9th Street elevated. After much discussion, he gave her his card. Adriance stated that he had not lived with his first wife in the same domicile for 15 years, and that his marriage did not keep him from contracting an enduring and honorable love for Jean Purdy, the ex-Mrs. Berney. He did confess to boarding with her, but that it was never improper and someone was always with her. As for a trip he took to Paris with Jean, he said they were chaperoned by her brother and sister-in-law.
At the end of the fourth day, Berney's lawyer called Adriance a "dirty dog" as he left the court. Adriance replied "I'll get you for that". The two continued the argument outside the courtroom, Adriance's stepson James T. Berney ended up striking the lawyer, resulting in another trial later.
A Surprising Verdict
Despite the high-profile lawyers Adriance hired, the jury returned a verdict in favor of Berney in the amount of $2,500. It was ruled that according to New York law the marriage to Adriance was void and that Jean was still legally married to Bernay. The judge did order that any ruling exculpated Mrs. Berney because she did believe she was divorced.
On appeal the next year, an appellate court again ruled in Berney's favor saying that the divorce papers had never been properly served.  However, the court also ordered a new trial to review the cash award suggesting that the proper amount should be 6 cents. If that new trial was held, its results were not reported, perhaps the sensational headlines were old news.
The Aftermath
The year after the trial was eventful for Jean and Benjamin Adriacne who continued to live as husband and wife. He retired from his companies, they traveled to Europe, and they had a son who was given a curious middle name given the recent situation, Benjamin Berney Adriance. As a result of the law court ruling, Benjamin Jr. was later considered to be an "adopted son" although it was never formalized legally adding further confusion to the settlement of wills later.
Undercliff Manor
In 1917, Adriance purchased the 22-room Undercliff estate from an ailing Arthur C. Tucker. A new, brick Georgian Revival manor house was designed to replace the 30-year-old Undercliff. Why was such a beautiful home replaced? We don't know but perhaps the design of the Gilded Age Victorian mansion was not to Jean's liking, or it lacked modern conveniences as it was only used as a summer home. Undercliff was demolished and replaced with a three-story brick building.
Now called Undercliff Manor, the house had 12 rooms, 4 baths, a separate six-car garage with living quarters, a private riverfront bathing beach, and a dock. A large entrance hallway or great room had a swirling spiral staircase. In a custom of many mansions of its time, a large Aeolian organ was placed in the hallway so that sound resonated throughout the house. The grounds included Jean's flower gardens. No contemporary photos of Undercliff Manor have emerged, so we are left to assume that its appearance was like that of the later 20th century house for which we have photos.
Jean Adriance, Socialite & Philanthropist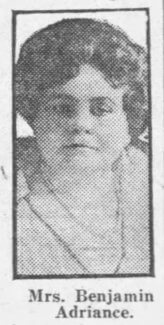 Undercliff Manor was finished around the time that Adriance died at their Miami home. It is unclear if he ever set foot in the new house. Jean Adriance then lived in Miami and Undercliff with her son, Benjamin Adriance, Jr. and, at some point, her father who died there in 1923.
In Benjamin Adriance's will, each of his seven children received $10,000. The remainder of his estate went to Jean Adriance. Frank Moses, then President of Adriance Machine Works and James T. Berney, treasurer (and Jean's son from her first marriage), were named executors of the estate to pay out the estate income over her life. If she should remarry, she was to receive one-half as much and the remaining shares to go the children.
Jean Adriance made headlines for her philanthropy and for social events held at Undercliff Manor. It was said that she gave up golf after her husband's death and became a member of the Mozart Club of New York. She had an ardent interest in music.
She held several Nyack fundraisers and club events at Undercliff Manor for the Red Cross, Nyack Hospital, the Nyack Garden Club. and the Morning Music Club.  The front hall organ featured in every event.
In 1921, Jean Adriance hosted a fundraiser for the Red Cross for 300 guests. 58 card tables were set up in the living, billiard, and dining room, and sun parlor. Ten tables were reserved for Adriance's guests from out of town. Bridge, euchre, casino, and five hundred were played. The winners at each table received a copper vase provided by Adriance. After cards, the organ played, and Sue Harvard of the Metropolitan Opera sang arias from Tosca. The party netted $600.
Jean Adriance was an early member of the Nyack Garden Club. She was the first winner of the rose competition, winning a silver vase from her soon-to-be neighbor at Shadowcliff, Mrs. H.S. Ford. Jean won for her Crimson Queen rose, a red rose she brought back from England. Jean herself offered a trophy for both a club member and non-member for an upcoming dahlia competition.
Adriance was also a NYC socialite. In 1922, she held a large dinner-dance for a friend at the Hotel Astor in NYC. She was also listed as a patroness for the New York Mozart Society at their annual dinner-dance in the Astor Hotel.
Contested Estate
Jean Adriance died in 1930 but not before she married for a third time to Frederick Dole, a patent lawyer. The complexity of the marriages, Benjamin Adriance's will, the confused legal status of Benjamin Jr., coupled with the market crash of 1929 resulted in a contested estate settlement (as it likewise happened with the next owner). In Jean's will, the estate was divided equally between her two sons, James T. Berney and Benjamin Jr. The trustees and executors of the estate were the same as in her husband's will, Frank Moses and James T. Berney (Jean's son from her first marriage), plus her husband, Frederick Dole.
The depression drove down the value of the estate. In 1931, an estate auction was held. The highest bidder of $110,00 was turned down since the estate was rumored to have been built for $500,00. In 1932, Adrian, Maude, and Lilian, children from Adriance's first marriage and a claimant under Benjamin Adriance's will, filed a suit for $100,000 claiming that Moses and Berney mishandled funds by investing $200,000 in shares of the Nicholas Roerich Museum located at 103rd and Riverside Drive. Roerich, a Russian known for his Himalayan landscape, and spiritual philosophy had been a philanthropic project of Jean Adriance. The shares had lost much of their value. Around the same time, a bank was calling in the balance of a large loan made to Jean Adriance. In Nyack, local attorney, Natalie Couch, was named guardian for the interest of 20-year-old Benjamin Adriance Jr.
By 1934, James T. Berney was facing financial ruin. The estate was still unsettled but Berney was busy converting what he could into cash to cover his stock loses. A judge in Nyack surrogate court ruling on a challenge to the filing of Mrs. Adriance's stated that executors Moses and Berney were "mulcting" and wasting the estate. During questioning. Berney was quizzed about what happened to Mrs. Adriance's valuable rugs, painting, and jewelry from Undercliff Manor. He claimed that the house belongings were given to him. He produced some jewelry in court but claimed to have no knowledge of a $30,000 pearl necklace and a 7 ½ carat diamond ring. Berney was questioned about personal expenses charged to the estate and about the fact that he had not paid the taxes on the Adriance property in Miami.
A Sad Ending and a New Beginning for Undercliff Manor
Undercliff Manor went back on the market in 1936. James T. Birney had now frittered away most of the estate as well as losing big in stock market. He was working as an oil burner salesman and living in Queens when he shot himself in the head at home. Apparently, he fired at his wife from beneath the covers of his bed hitting her in the thigh while she was standing in front of a dresser, then shooting himself in the head.
In October 1936, Overcliff Manor and 19 acres of property went up for sale in five parcels, the house and riverfront segment, two segments between Broadway and Midland bordering what was then called Undercliff Drive (now Larchdale Ave.) and two segments between Midland and 9W. One segment contained a six-room two-story farmhouse, a barn, and a silo and chicken house used to cultivate a truck farm, fruit orchard, and vineyard.
Overcliff Manor was acquired by an extremely wealthy man known as the Flying Dutchman. Anthony Fokker contributed much to the legacy of Undercliff Manor but that is a story for another time.
See Also
Michael Hays is a 35-year resident of the Nyacks. Hays grew up the son of a professor and nurse in Champaign, Illinois. He has recently retired from a long career in educational publishing with Prentice-Hall and McGraw-Hill. Hays is an avid cyclist, amateur historian and photographer, gardener, and dog walker. He has enjoyed more years than he cares to count with his beautiful companion, Bernie Richey. You can follow him on Instagram as UpperNyackMike.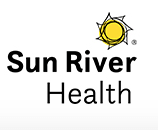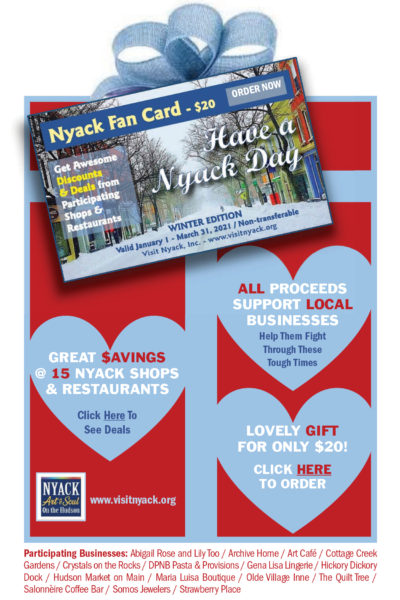 Nyack People & Places, a weekly series that features photos and profiles of citizens and scenes near Nyack, NY, is brought to you by
Sun River Health
,
Nyack Fan Card
, and
Weld Realty