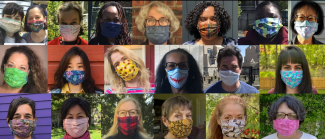 This week in the Villages: As Covid rates continue to drop and mask mandates expire, parents, students, staff and officials begin debating whether to continue requiring masks in schools. Plus, a truth commission for healthcare in New York state, training for women political candidates, Rockland's Conservation Corps looks for summer recruits, local governments hold important meetings and assistance continues to be available for struggling business and homeowners.
Editor's Note: Send us all your feedback, ideas, news tips, meeting details and event announcements at info@nyacknewsandviews.com.
Nyack Area COVID Update (through Feb. 18)
Looking at the charts below, it's clear cases in the region are continuing to drop. Overall, Rockland's positivity rate is staying right around 1.5%. This trend is continuing state- and nationwide as Omicron's impact recedes. With cases dropping 34% in New York and state mask mandates expiring, parents, students and officials are weighing whether to continue requiring masks in schools.
| | | | | | | | | |
| --- | --- | --- | --- | --- | --- | --- | --- | --- |
| Active cases by community | Feb-18 | Feb-11 |  Feb-4 | Jan29 | Jan-22 | Jan-15 | Jan-8 | Jan-1 |
| Nyack | 34 | 57 | 72 | 187 | 397 | 537 | 599 | 371 |
| Valley Cottage | 21 | 22 | 36 | 158 | 280 | 410 | 480 | 292 |
| West Nyack | 12 | 18 | 31 | 111 | 222 | 326 | 324 | 201 |
| Piermont | 2 | 3 | 9 | 31 | 50 | 68 | 83 | 61 |
| | | | | | | | | |
| Rockland County | | | | | | | | |
| 7-day positivity rate | 1.5% | 1.53% | 2.1% | 3.7% | 8.4% | 13.2% | 20.2% | 16.0% |
| Active cases | 646 | 1,160 | 1,633 | 5,469 | 12,708 | 16,390 | 16,466 | 8,645 |
| Hospitalized | 16 | 35 | 43 | 73 | 100 | 139 | 153 | 77 |
| COVID-19 deaths (total) | 1,153 | 1,135 | 1,133 | 1,101 | 1,082 | 1,057 | 1,033 | 1,020 |
Source: Rockland County Health Department / NYS Health Department, 2/21/2022
To get free at-home Covid test sent to your home, visit Covidtest.gov.  Every home gets four, takes about a week to arrive.
To schedule an appointment for a 1st dose, 3rd dose (for immunocompromised), or booster COVID-19 vaccine from any Rockland County Department of Health Clinic visit rocklandgov.com/departments/health/. To search for additional COVID-19 vaccination opportunities nearby visit vaccines.gov.
If you need information on where to find a COVID-19 testing site near you, visit coronavirus.health.ny.gov. Individuals who have questions regarding eligibility or access for testing should call the New York State COVID-19 Hotline at 1-888-364-3065 or visit the NYSDOH website covid19screening.health.ny.gov.
A state operated COVID-19 testing site is open at the Patriot Hills Golf Club, 19 Club House Lane, Stony Point. Regular operating hours will be Mon – Sat from 8a – 6p and testing is BY APPOINTMENT ONLY. Appointments may be made at appointments.bioreference.com.
Rockland Community College (RCC), 145 College Rd, Suffern, is open as a New York State COVID-19 testing site. New York State has partnered with Quadrant Biosciences to operate the site which will provide oral, saliva-based PCR COVID-19 tests. Regular operating hours will be Mon – Fri from 8:30a – 4p. Appointments may be made at app.acuityscheduling.com.
A Truth Commission on Healthcare
The Labor-Religion Coalition of NYS and other groups are putting together a virtual truth commission to discuss the need for universal healthcare. From the press release: "At a time when there are over 1 million uninsured New Yorkers, community members and leaders in the Hudson Valley will gather together virtually to share their personal experiences and call on state leaders to pass legislation providing comprehensive, universal healthcare. COVID-19 has laid bare the systemic disparities in healthcare across New York and around the nation and world, but it doesn't have to be this way. While New York is a state with high insurance coverage, 50 percent of those insured report lack of access to basic care. No one should have to choose between rent, food, and healthcare in the richest nation on earth. All New Yorkers, regardless of immigration status, have a human right to healthcare."
When: Tuesday, Feb. 22, 2022, 6:30-8:30pm
Where: Via Zoom webinar, link will be provided to those who RSVP at BIT.LY/HEALTHAND3R.
Campaign Fundraising Training
Eleanor's Choice, a group working to elect progressive women to office in New York is holding a training on Thursday, Feb. 24, from 6:30 to 8:30 pm.
Village of Nyack
Nyack is looking for a new Chief Operator and Supervisor for its water department.
The Board of Trustees meets Thursday, Feb. 24, from 7:30 to 10 pm, on Zoom.
Nyack's Business Council meets Monday, Feb. 28, from 4 to 5 pm, on Zoom. 
The Nyack Zoning Board of Appeals meets Monday night, Feb. 28, from 7 to 9 pm, on Zoom. 
Military Tribute Banners
It's time to order your Military Tribute Banners for 2022. These banners make a beautiful tribute to honor your veterans, active-duty, reserve, and National Guard members. Banners will be displayed from Memorial Day to Veterans Day in the village downtown area. For more information, contact Ann Marie Tisty at 845-358-0548 ext. 283 or at annmarietisty@nyack-ny.gov.
Village of South Nyack
The Village of South Nyack will officially dissolve on March 31. All municipal services will be provided by the Town of Orangetown after that date. Police and DPW services transitioned to Orangetown on January 1, 2022. For more info on dissolution plans, visit et to be dissolved as an incorporated village soon, SouthNyack.NY.gov.
There be a continuation of a public hearing to re-zone the South Nyack Village Hall property will be held by the Board of Trustees, fittingly, at Village Hall, 282 S. Broadway, South Nyack, N.Y., on Tuesday, Feb. 22, at 7:30pm. Click here for more details. 
Village of Upper Nyack
Village of Upper Nyack Election Offices to Be Filled
Two two-year trustee offices are vacant at the end of the current official year and are to be filled at the Village election to be held on Tue, Mar. 15, 2022.
Nyack Public Schools
Find out what's going on in Villages-area school at Home Page – Nyack Public Schools (nyackschools.org)
Town of Orangetown
Several meetings coming up, including a Project Review committee hearing to discuss plans for a Dominican College athletic field (Wednesday, Feb. 23, 9:30 am) and Planning Board meets Wednesday night, at 7:30 pm to discuss a wide-range of topics. Both meet in the Greenbush Auditorium at the Orangetown town hall, 26 W Orangeburg Rd, Orangeburg, NY 10962.
Children's Playground at Veteran's Memorial Park To Close Temporarily
The children's playground at Orangetown's Veteran's Memorial Park will be out of service. The old playground will be removed and a new, all-inclusive playground will be installed. The grand re-opening is expected to be held in the spring.
Town of Clarkstown
Ambulance Corp Volunteers Needed
There is currently a nationwide shortage of EMTs and Ambulance volunteers. Within Clarkstown, there are five ambulance corps serving the community that are in dire need of volunteers. If you are interested, or know someone who may be please consider contacting and volunteering with one of these great organizations: Nyack, Congers/Valley Cottage, Nanuet, New City, or Spring Hill.
Rockland County
Rockland Youth Bureau's 2022 Youth Employment Program
The Rockland County Youth Bureau is now accepting applications for the 2022 Youth Employment Program. The program helps people ages 14 to 24-years-old develop attitudes, skills, and behaviors to help them thrive in the workforce.
Employers from the private sector, local government, and not-for-profit agencies hire these individuals through the program to give them the experience they need for a successful future. For more information about the Youth Employment Program, please contact RCYB@co.rockland.ny.us or call 845-364-2929.
Here's what you'll be doing: "Rockland Conservation Corps members perform a variety of outdoor, environmental community service projects throughout the Rockland region. Responsibilities include educating the public about water stewardship, ecological conservation and environmental health issues, fieldwork and data collection, building and maintaining nature trails, teaching environmental education, planting gardens, patrolling streams, connecting young adults to their local environment, facilitating clean ups, and implementing food recovery programs, among others. Corps Members will take an active role in beautifying, protecting, and preserving Rockland's parks, open spaces, and valued resources."
Key Details: "To be considered, students must be at least 18. Members are required to serve 350 hours between May 23rd and mid to late August at local sites that may include the Rockland County Division of Environmental Resources, the Clarkstown Planning Department, the Town of Ramapo, the Rockland County Drainage Agency, Lamont-Doherty Earth Observatory and Cornell Cooperative Extension, among others."
Compensation: "Members are paid a $2,300 living stipend for the summer. After successful completion of 350 hours, Corps Members earn an additional $1,342.86 educational award provided by AmeriCorps and The Corps Network."
Apply: "Applications are due Friday, April 8, 2022. The program begins on May 23, 2022, with most of the service taking place late May through August. Candidates can request an application by phone (845) 364-2937/2932 or by e-mail rcsc@co.rockland.ny.us. Candidates are encouraged to apply as early as possible."
Reviving Rockland Restaurants Grant Program
The Reviving Rockland Restaurants Grant Program will reimburse businesses between $5,000 and $25,000 for past expenses or fund future expenses for eligible outdoor dining COVID-19 mitigation equipment. Eligible entities include restaurants, food stands, food trucks, bars, saloons, lounges, taverns, bakeries, delis, cafes, breweries, wineries, and other similar places of business.
Eligible expenses include, but are not limited to:
Tents
Heat Lamps or other electric heating equipment
Additional tables and chairs for outdoor dining
Market Umbrellas
Plexiglass Shields
Tarps
Patio Fencing
For more information and to download an application visit rocklandgov.com
New York State Homeowner Assistance Fund
Homeowners who are affected financially by the Covid-19 pandemic may qualify for up to $50,000 in aid. The Homeowner Assistance Fund is open through Feb 4, 2022. The New York State Homeowner Assistance Fund (NYS HAF) is a federally funded program dedicated to assisting homeowners who are at risk of default, foreclosure or displacement as a result of financial hardship caused by the Covid-19 pandemic. Visit nyhomeownerfund.org for more information.
Flu Vaccine Clinic
The Rockland County Health Department is holding flu vaccine clinics for the 2021-2022 flu season on various dates and locations. This clinic is for everyone 6 months and older.
Appointments are preferred, but walk-ins are welcome at all clinics. There is a $20 fee for those 6 months through 64 years old: cash or check accepted. For those with private health insurance, we will provide you with a receipt to submit to your health insurance for possible reimbursement. To make the process quicker, please print and bring the completed 2021-2022 FLU VACCINE FORM with you.
The vaccine is free of charge if you:
are 65 years and older (please bring identification with proof of age)
have Medicare or Medicaid (please bring your card)
are uninsured or underinsured
The Health Department is giving the quadrivalent flu vaccine, which does not contain preservatives, including thimerosal. For more information about the flu and the flu vaccine clinics visit rocklandgov.com or call 845-364-2534.
Note: Send news tips, as well as meeting and events announcements to us at info@nyacknewsandviews.com.