"Final Curtain Call," is a story loosely inspired by the life of Ray Bohr, the Chief Organist at Radio City Music Hall. Bohr accompanied many performances and films and also played the organ at the Rockland Theatre on North Broadway in Nyack before it was dismantled. He would sneak into Grace church late at night as a child to practice music.
I am the Writer/Director/Producer of "Final Curtain Call" and Ray Bohr is my great uncle. I began researching in 2019 after I returned to my hometown, Nyack, where Bohr was also born and raised. Production on the film is complete, but I am looking for support as we move through the final stages of post-production: color, music, and sound.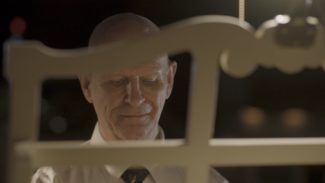 A private man with only one recorded interview and few remaining records of his songs, organists like Ray played a vital though often unsung role in the theatre and movie experience for many generations. Ray started his musical training at 5 and in his teenage years would play professionally in local theaters and churches along with working with M.A. Clark and Sons to repair and restore organs. He also served in World War II and played for President Franklin D. Roosevelt at the Iwo Jima memorial. When he came home from the war, he was an organ demonstrator for Wurlitzer until he became an associate organist at the Music Hall in 1947.
The film takes place in the 1920s and the 1970s, just before the AIDS crisis hit NYC and the music hall faced closure. Ray's character drives the film's themes of resilience and commitment to a dream. Telling this story now resonates as the music and theatre world faces a similar crisis due to massive unemployment and continued uncertainty over the return of live performance.
Unfortunately, like many artists of his time and ours, Ray did not have rights to his own music, but it was always in my vision for the film to have him playing along with the story. Since he is no longer alive, this is a way for him to be a participant in the film and offers historical accuracy. Securing the music rights to the songs recorded by Ray is expensive, but crucial to achieving my vision for the film. Any funding raised beyond our goal will be used to submit to film festivals, which can range from $30-$100 per submission.
The script for "Final Curtain Call" was a finalist for this year's Maven Screen Media Fellowship with Stowe Story Labs where I developed the story this summer. The script was a quarterfinalist for ScreenCraft's Screenwriting Fellowship, and selected as a Second Rounder with the Austin Film Festival.
The film was made possible with funds from the Statewide Community Regrants Program, a regrant program of the New York State Council on the Arts with the support of the Office of the Governor and the New York State Legislature and administered by ArtsWestchester. Production of the film was also supported with a grant from the Arts Council of Rockland. All other expenses were paid out of pocket and made possible by barebones rates from community members who offered their labor, locations, and talent to produce the film on a micro budget.
When the film is complete, it will be circulated to national, regional, and local film festivals. Eventually, the film will be available for streaming and screening to broad audiences. Locally, I will partner with regional organizations to promote these events and news on the project.
My previous film, "The University," screened across the country with a history of making an impact in local communities, receiving distribution from Films Media Group, where it is now available to hundreds of campuses and libraries across the United States.
I used local restaurants to feed my cast and crew (Glitter Thicket, Turiello's, Nyack Hot Bagels, and many more), filmed at local locations (the Lafayette Theatre, Grace Church, and a local home) that will bring attention to them and their role in the community through their participation in the film, and hired two young local Rockland County residents, Gavin Cox and Simon Morenberg, with their debut narrative film roles, and they've gone on to do future work.
The message and content of the film is about endurance in the face of loss, abuse, and feelings of defeat. This is a message artists need at this time. By making this film, I hope to tell an inventive, exciting story that resonates across generations.
See also: Nyack People & Places: What Happened to the Rockland Theater, 9/26/2019
Juliana Roth earned her Master of Fine Arts in Creative Writing from Rutgers University – Camden where she organized the Writers House Film Series and taught creative writing, environmental writing, and composition courses. Juliana has worked for the Edward Hopper House Museum & Study Center, the Ecology Center, the Center for the Education of Women, and the World Animal Awareness Society, as well as being a frequent contributor to Nyack News and Views.