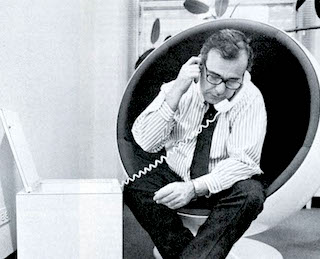 by Juliana Roth
For those curious of the history of film and how independent film gets made and seen, the story of Donald Rugoff is key. Rivertown Film Society will virtually screen a new feature documentary on his life, Searching for Mr. Rugoff, starting Friday, January 21st. A conversation between the film's director, Ira Deutchman, and independent filmmakers Nancy Savoca, who won Sundance Film Festival's Grand Jury Prize for True Love, and her collaborator and spouse, Producer and often Co-Writer, Richard Guay, will be held over Zoom on Monday, January 24 at 6:00 PM.
Director Ira Deutchman once worked for Mr. Rugoff, and through his filmmaking he uncovers the life and impact of his former boss, following the mystery of why he's all but disappeared from public discourse. In the search for Mr. Rugoff, viewers will learn how Mr. Rugoff created the mid-century theater chain, Cinema 5, (which included the Paris, Plaza, Sutton, Beakman theaters among others) and his pioneering film distribution company (which released The Cool World, Endless Summer, Putney Swope, The Sorrow and the Pity, Z, Gimme Shelter, Trash, Scenes From A Marriage, Swept Away, to name only a few) that led him to some outlandish marketing schemes for independent films that may not have been seen otherwise. Yet, the life of Mr. Rugoff is little known by the public, in all of its complexity. Owen Gleiberman in Variety writes of the film: "An enthralling documentary that film buffs everywhere will want to see."
Ira Deutchman has made, marketed and distributed films since 1975, working on over 150 films and founding Cinecom and Fine Line Features, which were crucial businesses in advancing independent film. In 2017, he was awarded the Spotlight Lifetime Achievement Award by the Sundance Art House Convergence for his service to independent film marketing and distribution.
"With the hindsight of my own 40-plus year career in the film business, I hope to not only bring this colorful and important character to life, but to connect his story to the larger stories of the cyclical nature of the independent film business, the personal hubris that is a common theme among people who work in the business, and the incredible showmanship necessary to get audiences to pay attention. It's also the tragic story of someone very gifted whose personal issues eventually destroyed him." – Ira Deutchman
On January 24, Ira Deutchman with discuss his film on Zoom with Rivertown Film founders Nancy Savoca and Richard Guay. Along with her numerous festival screenings and honors, Nancy Savoca's films, Household Saints (distributed by Ira Deutchman's Fine Line Features) and True Love, are listed in The New York Times Guide to the Best 1,000 Movies Ever Made and named one of the "50 Greatest Independent Films of All Time" by Entertainment Weekly. Her film 24 Hour Woman was produced in part by Redeemable Features, co-founded by Ira Deutchman. Richard Guay has produced fifteen feature length films and documentaries beginning his career as a production auditor for such filmmakers as John Sayles, Woody Allen, Mike Nichols, and Jonathan Demme. Rivertown Film Society screened the pair's, Union Square, starring Mira Sorvino, Tammy Blanchard, and Patti LuPone, in 2012.
Tickets for the Searching for Mr. Rugoff, which starts streaming on Friday, January 21st are $12, and are available on Rivertown Film Society's website, www.rivertownfilm.org. Registration for the discussion is free.