by Amy Alinkofsky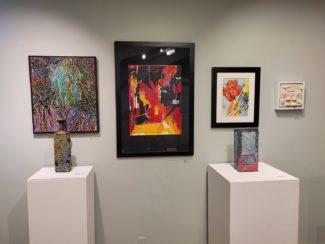 Rockland Center for the Arts (RoCA) proudly celebrates the creative vision of its students and members at the annual Students and Members Exhibition.
Artwork will include pottery, glass beads, drawing, painting and sculpture. The exhibit will be featured in all three galleries of RoCA. Young and old, these students, show that creativity is alive and well, keeping them youthful, happy and healthy. This winter you have the opportunity to see the inspiration these students receive from their teachers as well as the amazing emerging and established talent of RoCA's artistic community. The Rockland Center for the Arts has educated and nurtured generations of artists, from world-class professionals to emerging talents. Many of these exceptional members actively create and exhibit in the Hudson Valley and the U.S.
Early founders, Rockland residents and patrons – Helen Hayes, Henry Varnum Poor, Aaron Copland, Paulette Goddard and Burgess Meredith, wanted to provide a meeting ground for county artists and residents eager to enjoy their work and learn from their skills. Their goal was to present high-quality arts that reflect the cultural diversity of the community; education in the fine and applied arts through its School for the Arts providing inspiration for the emerging and steady talent at RoCA and our county. Almost seventy-five years later, RoCA is very fortunate to be continuing the legacy of our founders by presenting outstanding contemporary art from the region.
The Student & Members Exhibition will run from Tuesday, January 18 through Wednesday, February 9, 2022. It is free to the general public. Masks and social distancing are required.
For more information or to schedule an onsite viewing time, please call 845-358-0877, visit rocklandartcenter.org, or email info@rocklandartcenter.org. Rockland Center for the Arts is located at 27 South Greenbush Rd, West Nyack. Regular hours are:  Monday – Saturday 11-4p.
RoCA's programs are made possible, in part, with funds from the New York State Council on the Arts, with the support of Governor Kathy Hochul and the New York State Legislature. Funding is also made possible by the County of Rockland.