This week in the villages: Thankfully this weekend's Nor'easter left Rockland County with a lot less snow than some other surrounding areas. Wednesday is Ground Hog Day. Can spring be far behind? The Zoning Boards in Nyack and South Nyack will meet and there will also be a Nyack School Board meeting. The Town of Orangetown is distributing COVID-19 test kits on Tuesday and collecting new or gently used coats on Saturday. And Town of Clarkstown Supervisor George Hoehmann is holding a tele town hall tonight.
Nyack Area COVID Update for January 29
| | | | | | | |
| --- | --- | --- | --- | --- | --- | --- |
| | 29-Jan | 22-Jan | 15-Jan | 8-Jan | 1-Jan | 25-Dec |
| Active cases by community | | | | | | |
| Nyack | 187 | 397 | 537 | 599 | 371 | 153 |
| Valley Cottage | 158 | 280 | 410 | 480 | 292 | 131 |
| West Nyack | 111 | 222 | 326 | 324 | 201 | 98 |
| Piermont | 31 | 50 | 68 | 83 | 61 | 29 |
| | | | | | | |
| Rockland County | | | | | | |
| 7 day postivity rate | 3.7% | 8.4% | 13.2% | 20.2% | 16.0% | 7.0% |
| Active cases | 5,469 | 12,708 | 16,390 | 16,466 | 8,645 | 3,462 |
| Hospitalized | 73 | 100 | 139 | 153 | 77 | 46 |
| COVID-19 deaths (total) | 1,101 | 1,082 | 1,057 | 1,033 | 1,020 | 1,010 |
Source: Rockland County Health Department / NYS Health Department, 1/29/2022
To schedule an appointment for a 1st dose, 3rd dose (for immunocompromised), or booster COVID-19 vaccine from any Rockland County Department of Health Clinic visit rocklandgov.com/departments/health/. To search for additional COVID-19 vaccination opportunities nearby visit vaccines.gov.
If you need information on where to find a COVID-19 testing site near you, visit coronavirus.health.ny.gov. Individuals who have questions regarding eligibility or access for testing should call the New York State COVID-19 Hotline at 1-888-364-3065 or visit the NYSDOH website covid19screening.health.ny.gov.
A state operated COVID-19 testing site is open at the Patriot Hills Golf Club, 19 Club House Lane, Stony Point. Regular operating hours will be Mon – Sat from 8a – 6p and testing is BY APPOINTMENT ONLY. Appointments may be made at appointments.bioreference.com.
Rockland Community College (RCC), 145 College Rd, Suffern, is open as a New York State COVID-19 testing site. New York State has partnered with Quadrant Biosciences to operate the site which will provide oral, saliva-based PCR COVID-19 tests. Regular operating hours will be Mon – Fri from 8:30a – 4p. Appointments may be made at app.acuityscheduling.com.
Village of Nyack
The Zoning Board of Appeals will meet today (Mon, Jan 31, 2022) to consider applications for area variances for parking requirements, and for area and parking variances associated with the construction of a wood framed pergola above existing front yard patio dining area. Read the full agenda at nyack-ny.gov before Zooming into the meeting at 7p.
Military Tribute Banners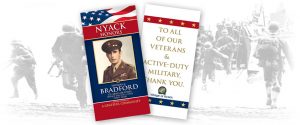 It's time to order your Military Tribute Banners for 2022. These banners make a beautiful tribute to honor your veterans, active-duty, reserve, and National Guard members. Banners will be displayed from Memorial Day to Veterans Day in the village downtown area. For more information, contact Ann Marie Tisty at 845-358-0548 ext. 283 or at annmarietisty@nyack-ny.gov.
Village of South Nyack
The Zoning Board of Appeals will meet on Tue, Feb 1, 2022 at 7:30p. Read the full agenda at southnyack.ny.gov.
Notice of Public Hearing
A public hearing will be held by the Board of Trustees of the Village of South Nyack at Village Hall, 282 S Broadway on Tue, Feb 8, 2022, at 7:30p regarding a Local Law related to: CLASSIFY THE PROPOSED ACTION AND TO ESTABLISH A NEW LIGHT INDUSTRIAL OFFICE (LIO) ZONING DISTRICT & REZONE THE DPW PROPERTY AT 65 BROOKSIDE AVENUE AS LIO AS A STATE ENVIRONMENTAL QUALITY REVIEW ACT (SEQRA) UNLISTED ACTION, PROVIDE FOR THE REFERRAL OF THE PROPOSED ZONING LEGISLATION. The full text of the proposed law is on file in the Village Clerk's office and may be reviewed by interested persons on southnyack.ny.gov and is posted on the outside bulletin boards at Village Hall located at 282 S. Broadway, South Nyack. N.Y. 10960. A copy of the proposed Bulk Table for a Light Industrial Office (LIO) Zoning Distruct may also be found on southnyack.ny.gov. The Board of Trustees will hear at said time and place all persons in support of this local law and any objections thereto. Interested parties may appear in person or by agent or representative.
Village of Upper Nyack
Village of Upper Nyack Election Offices to Be Filled
Two two-year trustee offices are vacant at the end of the current official year and are to be filled at the Village election to be held on Tue, Mar 15, 2022.
Nyack Public Schools
The Board of Education will meet on Tue, Feb 1, 2022 at 6:30p via Zoom. Read the full agenda at go.boarddocs.com.
Town of Orangetown
Drive-Thru Distribution of COVID-19 Test Kits
Town of Orangetown residents may pick up COVID-19 Rapid Test Kits on Tue, Feb 1, 2022 from 2:30-4:30p or until supplies last at Veteran's Memorial Park, Orangeburg. Tests will be distributed on a first come, first served basis with a limit of two test kits per car.
Drive-Thru Winter Coat Drive
Orangetown Supervisor Teresa Kenny and Assemblyman Mike Lawler are hosting a winter coat drive on Sat, Feb 5, 2022 from 10a-2p at Orangetown Town Hall, 26 W Orangeburg Rd, Oraneburg. Please bring new or lightly used coats which will be collected for families in need in the 97th Assembly District.
Children's Playground at Veteran's Memorial Park To Close Temporarily
Beginning Mon, Jan 31, 2022 the children's playground at Veteran's Memorial Park will be out of service. The old playground will be removed and a new, all-inclusive playground will be installed. The grand re-opening is expected to be held in the spring.
Town of Clarkstown
Tele Town Hall Tonight (Mon, Jan 31, 2022), 6p
Join Supervisor George Hoehmann for an update on a group telephone call to ask any questions or bring up any concerns you may have. Call 845-207-0883 or 845-639-2150 to join or watch on FB live.
Ambulance Corp Volunteers Needed
There is currently a nationwide shortage of EMTs and Ambulance volunteers. Within Clarkstown, there are five ambulance corps serving the community that are in dire need of volunteers. If you are interested, or know someone who may be please consider contacting and volunteering with one of these great organizations: Nyack, Congers/Valley Cottage, Nanuet, New City, or Spring Hill.
Rockland County
Rockland Youth Bureau's 2022 Youth Employment Program
The Rockland County Youth Bureau is now accepting applications for the 2022 Youth Employment Program. The program helps people ages 14 to 24-years-old develop attitudes, skills, and behaviors to help them thrive in the workforce.
Employers from the private sector, local government, and not-for-profit agencies hire these individuals through the program to give them the experience they need for a successful future. For more information about the Youth Employment Program, please contact RCYB@co.rockland.ny.us or call 845-364-2929.
Reviving Rockland Restaurants Grant Program
The Reviving Rockland Restaurants Grant Program will reimburse businesses between $5,000 and $25,000 for past expenses or fund future expenses for eligible outdoor dining COVID-19 mitigation equipment. Eligible entities include restaurants, food stands, food trucks, bars, saloons, lounges, taverns, bakeries, delis, cafes, breweries, wineries, and other similar places of business.
Eligible expenses include, but are not limited to:
Tents
Heat Lamps or other electric heating equipment
Additional tables and chairs for outdoor dining
Market Umbrellas
Plexiglass Shields
Tarps
Patio Fencing
For more information and to download an application visit rocklandgov.com
New York State Homeowner Assistance Fund
Homeowners who are affected financially by the Covid-19 pandemic may qualify for up to $50,000 in aid. The Homeowner Assistance Fund is open through Feb 4, 2022. The New York State Homeowner Assistance Fund (NYS HAF) is a federally funded program dedicated to assisting homeowners who are at risk of default, foreclosure or displacement as a result of financial hardship caused by the Covid-19 pandemic. Visit nyhomeownerfund.org for more information.
Flu Vaccine Clinic
The Rockland County Health Department is holding flu vaccine clinics for the 2021-2022 flu season on various dates and locations. This clinic is for everyone 6 months and older.
Appointments are preferred, but walk-ins are welcome at all clinics. There is a $20 fee for those 6 months through 64 years old: cash or check accepted. For those with private health insurance, we will provide you with a receipt to submit to your health insurance for possible reimbursement. To make the process quicker, please print and bring the completed 2021-2022 FLU VACCINE FORM with you.
The vaccine is free of charge if you:
are 65 years and older (please bring identification with proof of age)
have Medicare or Medicaid (please bring your card)
are uninsured or underinsured
The Health Department is giving the quadrivalent flu vaccine, which does not contain preservatives, including thimerosal. For more information about the flu and the flu vaccine clinics visit rocklandgov.com or call 845-364-2534.