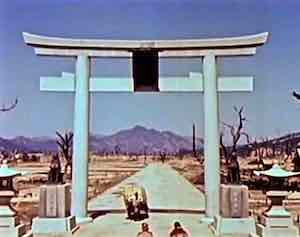 by Juliana Roth
Rivertown Film Society and ArtsRock will start 2022 with a presentation of local filmmaker Greg Mitchell's new film, Atomic Cover-Up, on Wednesday, January 12th. The film was Co-produced by Rivertown Film Society Board Member Suzanne Mitchell. Thirty years in the making, this new documentary exposes the decades-long suppression by the U.S. of the most shocking footage taken in Hiroshima and Nagasaki after the atomic bombings. If these images had been shown to the American public then, it is believed the nuclear arms race would have come to a halt. The film won the top award at Uranium International Film Festival, and an award at Venice Shorts Festivals. The film was selected for San Diego, Breck, Cinequest, Boston, Hawaii, and Oakland festivals in the USA as well as the Venezia Shorts Festival.
This program has been moved online and the viewing period extended. Tickets must be purchased online through 
http://www.rivertownfilm.org. 
Streaming will start on Tuesday, January 11 at 6p and Atomic Cover-Up will be available to watch anytime through Sunday, January 16. The discussion with filmmaker Greg Mitchell and ArtsRock's Elliott Forrest will take place on Zoom at 7:30p on Wednesday, January 12. Ticket purchasers will be emailed links to the film and to the discussion.
The screening of Mitchell's 52-minute long film will be paired with a trailer of a Hollywood film he has written a book about, The Beginning or the End, and a rough cut sample of another short film he is making that is narrated by ArtsRock's Elliott Forrest about the first purposeful use of misinformation in filmed media during a political campaign. He will also moderate the evening. Along with being the artistic director of ArtsRock, Elliott is a local Peabody Award-winning Broadcaster, Producer, and Director. He is the recipient of broadcasting's highest honor, the George Foster Peabody Award, and two New York State Broadcasting Awards. He can be heard on 105.9 FM WQXR, WQXR.org, and WNYC in New York.
I spoke with Greg and Elliott about the film's significance at this moment.
In making this film, Greg, do you see any parallels to contemporary examples of media suppression?
Greg: Yes, there have been many "cover-ups" since 1945, including famous examples such as Watergate and Iran-Contra as well as hiding environmental dangers, some of which never escape the secrecy. The military has always been eager to suppress or play down war crimes or idiotic decisions by commanders—see, for example, My Lai and incidents during the Iraq war. Just recently we saw that U.S. missile attack on an Afghan  family which only emerged belatedly. And, of course, we are only now learning many of the facts about the January 6 insurrection.
What do you think the rationale was in suppressing this footage at the time?
Greg: It threatened the "official narrative" of the atomic bombings (most of which still lives to this day), most notably that Hiroshima and Nagasaki were high-level "military targets" when in fact the bombs were targeted over the center of the two cities and 85% of the casualties were civilians—mainly women and children.  The footage, which accurately showed the civilian carnage, threatened the U.S. claims at a time when our leaders and military were pushing for more, and more devastating, weapons (such as he hydrogen bomb). The U.S. was also playing down radiation dangers, which the footage also challenged in a graphic way.
The American-shot footage was particularly dangerous because it was not created by "peacenniks" or "anti-nuker" but by an elite U.S. military team.  The man featured in the film who pushed hardest for the release of the film was a former U.S. Army officer and not a partisan in any debate over nuclear weapons.
Looking back on this history, are there any lessons for reporters or media makers today? Are there "red flags" when a story is developing that might signal something is being left out?
Greg: One good rule of thumb: If you start to detect that something is being covered up or kept secret—you have to ask WHY? If there's nothing to hide, why are people hiding stuff or acting guilty?
Elliott: It is the main job of the Journalist to uncover and reveal the truth, no matter the consequence or subject. "Speaking truth to power" is a high calling, for which we all must be thankful.
Anything else you'd like to share about the process of making these films?
Greg: I first came upon this story (and was first to do so) as long ago as 1982, which led to my month-long trip to the atomic cities, dozens of articles, and three books, and now this film—almost forty years in the making, you might say.