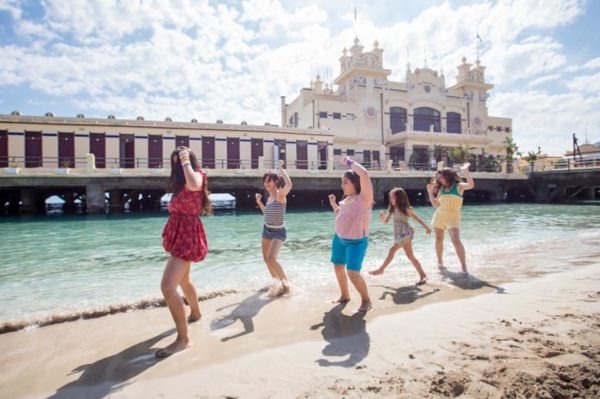 by Juliana Roth
Just as winter sets in, Rivertown Film Society will take audiences to somewhere a bit warmer: a 1985 Sicilian summer to meet the Macaluso sisters (Maria, Pinuccia, Lia, Katia, and Antonella). These five young, orphaned girls live in an impoverished Palermo rooftop apartment, subsisting on money earned by renting out doves for various ceremonies. On one of their days off, a tragedy occurs that ripples throughout the rest of the sisters' lives. Rivertown Film Society will host a proof of vaccination, ID, and masks only screening and discussion on December 15th at 8p
.
The Italian feature follows the Macaluso sisters across generations as the full impact of this catastrophe unfolds. The film is "…about things that last. About people who stay even after death. It's about old age as an incredible achievement of life," says Writer/Director Emma Dante. The film won the Pasinetti Awards (given by the National Union of Italian Journalists) for Best Film and Best Actress (awarded to the ensemble cast) and was featured in the Venice International Film Festival.
Stay for a discussion after the film on the craft, story, and themes with local filmmaker and Rivertown Film Society Board Vice-chair, Vera Aronow, who was Co-producer and Editor of Backpack Full of Cash (2017) and Co-producer and Editor of Megamall (2010), which she also Co-directed.
Aronow will be joined by local poet and professor, Gerald McCarthy, who has twice been a visiting artist at The American Academy in Rome. His books of poetry include: War Story (1977), Shoetown (1992), Trouble Light (2008), and Door in the Wall (2020) with writing appearing in TriQuarterly, America, Nimrod, New Letters, Ploughshares, and The Café Review.
Local filmmaker and writer, Juliana Roth, will also join the discussion. Roth currently serves as Chief Storyteller for Edward Hopper Museum & Study Center, Media Specialist with Rivertown Film Society, and teaches writing at New York University and The School of The New York Times. She is a member actor/playwright with WCT Theatre and is currently in post-production on a new short film, Final Curtain Call, which was selected for this year's Stowe Story Labs.
Tickets for the film and more information on the event is available on Rivertown Film Society's website. Tickets for the December 15th screening are $12 for non-members, $9 for members, and $8 for student and senior members.