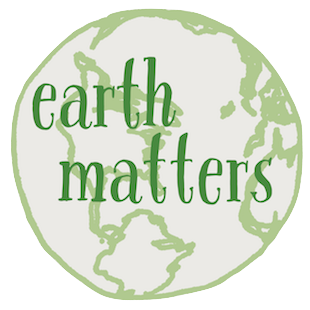 Earth Matters focuses on conservation, sustainability, recycling and healthy living. 
If Earth Matters to you, sign up for our mailing list and get the next installment delivered right to your inbox.
by Teresa Kenny, Orangetown Town Supervisor
Orangetown is the first town in Rockland County to offer its residents a food scrap recycling drop-off program.
How It Works
Residents collect and deposit their food scraps into Town-provided bags and then transfer them to the drop-off site at the Orangetown Highway Department.   The scraps must be in the bags provided (at no cost) by the Town. No plastic bags (even biodegradable or compostable ones) or loose scraps should be placed in the bins at the drop-off site.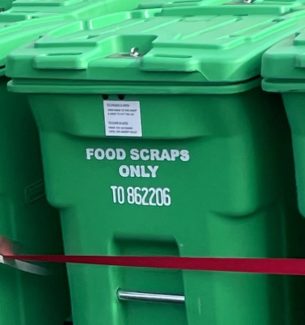 Bread, coffee grinds, meat, bones, fish, pasta, fruit, chips, and bread are just some of the items which can be collected and recycled. In my household, coffee grinds, eggshells and banana peels quickly fill up a small bag, and there is a noticeable reduction in the amount of garbage going out to the curb.
Scraps must be saved in bags provided by the Orangetown (at no cost). No plastic bags (even biodegradable or compostable ones) or loose scraps should be placed in the bins at the drop-off site. While the Town does have a kit with bins for purchase, residents are free to use any container they wish to use.
For more information about this program,  check out the Frequently Asked Questions page for  Orangetown Food Scrap Recycling.
Why Composting Matters
Food scraps are one of the largest components of trash sent to landfills, which then rot and produce methane gas, which is much worse than carbon dioxide in heating the planet. Recycling food scraps captures the nutrients and energy and returns it to the environment by composting into a rich and fertile soil.
I understand that this is a big ask for many residents. But as someone who has been doing it for several weeks now, and is aware of the benefits of my efforts, I believe that this is something that we should all get behind.
The Food Scrap Team
Soon after being elected Town Supervisor two years ago, I was introduced to Rockland Composting members Marcy Denker and Vicki Schwaid at an Orangetown Environmental Committee meeting. Seeing an opportunity, these two passionate composters introduced me to a program that had been operating in Westchester County for several years.
I quickly agreed that this was something that Rockland County needed. With the help and support of Rockland Green Chairperson Howard T. Phillips, Jr., Executive Director Gerard M. Damiani, and Allison Kardon from my staff, we worked over the next 18 months to make this program a reality. Orangetown is serving as the pilot program for this project. Future plans include adding satellite drop-off locations or, even better, providing curbside pick-up.
Orangetown is Growing Greener Every Day!
Please join me in trying this program and in spreading the word to other Orangetown residents. The ultimate goal is to expand this program to the rest of Rockland County, however, the success of the Orangetown pilor project is necessary to demonstrate that residents will support composting and are willing to make the effort for the betterment of our planet.
Teresa Kenny is the Town Supervisor for Orangetown, New York.
Read Earth Matters every Wednesday on Nyack News And Views, or sign up for the Earth Matters mailing list.