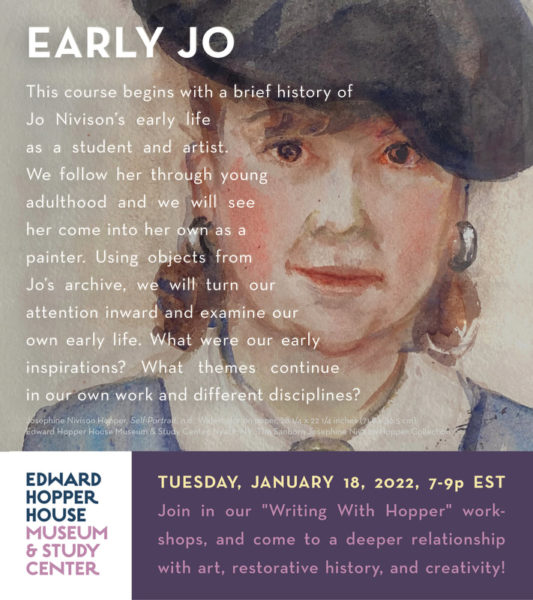 Designed by Chief Storyteller Juliana Roth, this online writers workshop series explores themes of the Edward Hopper House Museum & Study Center's November 2021 exhibition "Josephine Nivison Hopper: Edward's Muse," which brings the art and life of Josephine Nivison Hopper (1883-1968) into the spotlight. Students will delve into topics that broaden not only Jo Nivison Hopper's legacy, but also the skills of participating writers.
Roth will meet virtually with students over three online courses (Tuesdays, 7- 9 pm est: November 30, December 14, 2021, and January 18, 2022). Join the museum to come to a deeper relationship with art, restorative history, and creativity! You can sign up for all three sessions at a discounted price, (3 Sessions $50), or sign up for each session to your liking (one session, $20 each).
More Than a Muse: Tuesday, November 30th from 7p to 9p, virtual. In this course, students will discover their personal muse. They will be assigned pre-workshop activities to collect and document their inspirations. These muses might include friends, family, and partners as well as objects or other artists. We will then meet for a generative writing and workshop session in which we will discuss the power at play when a muse is chosen and what we can do as artists to be both respectful of our creative expression and the autonomy of our subject.
Seeing Double: Tuesday, December 14th from 7p to 9p, virtual. Beginning with a brief look into the marriage of Edward Hopper and Jo Nivison and a discussion of the historical context of their union, we will examine the objects in our archive that give insight into their shared process. We will look side-by-side at paintings composed together, often of the same subject, but interpret the stylistic variations. Students will then be asked to generate writing in different genres on a single theme, offering them an exercise in the expansiveness of artistic interpretation.
Early: Tuesday, January 18th from 7p to 9p, virtual. This course begins with a brief history of Jo Nivison's early life as a student and artist. We follow her throughout young adulthood and into her coming into her own as a painter. Using objects from Jo's archive, we will then turn our attention inward and examine our own early life. What were our early inspirations? What themes have continued in our work, whether as writers or artists or in different disciplines?