This week in the villages: If you haven't voted early, Tuesday is your last chance to cast your vote in the 2021 general election for local officials and five proposed amendments. The Rockland County Warming Center is now open through April. November is National Adoption Month and foster families are needed in Rockland County.
Tuesday is election day: You will vote at your regular poling place. The polls will be open from 6a to 9p. To find your poling place, visit Rockland County Board of Elections.
Need to know more about the candidates? Here is why Lisa Defeciani would like your vote for a seat on the Orangetown Town Board and here is why Denise Hogan is asking for your write-in vote for Nyack mayor.
Nyack Area COVID Update for October 30
| | | | | | | |
| --- | --- | --- | --- | --- | --- | --- |
| | 30-Oct | 23-Oct | 16-Oct | 9-Oct | 2-Oct | 25-Sep |
| Active cases by community | | | | | | |
| Nyack | 7 | 13 | 24 | 18 | 15 | 16 |
| Valley Cottage | 6 | 12 | 19 | 11 | 28 | 36 |
| West Nyack | 15 | 9 | 5 | 6 | 12 | 16 |
| Piermont | 4 | 7 | 5 | 6 | 3 | 3 |
| | | | | | | |
| Rockland County | | | | | | |
| 7 day postivity rate | 1.4% | 2.2% | 2.0% | 3.4% | 2.3% | 2.6% |
| Active cases | 757 | 812 | 983 | 999 | 913 | 1,040 |
| Hospitalized | 13 | 8 | 21 | 25 | 29 | 24 |
| COVID-19 deaths (total) | 990 | 989 | 988 | 985 | 981 | 978 |
Source: Rockland County Health Department / NYS Health Department, 10/30/2021
To schedule an appointment for a 1st dose, 3rd dose (for immunocompromised), or booster COVID-19 vaccine from any Rockland County Department of Health Clinic visit rocklandgov.com/departments/health/. To search for additional COVID-19 vaccination opportunities nearby visit vaccines.gov.
Village of Nyack
The Nyack Business Council will hold a meeting via Zoom today (Mon, Nov 1, 2021) at 4p.
Today (Mon, Nov 1, 2021) the Planning Board will meet to consider various site plan applications, and requests for recommendations to the Zoning Board of Appeals for required variances. Read the full agenda at Nyack-NY.gov before Zooming into the meeting at 7p.
Broadway Streetscape Project Update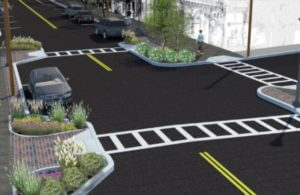 Unfortunately the sidewalk project has hit a setback. The partially constructed sidewalk along N Broadway between First Ave and High Ave will have to be demolished and rebuilt. Engineering to comply with DOT regulations for a five foot wide walkway resulted in an unacceptable slope past the walking path to the curb. We recognize the danger of the slope and ordered the contractors to stop work while the Village consulted with engineers and the DOT.  The contractors will be back on site this week to remove and rebuild the sidewalk.

Update on the median island on N Broadway: The Village Board decided on Oct 28, 2021 to remove the median island. It will be replaced with "bump-outs" on the west and east side of the North Broadway in addition to a crosswalk. The contractor will be back on site beginning Nov 1, 2021 to demolish the island and begin reconstruction.
Village of South Nyack
South Nyack Justice Court will be in session today (Mon, Nov 1, 2021) at 9a.
The Zoning Board of Appeals will meet on Tue, Nov 2, 2021 at 7:30p. Read the full agenda at southnyack.ny.gov.
Village of Upper Nyack
Public Notice of Village of Upper Nyack Election Offices to Be Filled
Two two-year trustee offices are vacant at the end of the current official year and are to be filled at the Village election to be held on Tue, Mar 15, 2022.
Town of Clarkstown
Veterans Day Ceremony and Appreciation Lunch
On Fri, Nov 5, 2021 at 11a there will be an outdoor ceremony at Street Community Center, 31 Zukor Rd, New City followed by a pre-packaged lunch. Please RSVP to the Supervisor's office at 845-639-2050 or at supervisor@clarkstown.org.
On Sun, Nov 7, 2021 at 11a, there will also be a Veterans Day ceremony at the Congers Veterans Memorial Association, 66 Lake Rd, Congers.
Rockland County
Flu Vaccine Clinic
The Rockland County Health Department is holding flu vaccine clinics for the 2021-2022 flu season on various dates and locations. This clinic is for everyone 6 months and older.
Appointments are preferred, but walk-ins are welcome at all clinics. There is a $20 fee for those 6 months through 64 years old: cash or check accepted. For those with private health insurance, we will provide you with a receipt to submit to your health insurance for possible reimbursement. To make the process quicker, please print and bring the completed 2021-2022 FLU VACCINE FORM with you.
The vaccine is free of charge if you:
are 65 years and older (please bring identification with proof of age)
have Medicare or Medicaid (please bring your card)
are uninsured or underinsured
The Health Department is giving the quadrivalent flu vaccine, which does not contain preservatives, including thimerosal. For more information about the flu and the flu vaccine clinics visit rocklandgov.com or call 845-364-2534.
The Rockland County Warming Center is Now Open
The Rockland County Warming Center will operate beginning today (Nov 1, 2021) through April 30, 2022. The center will open each night regardless of the temperature and remain open during the day when the temperature, including wind chill, is 32 degrees or below.
"In order to be in compliance with COVID protocols, we have modified the facility and established safety practices to ensure adherence to NYSDOH COVID-19 safety guidelines. All staff and guests will be appropriately screened (including temperature checks), wear masks and practice social distancing. Appropriate PPE has been secured and will be made available to staff and guests," said Commissioner Silvestri.
The center offers showers and laundry facilities. Dinner and breakfast are provided for overnight guests and lunch is served during the day when the center is open. There is security on-site when the warming center is operational. In Nyack, there will be pickups at 4:25p and 8p in front of the First Reformed Church of Nyack at S Broadway and Burd St.
Foster Families Needed
For the tenth year in a row, staff from the Rockland County Department of Social Services' (DSS) Children's Services Unit will join with local Wendy's locations in Nanuet and West Haverstraw to celebrate National Adoption Month and to increase awareness of the need for foster families. During the month of November, Wendy's restaurants in Nanuet and West Haverstraw will provide free meals to foster and adoptive families in Rockland County in honor of Dave Thomas. The adoption celebration will be held on Nov 17, 2021.
Due to the Covid-19 Pandemic, Rockland County foster and adoptive families are invited to pick up their food from either the Wendy's in Nanuet or West Haverstraw on Nov 17, 2021. Families will participate in a virtual support group facilitated by Trudy Kent, MSW. Mrs. Kent is a Rockland County adoptive parent, as well as a Family Support Worker at the Adoptive and Foster Family Coalition of New York. In addition, an informational session on how to become a foster parent in Rockland County will be facilitated virtually by Demetrius Travis at 5p. Interested parties should contact either ana.duran@dfa.state.ny.us or demetrius.travis@dfa.state.ny.us to confirm their attendance.
Anyone interested in becoming a foster parent can visit rocklandgov.com.
---