by Mike Hays
We think of Black Friday as a relatively recent invention created by malls and e-tailers, but the idea of shopping after Thanksgiving goes way back to when villagers purchased Christmas gifts and winter necessities. One hundred years ago at Thanksgiving, America was somewhat on edge. Little did people know that everything was on the up, leaving behind a war, a pandemic, a recession, and heading into the roaring '20s on that Black Friday, November 25, 1921. Nyack stores put out their best advertising in the very small 8-page Nyack Evening Journal (then located at 78 S. Broadway) and in the 8-page weekly Rockland News, published every Friday.
Thanksgiving 1921 was a soggy, dark day in Nyack. Remains of the storm headed up to cold New England, causing the biggest ice storm ever in parts of Massachusetts. Brisk, sunny skies in Nyack made for bustling crowds and happy shoppers on Black Friday and at Harrison & Dalley's Toytown opening on Saturday. Nyack was filled with shops and service of all kinds. From automobiles to clothing stores, movies to toys, villagers had more than one choice for services, gifts, and entertainment.
Music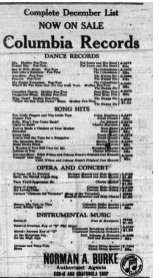 Norman Burke, who owned a photography studio at 8 S. Broadway, advertised his current lineup of Columbia records. Songs hits like "You've made a chicken of your mother" and "Ten little fingers and ten little toes" were on sales for $0.85, not much lower than an iTunes song today. You could also buy a new Kodak camera for $3.00 and Burke would show you how to use it.
At his Main St. shop, William Bugbee was touting hits from Broadway musicals, shows, and restaurants in the Edison Recreation Series. Yes, by the way, you could purchase the low-priced Edison Amberola phonograph for Christmas, too. Dutcher Brothers at 12 S. Broadway offered Victor label records like "My Sunny Tennessee" and "Second Hand Rose."
Toytown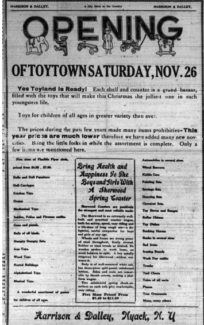 Harrison & Dalley, Nyack's largest department store, at 92 Main St., advertised the Saturday opening of Toytown on Black Friday. With offerings set to dazzle all children from friction, musical, and mechanical toys, to chemical sets and lots of dolls, it was the premier downtown attraction of the holiday.
Just around the corner, the much smaller Nyack Doll House at 19 Lydecker suggested that it was now a good time to get your umbrella repaired at their store.
Technology
Rockland Light and Power, at 2 N. Broadway, was pushing an electric room heater for Christmas. George Onderdonk, at 78 DePew Ave., was offering fresh-mined Pittston coal. Not to be outdone, Nyack Ice and Coal Company in S. Nyack promised Quality Coal but also reminded us that ice was just as important in the winter as in the summer with the slogan "it's the even temperature that counts." It's a good thing they were able to make their own ice as the remaining river ice houses were reported to be empty because last winter was so warm.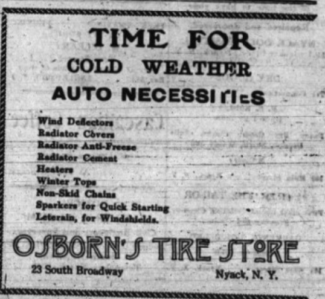 Winter car accessories were a big hit. Osborn's Tire Store on Broadway advertised its wind deflectors and non-skid tire chains and a Pony Timer for $2.50 that helped a car go up hills faster. The All-Power Battery Service Station at 186 Main offered to solve winter battery problems with a Prest-O-Lite storage battery.
Drugstores
Shea's, at the corner of Church St. and S. Broadway, advertised Christmas cards from $0.01 to $1, while John D. Blauvelt's Drugstore at 36 Main St. was advertising its emulsion of cod liver oil to fight off a stubborn cough. Not to be outdone regarding health, Shea's was touting LINX ,a tablet that fought headache and neuralgia.
Food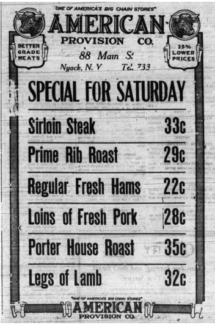 If you were stuffed from Thanksgiving dinners at the St. George Hotel (if you had to ask the price, you couldn't afford to go) and the French Farm, the hotel and restaurant that was a former brewery on Brewery Road, you could stop for a quick ice cream soda at Robert Schmitt Co. Confectionary & Ice Cream at 84 Main St.
If you ran out of supplies at home over Thanksgiving, you could stock up at American Provision Co., an early chain grocery, located at 88 Main St. that offered fresh hams for $0.22. Maple Grove Farm of Nanuet promised delivery of fresh milk within 24 hours. O.K. Bakery run by Harry Sarvent on Main near Franklin had cakes, pies, buns, rolls, biscuits, and bread. New York Butter & Egg Store at 120 Main St. had Thanksgiving specials including a dozen eggs for $0.43 and a pound of butter for $0.45. A pound of Best figs cost $0.15.
Buy A Car
At Associated Motors Sales Co. at 10 N. Broadway, a new 6 or 4-cylinder Buick was available with the promise that if the rear axle spring broke you wouldn't be stranded on the highway. Arrow Garage at the corner of Midland Ave. and Main St. a an Elgin 6 Touring cars was available for $1,495.00.
Clothing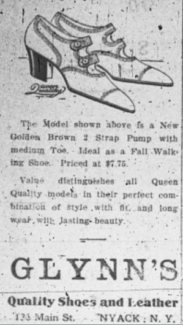 In addition to toys, Harrison & Dalley attracted women with new dresses, handbags, scarves, and for men, ties. James Zabriskie menswear "on Broadway" was encouraging people to shop early for Christmas, offering Kum-A-Part cuff buttons that promised to solve the problem of soft pant cuffs. I. Neisner & Brothers on Main St., home of Hart, Schaffner & Marx clothing for men, proposed that Thanksgiving will prepare the mind to be thankful for many days ahead.
Goldfinger on Main St. across from the Lyceum Theater was offering 50% off on clothing especially on shoes, rubber boots, and overalls. Nearby, Glynn's quality shoes and leather at 134 Main St. advertised a golden brown, two-strap pump with medium toe as a fall walking shoe for women.
Flowers
One of the last of Nyack's many greenhouses, Pyes, at the corner of Third and Franklin Aves., offered mums of different colors, anemones, and pom poms.
Movies
If you were tired of shopping, you had your choice of two movie theaters featuring glamorous movie stars with a matinee and two evening performances. The Lyceum Theater on Main St. where Mainstream Commons is now located was showing Enchantment featuring Marion Davies along with two shorts, a comedy, Holy Smoke, and a travelogue, Something to Worry About.
The Broadway Theater located at Church St. and Broadway where Brickhouse restaurant is now located was showing a comedy derived from a best-selling novel of the year, Up the Road with Sallie featuring Constance Talmedge along with a comic short and a travelogue. Drumming up business for the next week, the Broadway was pushing a matinee every day (normally only on Wednesdays during the week) with what sounded like rather risqué fare for Nyack (no child under 6 was allowed). Shows like Scandal and The Man Killer sounded a little noirish for its time
Black Friday 1921
The promise of a better and happier life through shopping was as internalized then as now. Imagine being able to walk downtown and find anything you could possibly want after a warm and thankful holiday.
Michael Hays is a 35-year resident of the Nyacks. He grew up the son of a professor and nurse in Champaign, Illinois. He has recently retired from a long career in educational publishing with Prentice-Hall and McGraw-Hill. He is an avid cyclist, amateur historian and photographer, gardener, and dog walker. He has enjoyed more years than he cares to count with his beautiful companion, Bernie Richey. You can follow him on Instagram as UpperNyackMike.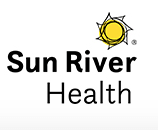 Nyack People & Places, a weekly series that features photos and profiles of citizens and scenes near Nyack, NY, is brought to you by
Sun River Health
, and
Weld Realty
.