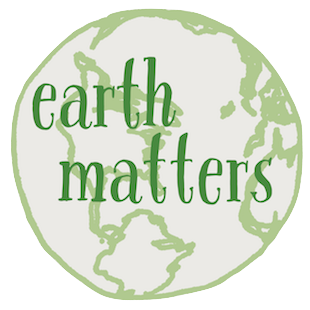 Earth Matters focuses on conservation, sustainability, recycling and healthy living. 
If Earth Matters to you, sign up for our mailing list and get the next installment delivered right to your inbox.
by Janine Reimann
According to a study at UCSF, the healthcare industry accounts for as much as 10% of the U.S. carbon footprint and 5% globally. Total global emissions of the pharma sector amount to about 52 megatons of CO2 equivalents in 2015.
This means pharma companies emit more greenhouse gases than the automotive industry. In fact, drug manufacturers create 13% more carbon emissions than car manufacturers despite having a market that is 28% smaller.
If the U.S. healthcare system was a separate country, its $3.3 trillion GDP would make it the fifth-largest economy in the world. It is also the world's 7th largest producer of carbon dioxide through manufacturers and electricity use. To comply with the reduction targets in the Paris Agreement, scientists have estimated that by 2025 the pharmaceutical sector would have to reduce its emissions by about 59% from 2015 levels. To date, reported reductions are fare from this goal.
Impact on Climate Change and Human Health
Many air pollutants such as carbon dioxide and methane that raise the earth's temperature, worsening smog and increasing aeroallergens such as mold and pollen, contribute to increased numbers of respiratory illnesses like asthma.
Asthma rates have been surging around the globe over the past three decades. Asthma affected an estimated 262 million people in 2019 and caused 461,000 deaths. Researchers have long linked asthma with exposure to air pollution. Air pollution can make asthma symptoms worse and trigger asthma attacks.
In 2019, Albuterol, a medication that opens up the medium and large airways in the lungs and prescribed for asthma and chronic obstructive pulmonary disease, was the seventh most commonly prescribed medication in the United States, with more than 60 million prescriptions. It is on the World Health Organization's List of Essential Medicines.
The Accountability Gap
To date, the pharmaceutical industry has not prioritized sustainability and the prevention of pollution and resulting diseases such as asthma. The industry has disregarding the link between earths survival and humanities existence. In dismissing its responsibility, pharmaceutical companies are complicit in creating diseases, a diminishing quality of life for many and the existential threat of the imminent climate crisis. 
A systematic framework to guide the implementation of circular economy concept in the pharmaceutical industry is missing. The high monetary value of pharmaceutical products has sidestepped the necessity of reducing raw material, water, and electricity usage.
Current practices in the pharmaceutical sector vary greatly with focus largely on waste mitigation, rather than closing the resource loops via a circular economy. For example, Procter & Gamble's CO2 emissions were five times greater than Johnson & Johnson even though the two companies generated the same level of revenues and sell similar lines of products.
Only a handful of companies like Roche, Johnson & Johnson and Amgen are currently operating in voluntary compliance of the Paris Climate Agreement. All three also achieved the largest levels of profitability and revenue growth in their sector in the last 10 years (7-25%), supporting the premise that environmental and financial performance are not mutually exclusive. However, voluntary participation of a small number of individual role models will only have so much impact.
Calling For a Transformation
While the pharmaceutical industry plays an important role in maintaining human health, it is also responsible for grave environmental abuse, which is in no way justification for the other. It is time for the pharmaceutical industry to make significant and concerted changes to its business model and take responsibility for the past and present while leading into the future. Other industries have demonstrated that integrating sustainability into their bottom line can be disruptive and promises a positive business case. Key factors in this transformation will need to include the following:
Greenhouse gas emissions from pharmaceutical companies need to be monitored and regulated more strongly as part of doing business in the US and globally.
There is a great need for transparency on the journey, not only to ensure industry sticks to its sustainability targets but also to help it gain and maintain all stakeholders' confidence.
Sustainability needs to be meaningfully integrated into every aspect of the pharmaceutical bottom-line, while measuring and reporting the impact for the consumers.
Circularity needs to be an imperative requirement of creating value for the customer.
Consumers have to make choices to demand greener products, to hold big pharma accountable, and choose a lower carbon footprint. For example, through reducing consumption, appropriate recycling of medicines, and/ or by rewarding green producers when possible
Email Earth Matters 
Read Earth Matters every Wednesday on Nyack News And Views, or sign up for the Earth Matters mailing list.
Earth Matters is a weekly feature that focuses on conservation, sustainability, recycling, and healthy living. This weekly series is brought to you by Julie Wendholt, Financial Advisor & Vice President of Pell Wealth Partners, a private wealth advisory practice of Ameriprise Financial Services, LLC.