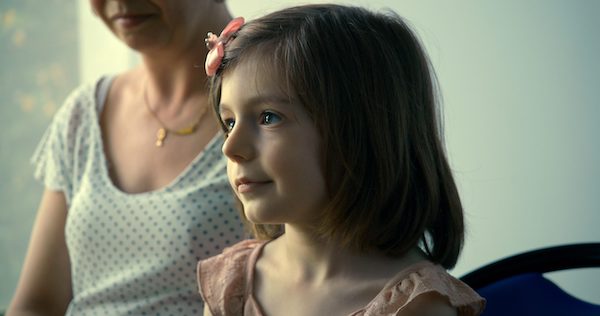 by Juliana Roth
Set in rural France, Little Girl is a newly released documentary portrait of 7-year-old Sasha, a child who has always known that she is a girl. At a time where trans rights continue to be denied to varying degrees across the United States, and the world, and their stories are often left off-screen, this moving film serves as a starting point for communities to ask themselves how to be better allies for their trans community members and to increase visibility without spectacle. Rockland County Pride Center will join Rivertown Film Society at the Nyack Center on November 17th at 8p to hold a discussion on the film and these vital questions.
"Transgender, Non-Binary, and gender expansive children and their families are a vital part of the Rockland community. Films can be an important way to grow more empathy and kindness for our neighbors," says Brooke Malloy at Rockland County Pride Center about the event.
Little Girl follows Sasha's family who has recently accepted her gender identity while working to face the transphobic beliefs of their small community. Director Sébastien Lifshitz examines the complexity of Sasha simply wanting to be a child, to not have to constantly educate and explain herself, but just to exist. The film studies what Sasha and her family face from everyday emotional challenges to societal pressures.
"One could easily mistake Little Girl for a fictional drama that tends toward observation and realism. Lifshitz follows Sasha and her family over the course of roughly a year, homing in on her mannerisms and means of play with naturalistic camerawork that heightens the idyllic splendor of rural France, while framing her home life as a kind of safe haven away from the cruelties of the outside world," writes Beatrice Loayza in The New York Times, where the film earned a Critic's Pick.
Filmmaker Sébastien Lifshitz is a French screenwriter and director who teaches at La Fémis, and often explores queer themes in his work. His previous film Wild Side cenetred on a transsexual prostitute, which he followed with Bambi, a documentary profile of transgender French entertainer Marie-Pierre Pruvot. Lifshitz's also published a collection of LGBTQ+ photos from the early 20th century,  The Invisibles: Vintage Portraits of Love and Pride.
Tickets for the film and more information on the event is available on Rivertown Film Society's website. Tickets for the November 17th screening are $12 for non-members, $9 for members, and $8 for student and senior members. Details of the discussion will be announced soon.