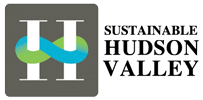 In response to an accelerating climate crisis, Sustainable Hudson Valley has announced a week-long series of regional events designed to build momentum for the many climate solutions that are already underway, from clean energy and transportation to regenerative agriculture. Produced in collaboration with Partners for Climate Action HV and Chronogram Media, Hudson Valley Climate Solutions Week will run through October 24th.
To spark the expanded participation that is needed to change our communities' systems of energy, transportation and resource use, Hudson Valley Climate Solutions Week has set the goal of reaching at least half a million people through the media, online, and in-person events. The week will offer events for every learning style, interest, and geography: lectures, field experiences, films, workshops, performances, and training opportunities. The week will provide a chance to learn more about initiatives happening in the area that people can participate in directly.
"Over 60% of the public says they are 'alarmed' or 'concerned' about climate change, but too few people know how to be part of actions that are big enough to matter. Communities can drive all kinds of creative climate action, from getting EV chargers installed to enrolling households in community solar projects to planning for local food security. There is a movement afoot of creative citizens who are saying 'Let's just do this' and it's exciting, but not yet forceful enough. By designing this multifaceted educational opportunity that's region-wide, we hope to build the energy of this movement to make sure our communities remain livable," says Executive Director Melissa Everett, Ph.D.
This regional partnership brings an unusual opportunity for concerned New Yorkers who are ready to take action. Event hosts include the Climate Reality Leadership Corps of the Hudson Valley and Catskills, Clearwater, Sustainable Westchester, the Dutchess BOCES Center for Sustainability and Climate Education, Bard College, the Mid-Hudson and Catskill-Ramapo Library Systems, Mohonk Preserve, New Yorkers for Cool Refrigerant Management, Cornell Cooperative Extension and the Garrison Institute.
The complete list of events is constantly updated at http://www.hvclimatesolutionsweek.org.
Tickets are just $20 in advance and $25 at the door via www.Townecrier.com.