by J Heffler
GARNER Arts Center, a proud provider of cultural enrichment for the residents of Rockland County and its surrounding communities presents Fall Art Crawl, a creative celebration taking place tomorrow (Sat, Oct 30, 2021) from 6-10p and on Sun, Oct 31, 2021 from 1-5p within the landmark Garner Historic District located at 55 West Railroad Ave in Garnerville.
The event is co-presented with the Haiti Cultural Exchange of Brooklyn, NY, which has programmed musical acts to perform for the event. This collaboration aligns with one of the event's main attractions, GARNER's current exhibition, JONATHAN DEMME: Collecting with Abandon, which closes after Sunday. This stunning exhibition, made possible by the generosity and support of Joanne Howard and Brooklyn Demme, features over 100 works of Haitian, Island, and outsider art.
Saturday night features the Night Art Bazaar, a curated experience with vibrant, interactive installations, pop-up performances, food and drink, and a high-spirited concert by the Brooklyn-based Haitian ensemble, Fanmi Asòtò. Visitors can also enjoy nighttime gallery hours for the JONATHAN DEMME: Collecting with Abandon exhibition and festive Caribbean BBQ.
Sunday features the all-ages Family Fête. Families can enjoy a lively afternoon concert by the creek side with jazz legend, Buyu Ambroise. Kids can watch puppet shows and paint pumpkins at the creative activity station. All visitors are free to wander the bustling 14-acre complex to visit over twenty open artist studios and the closing day of the JONATHAN DEMME: Collecting with Abandon exhibition. Multiple craft and food vendors will be on-site. A contemporary Haitian dance workshop for all ages will also be offered. And as part of the Family Fête, on Sunday at 2:30p, visitors of all ages are welcome to participate in a costume parade around the Garner Historic District.
The lineup of featured artists includes:
Debbie Ameera Ali – leading Creative Activity Station (Sun, Oct 31 only)
Barby Beauvais – leading contemporary Haitian Dance Workshop (Sun, Oct 31 only)
John Gasper – Interactive Video Installation
Shura McComb – Large scale video projections
Joan Pope – Video wall installation
Samantha Roesemann – LED Sculpture installation
There will also be pop-up performances featuring Seth Faergolzia, Sifiso Mabena, Josh Rice, and Emma Wiseman with a puppet show by Gdglimit and the GOSH on Sun, Oct 31 only.
And it's not too early to start thinking about a gift for the holidays for that special someone. On Sunday, the following Craft Vendors will be showcasing their wares: NATIBO ATBP. by Hatzumomo, Mower Woodcraft, News Stand, Project Hope, and others.
Bring Your Appetites and Thirst
The Fall Art Crawl will feature Ram's Valley, a Caribbean barbecue chef and sauce maker for both days of the event. Haverstraw favorite, 5 Senses Food Truck will be on-site Sunday afternoon, as well. Craft beer from Industrial Arts Brewing and non-alcoholic drink options will also be for sale at the GARNER bar.
This creative celebration is an opportunity to enjoy art and attractions for all, including: art shows, open studios, interactive installations, live music, puppetry, open studios, creative children's activities and more!
GARNER Arts Center is following COVID-19 safety measures to keep all attendees and staff healthy and safe. Masks are required for all indoor activities. Proof of Vaccination or a recent (72 hours) negative COVID test result is required for entry to the indoor concert on Sat, Oct 30.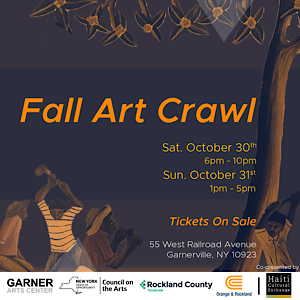 The Fall Art Crawl is sponsored by Rockland County Tourism, Orange and Rockland Utilities, Inc., Transmission Developers and PKF O' Connor Davies. GARNER Arts Center is supported by New York State Council on the Arts, Rockland County Tourism, The Village of West Haverstraw, NY and the Town of Haverstraw, NY.
Stop by Saturday night, Sunday afternoon or both. Tickets for Sat, Oct 30 are $12 in advance or $15 at the door; tickets for Sun, Oct 31 are $8 in advance or $10 at the door; and a Weekend Pass is $25. Tickets may be purchased at garnerartscenter.org.