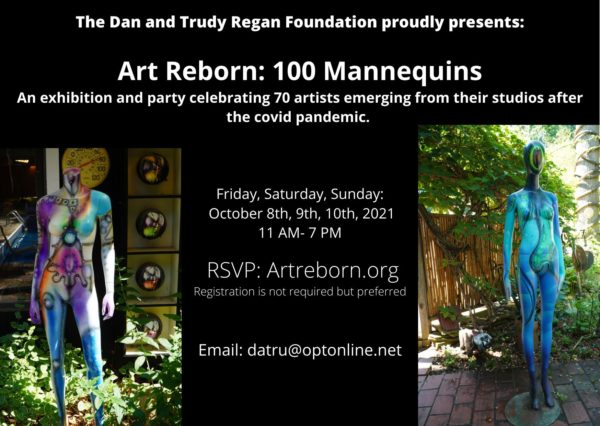 by Ardina Seward
Imagine a large front yard populated with one hundred decorated mannequins. No, it is not a harbinger of Halloween; it is the first exhibit of it's kind in New City, NY
On October 8th, the Art Reborn exhibit will open. The exhibit is a collection of 100 mannequins designed and decorated by 140 different artists during the pandemic lockdown.
The exhibit, sponsored by the Dan and Trudy Reagan Foundation, will run until October 11th at 29 Woodland Road, New City, New York. It will feature not only outdoor art but break dancers, cosmetology demonstrations, and other activities. It is free to the public.
Former affordable housing developer Daniel Regan purchased the raw mannequins from retail outlets that were going out of business. Regan and his wife Trudy formed the Dan and Trudy Regan Foundation in 1990 after he retired from his business. Regan, an artist himself, wants the foundation to be a charitable organization that helps not only other artists but support groups such as schools in Nepal.
Regan is in talks with other venues to exhibit the mannequins throughout the year at local facilities.
A rain date will be announced if the weather is inclement. Call 845-323-3107 for details. Updates can be found on Facebook or on Instagram at artists.mannequins.