This week in the villages: On Saturday at 9a, early in-person voting for local elected officials begins at four early voting centers. You may cast your ballot at any of the centers regardless of where you live. The Nyack Broadway Streetscape Project continues and the Nyack Water Department will be starting fall water main flushing.  The Village of Upper Nyack is holding a Board of Trustees meeting and public hearings on two local laws.  And the Town of Orangetown is holding a virtual public workshop on its Comprehensive Plan update.
Nyack Area COVID Update for October 16
| | | | | | | |
| --- | --- | --- | --- | --- | --- | --- |
| | 16-Oct | 9-Oct | 2-Oct | 25-Sep | 18-Sep | 11-Sep |
| Active cases by community | | | | | | |
| Nyack | 24 | 18 | 15 | 16 | 18 | 19 |
| Valley Cottage | 19 | 11 | 28 | 36 | 30 | 26 |
| West Nyack | 5 | 6 | 12 | 16 | 21 | 29 |
| Piermont | 5 | 6 | 3 | 3 | 3 | 2 |
| | | | | | | |
| Rockland County | | | | | | |
| 7 day postivity rate | 2.0% | 3.4% | 2.3% | 2.6% | 3.7% | 2.9% |
| Active cases | 983 | 999 | 913 | 1,040 | 864 | 683 |
| Hospitalized | 21 | 25 | 29 | 24 | 30 | 23 |
| COVID-19 deaths (total) | 988 | 985 | 981 | 978 | 977 | 974 |
Source: Rockland County Health Department / NYS Health Department, 10/16/2021
To schedule an appointment for a 1st dose COVID-19 vaccine from any Rockland County Department of Health Clinic visit rocklandgov.com/departments/health/. To search for additional COVID-19 vaccination opportunities nearby visit vaccines.gov.
Village of Nyack
The Nyack Business Council will hold a meeting via Zoom today (Mon, Oct 18, 2021) at 4p.
The Architectural Review Board will meet on Wed, Oct 20, 2021 at 7p to consider requests for signage, for exterior lighting, for an exterior change, for renovation of a two story barn, for repair of a two car garage, for construction of a wood framed pergola, for window replacement and deck repair, and to demolish existing buildings and fuel pump canopys and relocate on site. Read the full agenda at Nyack-NY.gov.
Broadway Streetscape Project Update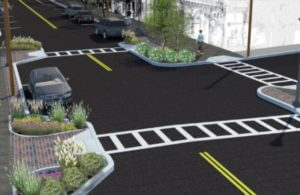 Today, Mon, Oct 18, 2021, sidewalk work will start at the corner of N Broadway and First Avenue, between First Avenue and High Avenue on the west side of the street only. Work will continue south on the west side of Broadway to Burd Street and then loop back east from Burd Street to First Ave. The contractor will work into the fall as long as the weather allows. The project will resume in early Spring for any areas remaining on N Broadway before moving to S Broadway between Cedar Hill Avenue and Depew Avenue.
Here's what to expect during sidewalk work:
Contractor will work on one side of the street at a time
Work will be limited to one block at a time
Parking will be restricted only in the work zone
Handicap spots will be relocated while work is underway
Work is expected to last approximately one week per block
Residents and businesses will be notified as the project moves closer to their location
Building access will be maintained, however, when the concrete is poured there will be time where access is restricted
Everyone will have advance notice of concrete pours that will affect access to their building
In the business districts, we will attempt to pour when the stores are closed (Mondays, etc.) if possible
If your building has a vault (cellar) underneath the sidewalk – please notify the Village Administrator, Mr. James Slaughter, as soon as possible at 845-358-3581 or administrator@nyack-ny.gov. Any questions on the project may be directed to Mr. Slaughter.
Water Main Flushing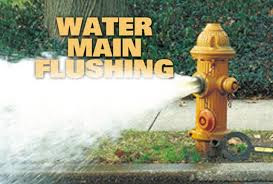 The village of Nyack Water Department will flush water mains throughout the entire water distribution system as follows:
West Nyack and Central Nyack – Mon, Oct 18 to Wed, Oct 20, 2021
Nyack College Area of South Nyack – Thurs, Oct 21, 2021
Nyack and Remainder of South Nyack – Mon, Oct 25 to Thurs, Oct 28, 2021
Flushing will take place between the hours of 9p and 6a. As a result of the flushing, your water may be temporarily discolored and you might experience a temporary reduction in water pressure. If you have any questions, please contact the Nyack Water Department at (845) 358-0641, (845) 358-3734 or nyackwater@nyack-ny.gov.
Temporary Bus Layover Downtown
Due to the construction of the supermarket at the Riverspace building on Main St, there will be a temporary layover for the displaced busses on Cedar St, the west side of the street adjacent to Veterans Park. This will be in effect until Oct 18, 2021.
Village of Upper Nyack
The Zoning Board of Appeals will meet on Tue, Oct 19, 2021. Read the full agenda at uppernyack-ny.us before Zooming into the meeting at 8p.
The Board of Trustees of the Village of Upper Nyack will hold a regular meeting  and public hearings on Thurs, Oct 21, 2021. Read the full agenda at uppernyack-ny.us before Zooming into the meeting at 7p.
Notice of Public Hearings
The Board of Trustees of the Village of Upper Nyack will hold a regular meeting including a public hearing on Thurs, Oct 21, 2021 at 7:30p to consider a proposed Local Law amending Local Law 7 of 2020 and Ordinance 2.2(e), Chapter 2, Regulation of Vehicles of the 1965 Code of General Ordinances. The proposed Local Law will modify the no parking zone on North Broadway to prohibit parking or standing of vehicles other than certain emergency and delivery vehicles on the west side of North Broadway from the Nyack Beach State Part to Old Mountain Road and on the east side of North Broadway from Old Mountain Road to the Nyack Beach State Park.  The board will also hold a public hearing on  an application for Temporary Moratorium Variance, 350 North Highland Avenue, Village of Upper Nyack (SBL 59.16-2-3 (Upper Nyack)) Application for a variance from the temporary moratorium on land use applications, including special use permit applications, for the subject property, which is located on Route 9W in the OB (Office Business) Zoning District (see Local Laws 1 of 2020 and 3 of 2020 as extended),  to allow the applicant to pursue the necessary land use approvals to use the subject property as a school.
Due to the COVID-19 pandemic, the Village Board of Trustees will not be meeting in person. In accordance with Chapter 417 of the Laws of 2021 signed by the New York State Governor Kathy Hochul suspending certain provisions of the New York State Open Meetings Law, the meeting will be held via videoconferencing, and a transcript will be provided at a later date. The public will have the opportunity to see and hear the meeting live and provide comments via Zoom. Comments and questions can also be provided via email before the meeting to Heather Candella, Village Clerk at village.clerk@uppernyack-ny.us.
Village Board Meeting Recording Available
In case you missed it, a video recording is available for the October 14 Village Board of Trustees Workshop.
Nyack Public Schools
The Board of Education will meet on Tue, October 19, 2021 at 6:30p at the Central Administration Building, 13A Dickinson Ave, Nyack. It will also be made available on Zoom. Read the full agenda at go.boarddocs.com.
Town of Orangetown
Town of Orangetown Comprehensive Plan Workshop
The Town of Orangetown Comprehensive Plan Committee (CPC) is holding its first virtual Public Workshop tonight (Mon, Oct 18, 2021) at 7p. Please register at us06web.zoom.us.
The Town is embarking on a process of updating its Comprehensive Plan for the first time since 2003 to establish a guiding framework for future sustainable development, economic growth, and natural resource preservation in the Town. A Comprehensive Plan is a long-term planning document that establishes a community's goals and aspirations for the future, while providing a roadmap for how to achieve them. Through input from local residents, workers, and business owners, the Comprehensive Plan Update will reflect the goals and recommendations of the Orangetown community, and will serve as a guiding framework for the Town's growth and development in the coming years.
The online Comprehensive Plan survey which offers community members an opportunity to provide their input and thoughts on existing and future conditions within the Town is available until Oct 29, 2021, and all are encouraged to participate.
Crossing Guards and Auxiliary Police Needed
The Orangetown Police Department is looking for individuals to fill school crossing guard positions. If you are interested, please call Pat Quinn at (845) 359-3726.
In addition, the Orangetown Auxiliary Police is looking for volunteers. To apply, call the Auxiliary Recruitment Office at (845) 359-3700 and ask for extension 3581.
Town of Clarkstown
Halloween Festival and K-9 Costume Contest
Bring your pooches to the Town of Clarkstown's K-9 corrals at Congers Lake Memorial Park South on Sat, Oct 23, 2021 from 9:30-10:30a in their finest costumes.
The fun continues with a Halloween Festival at Congers Lake Memorial Park including hayrides, a costume contest, music, games and refreshments from 11a-2p with registration and judging at 11a.
Free Paper Shredding
There will be free paper shredding at Germonds Park, 165 Germonds Rd, West Nyack on Sat, Oct 23, 2021 from 8a-12p. There is a three box limit per car (24"x15"x11") and please consider bringing a non-perishable food item for donation to local food pantries.
Rockland County
2021 General Election Early Voting
The 2021 General Election is Tue, Nov 2. This year, you may vote early from Sat, Oct 23 through Sun, Oct 31 at any of the 4 early voting centers in Rockland. This year, you may vote 3 ways: (1) vote early from Sat, Oct 23 through Sun, Oct 31 at any of the 4 early voting centers in Rockland; (2) vote by mail (apply by mail by today (Oct 18), vote by Nov 2); or, (3) vote on election day. You may request an absentee ballot in person until Nov 1.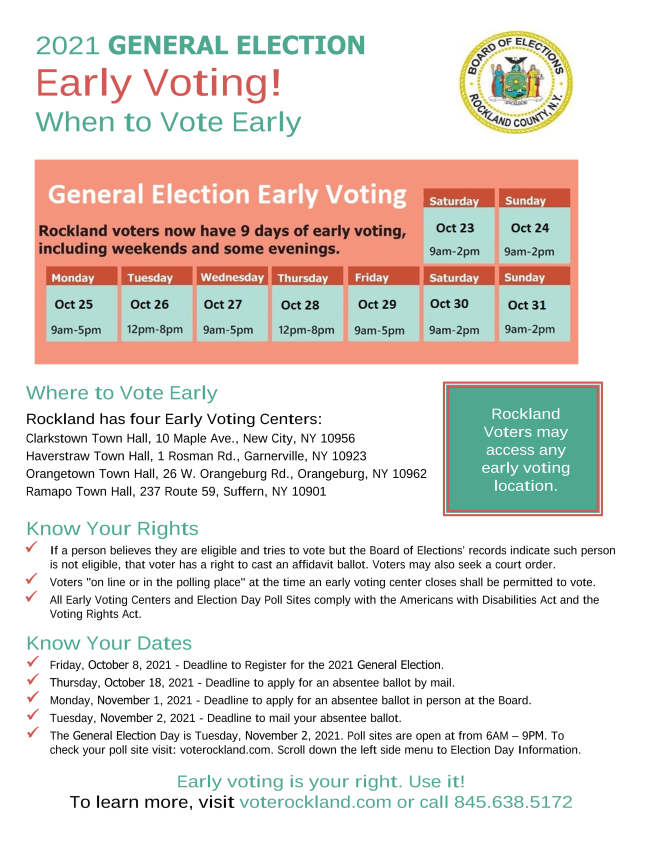 Champlain Hudson Power Express Project Public Hearing
The NYS Public Service Commission (PSC) is holding public hearings on Wed, Oct 20, 2021 and accepting written comments until Nov 1, 2021 on proposed changes to the Champlain Hudson Power Express Project (CHPE).
Virtual public statement hearings will be held on Wed, Oct 20, 2021 at 1p and 6p. To speak at the hearing you must pre-register by 3p today (Mon, Oct 18, 2021). Details of the proposed changes, instructions on how to register electronically or by telephone, and how to submit written comments may be found here.
FEMA Disaster Recovery Center (DRC)
FEMA has designated a Disaster Recovery Center (DRC) location in Rockland County which you can visit to learn more about FEMA and other disaster assistance programs. You may also visit to ask questions about your case if you have already applied.
The DRC may also be able to help you:
Apply for assistance. You may also apply for FEMA assistance online or you may apply and check your status by phone at 1-800-621-3362.
Learn more about disaster assistance programs.
Learn the status of your FEMA application.
Understand any letters you get from FEMA.
Find housing and rental assistance information.
Get answers to questions or resolve problems.
Get referrals to agencies that may offer other assistance.
Learn about Small Business Administration (SBA) programs.
The FEMA DRC is located at the Orangetown Soccer Field, 175 Old Orangeburg Rd, Orangeburg and is open seven days a week from 8a – 7p.
Rockland County has qualified for individual assistance from Hurricane Ida. Residents may apply online at disasterassistance.gov or by calling the toll-free helpline at (800) 621-3362. The deadline to file is Dec 5, 2021, everyone is encouraged to file as soon as possible.
Flu Vaccine Clinic
The Rockland County Health Department is holding flu vaccine clinics for the 2021-2022 flu season on various dates and locations. This clinic is for everyone 6 months and older.
Appointments are preferred, but walk-ins are welcome at all clinics. There is a $20 fee for those 6 months through 64 years old: cash or check accepted. For those with private health insurance, we will provide you with a receipt to submit to your health insurance for possible reimbursement. To make the process quicker, please print and bring the completed 2021-2022 FLU VACCINE FORM with you.
The vaccine is free of charge if you:
are 65 years and older (please bring identification with proof of age)
have Medicare or Medicaid (please bring your card)
are uninsured or underinsured
The Health Department is giving the quadrivalent flu vaccine, which does not contain preservatives, including thimerosal. For more information about the flu and the flu vaccine clinics visit rocklandgov.com or call 845-364-2534.
---