by Robert Brum
A park that was once home to an army rifle range now welcomes mountain bikers to the challenging trails snaking through its dense forest.
Since 2017, the 644-acre Blauvelt State Park has been a popular destination for riders traversing some five miles of looping trails featuring terrain including rock gardens, log-overs, streams, and a diversity of non-technical climbs and descents.
The well-constructed network of trail segments — mostly beginner (green) and intermediate (blue) segments, with one black diamond loop at the end  — have catchy names like Barney Rubble, Tunnel Funnel and Swamp Thing. One trail crosses into the adjoining Tackamack Town Park, and others occasionally intersect with short, rideable portions of the Long Path.
The multi-use trails, which accommodate hikers, runners and bikers, were built with private funding and are maintained by Palisades MTB, in cooperation with the Palisades Interstate Park Commission. The single-track paths are among the only ones in Rockland County where mountain biking is legally permitted, according to Nyack's Seth Reichlin, who chairs Palisades MTB.
Ditch that image of Red Bull-fueled teen riders shredding trails with little regard for life, limb, or locals. Palisades MTB members trend toward middle age and coexist peacefully with nonriders.
"When you design for multi-use, you generally have good sight lines so that nobody is surprised by a bike coming up," Reichlin said. "That's the design principle. No surprises. We've never had a problem."
The club's trail-building projects have actually benefited the environment by removing silt and obstructions from waterways to improve the flow and prevent muddy buildups.
Let's Get Rolling
Trails are only intermittently blazed and there are few signs, so it's recommended that visitors download the Trailforks mobile app beforehand.
Park in the Tackamack Park lot, 68 Clausland Mountain Road, Blauvelt, and look for the nearby trail heads.
A bike with at least two-inch tires and front suspension is recommended. Road, gravel and hybrid bikes are not suited to the terrain and obstacles. Helmets are a must.
Trail maps on the mountain biking club's website feature clickable descriptions of the park's network. But Reichlin cautioned that trails extending into Rockland County's Clausland Mountain Park are not approved. County parks do not permit mountain biking, he said.
Don't miss the 250-foot boardwalk and bridge on the Swamp Thing segment, which lifts the trail above a floodplain teeming with flora and aquatic life. It was built using 8,000 pounds of lumber that had to be lugged out to the site.
For the recently completed stone causeway on the Antler Creek Crossing, the club set stone blocks, each weighing up to 2,000 pounds, so riders can safely traverse a muddy area.
The Tunnel Funnel takes riders near abandoned passageways from the park's former use as an army rifle range.
The trail network's most challenging segment is Barney Rubble, a short loop with a steep climb and series of obstacles that Reichlin cautioned requires strong fitness. "I can't always make it up that hill without stopping," said the veteran rider. "It's pretty steep,"
Birth of the Blues
The land encompassing Blauvelt State Park has had a long and interesting history. Originally named Camp Bluefields ("Blauvelt" is Dutch for "blue field"), it was founded in 1909 by the New York National Guard as a rifle range. It shut down a few years later after neighbors protested that stray bullets were striking their homes.
After years of serving as a summer camp for the YWCA and Columbia University, the site reverted to military use as a training facility around World War II. It was abandoned after the war.
Although the land has since been allowed to return to its natural state by the Palisades Interstate Park Commission, graffiti-covered ruins remain as hints of the site's past.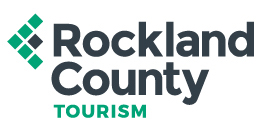 Roaming through Rockland covers outdoor destinations to walk, bike or hike in Rockland County.
Sponsored by the Rockland County Tourism.
Roaming Through Rockland includes: