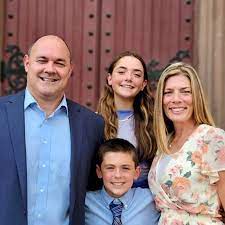 by Matthew Chapman
In less than 5 months, South Nyack will dissolve and be entirely governed by Orangetown. If you want to have influence in the area, you should check out Democrat Lisa DeFeciani who is running for the Orangetown Board.
As a well-respected, multi-term Piermont trustee, Lisa was on the Waterfront committee and the Resiliency Task Force. She is the only candidate who will represent river towns like Nyack and South Nyack. She is not just an environmentalist, but also against overdevelopment, particularly as it relates to protecting public schools from private school depredations.
As some people may know, I supported the dissolution of South Nyack and wrote about how Democrats should not have knee-jerk antipathy to the Orangetown Republicans who ran things the other side of the mountain. I pointed out they weren't going to rule on Roe v. Wade, but rather wade through the details of sewer maintenance (or not). Lisa is a Democrat, but her love of Orangetown, where she grew up, means more to her than party.
But there are things that need rebalancing. Orangetown is majority Democrat, but currently there's only one Democrat on the board. Orangetown is majority female, but apart from Supervisor Teresa Kenny, the five member Orangetown Board is entirely male. Lisa is, like Teresa, a mother of a boy and a girl and cares about their long-term future. Her campaign promise is to Preserve and Protect Orangetown so it can Prosper. As a therapist, wife, mother, and Golden Gloves kickboxer, she'll get the job done–one way or another.
Go to Lisa's website and check out what else she stands for–and then stand for her and VOTE!
And get your friends to vote too. It looks like turnout will be light–your Nyack and South Nyack vote can really make the difference.
Matthew Chapman is a journalist, screenwriter, author, and film director. He was born in England but has lived in America for the last 30 years. He has been involved in the making of almost 20 films as a writer/director, producer, or screenwriter.