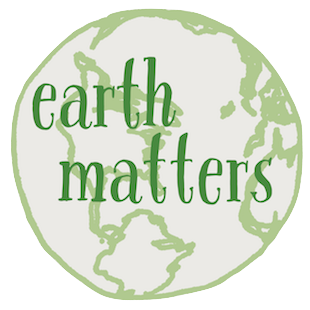 Earth Matters focuses on conservation, sustainability, recycling and healthy living. 
If Earth Matters to you, sign up for our mailing list and get the next installment delivered right to your inbox.
by Joel Newton, Lorien Barlow, and Janine Reimann
As summer yields to fall, we cherish autumnal traditions: foliage gazing, the smell of fallen leaves, Halloween, and Thanksgiving gatherings. One thing many of us don't relish is the sound and smell of another fall staple–leaf blowers.
Gas-powered leaf blowers, a topic of increasingly-heated debate, are with us year-round. Their noxious fumes hang stubbornly in the air and their piercing wails come at us (at-home workers, kids, retirees, and sidewalk strollers) from all angles. We silently resent our neighbors' leaf blowers for waking us up, and we reconsider having cocktails with our friends on the patio.
The negative health impacts of gas blowers are well-documented, particularly for children and seniors, and for the workers who have little choice but to strap on these machines, withstand their (literally) deafening noise and inhale their fumes (1 hour of leaf blower exhaust pollutes as much as a 1,100 mile car trip).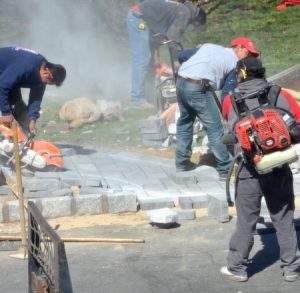 Fall presents a particularly blower-heavy time as many scramble to get every last leaf off their property and onto the trucks that take them away. Between now and December, it'll take a LOT of energy, noise, fumes, and emissions to remove all those leaves. When you pile up the consequences of our leaf-hating habits, you start to wonder if this system makes sense. Amidst the mania to make every leaf disappear, savvy folks are starting to stop and ask, "Isn't there a better way?" The answer is, Yes. Electric equipment combined with organic and sustainable methods is a one-two punch for sending gas-powered leaf blowers into history's dustbin.
With this in mind, 100 towns and cities in 15 states across the country have passed some kind of blower restrictions. California just implemented a statewide ban, and New York is considering the same. Many Westchester towns have taken action, and just this year, Upper Nyack enacted a seasonal ban as part of a noise ordinance.
Some landscapers will say that electric blowers are more expensive and less powerful than traditional gas blowers. They'd lose money and couldn't afford to pay their workers. It's an impractical and elitist imposition, some say. But this isn't a zero-sum choice between harmful gas leaf blowers or landscapers' livelihoods.
Across the country, change is afoot, and it's proving there can be a win-win solution for both community health and landscapers. Electric blowers and mowers are getting less expensive and more powerful, and sustainable landscapers are proving the business case. Connecticut landscaper and owner of Organic Ways and Means, Jeff Cordulack, says, "Part of what I love to do is demonstrate my equipment to other landscapers: most are dubious until about thirty seconds in. It blows their minds when they see that I service properties of all sizes with all electric equipment, and that my crew can run the equipment all day with one rotation of batteries." Cordulack concludes, "This is not that hard–it just takes a little interest. If your landscaper is hesitant, have them contact me and I'll show them an affordable path to go electric."
In transitioning away from gas blowers, we are also respecting the health and safety of workers. Dan Mabe, owner of American Green Zone Alliance, says, "My workers are thrilled, rejoicing to me, 'I can breathe now, I can go home and hug my kids!'"
Complementing the rise of electric equipment is "Love 'Em and Leave 'Em (LELE)," a sustainable approach that involves keeping and recycling leaves on your property. Most people think, "I can't keep leaves on my property, they'll damage my lawn!" Thankfully, there's mulch mowing! This involves mowing right over leaves and chopping them into pieces, which will then quickly disappear into the lawn. Not only does mulch-mowing spare you (and your neighbors) from leaf blowing, but it actually fertilizes and therefore enhances your turf. Whatever leaves remain on areas like your patio or sidewalk are easily handled with an electric blower or broom.
LELE combines mulch-mowing with other sustainable methods such as composting and/or raking into garden beds. A nice layer of leaf litter will insulate and fertilize your gardens, trees and shrubs, while your backyard compost will love those carbon-rich leaves. LELE practices have the added benefits of building soil health, reducing storm water runoff, and supporting our pollinators and other wildlife.
Finally, the village and tax-payers should love LELE too, as it saves on substantial municipal costs for leaf collection, hauling, and dumping.
For more information, and to join the conversation and get involved, please attend one of the upcoming Nyack Library Zoom presentations, "Beyond Leafblowers: Community Discussions on Sustainable Landscaping Practices for Healthier Neighborhoods." To register for the October 26 or November 17 programs, click here or call 845-358-3370 ext. 214. Visit nyacklibrary.org/sustainability for more resources, including links to books and films available through the Nyack Library.
This is a chance to promote human health, quality of life, and stronger ecosystems in our community!
Email Earth Matters 
Read Earth Matters every Wednesday on Nyack News And Views, or sign up for the Earth Matters mailing list.
Earth Matters is a weekly feature that focuses on conservation, sustainability, recycling, and healthy living. This weekly series is brought to you by Julie Wendholt, Financial Advisor & Vice President of Pell Wealth Partners, a private wealth advisory practice of Ameriprise Financial Services, LLC.