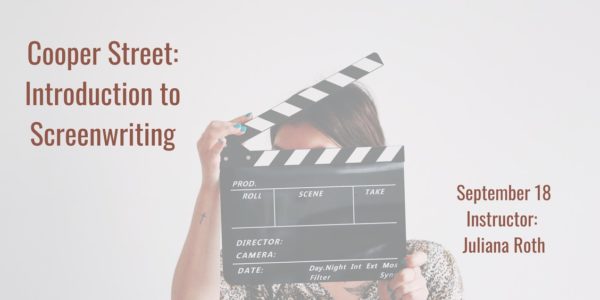 by Juliana Roth
On September 18th, 2021 from 1p – 4p, you can join me for a virtual introductory screenwriting workshop at Rutgers University's Writers House. Using the classic three act dramatic structures to map out a feature length script, this course takes you deeper in understanding what drives characters in film using Hauge's Six Stage Plot Structure. 
With these tools, we discuss how to visually map inner and outer journeys for our characters, inventing scenes and scenarios singular to our worlds. In doing so, we explore how to write character-driven films of all lengths by looking at samples of successful web series, TV pilots, features, and short films. By the end of the class, you will have a rough outline of a story you'd like to write, ideas of where your plot turning points might fall, and a sense of the next steps in bringing your vision to the screen.
I am the creator of the narrative web series, The University, which won Best Web/Pilot at the Los Angeles Film Awards and toured nonprofits and college campuses to raise awareness on survivor justice and consent, screening locally at Rockland Community College, the Center for Safety and Change, and Rivertown Film Society. The project was selected for a national screening with It's On Us, a nonprofit founded under the Obama-Biden administration to organize students across the country on reforming campus policies. I was a participant in the 2021 Stowe Story Labs and was selected for the 2021 Filmshop workshop. My creative writing appears in the Los Angeles Review of Books, The Breakwater Review, Irish Pages, among others. Currently, I teach writing at NYU and am developing new independent projects.  I work with the local arts organizations Rivertown Film Society and the Edward Hopper House, and am a member Playwright/Actor with WCT Theatre. 
The workshop admission is $60 General or $10 Camden residents. Please write to leah.falk@camden.rutgers.edu if you have any questions.