by Mike Hays
It was an era of Cold War fear when children practiced "duck and cover" under their desks in the event of an incoming Russian nuclear bomb. To counter the threat of incoming Russian bombers, a Nike surface-to-air missile complex atop Clausland Mountain was one of the more ideal sites ringing New York City. Built on the site of a WWII observation post that was used to spot German planes, the mountain top radar and command complex was linked to a missile launching site in Orangeburg at first using conventional warheads, but soon nuclear warheads were used. It wasn't a secret. Locating nuclear missiles safely in the suburbs was accepted by most. In fact, missiles were displayed at fairs and church bazaars.
Mount Nebo
Clausland Mountain is composed not of a single mountain but a chain of hilltops along the Palisades between Piermont and S. Nyack. The tallest hilltop, nearly 700 feet, is Mount Nebo at the southern end overlooking Rockland Cemetery and Piermont. The name comes from a biblical reference to a mountain from which Moses saw the Promised Land and upon which he died. The name appears irregularly on maps of the past, so it is unclear who named it or when it was named. Trees obscure the view most of the year. Stone outcroppings show that the soil is thin and not suitable for farming. There is no indication on maps that anyone lived nearby.
Tweed Boulevard
Mount Nebo is reached from Tweed Boulevard named after Boss Tweed whose colleagues had a scheme to build a large hotel atop Hook Mountain in the early 1870s. A large road was planned to bring stagecoaches from New Jersey to the hotel. Land speculation and political corruption doomed the project, but a few stretches of Tweed Boulevard remain.  The terrain is a difficult engineering challenge. The road was not completely paved until after WWII and is still a steep one-way road at its southern end.
Watchfires, Beacons, & Observatory
Mount Nebo is the site of the only remaining original mountain-top watchfire lit by Vietnam Vets on Memorial Day, a tradition started in Rockland County. The Memorial Day watchfires harken back to beacon watchfires that were used as signal posts during the Revolutionary War. Mount Nebo may have been one of those posts. It has long been used an observation point. In 1897, a tower was built by the Federal government on the summit for surveying the Hudson River. It was known as a great destination for moonlit walks by young people.
The Germans Are Coming: The WWII Nyack Tower
With the threat of war in the news before the attack on Pearl Harbor, a 25-foot aircraft observation watchtower was built on solid bedrock atop Mount Nebo by the county highway department to look for German planes. Access to an eight-sided enclosure atop the tower was by steep steps and a ladder through a trap door. Trees were topped off to improve sight lines.  Full use of the Nyack Tower, as the Journal News so labeled it, wasn't expected until an actual emergency.
That emergency came soon with the attack on Pearl Harbor. The U.S. entered the war, and the tower was to be manned 24/7 as a lookout for German planes. Some 90 volunteers signed up for duty immediately, 100 more were to follow. First to sign up was Helen Bryant from England. The rest comprised a cross-section of the local communities including a dentist, a banker, newspaper people including Hal Petit who edited the New York Times Sunday magazine and Upper Nyack resident and lawyer Orville Mann and his brother. Even Helen Hayes and Charlie MacArthur showed up for a photo op atop the tower. Some volunteer observers were Word War I veterans. One spotter had the 12-3a shift, then caught the 7:16a train to the city. Whole families would stand watch together.
Life on the Nyack Tower
Mount Nebo is a windy spot, the tower even more so. The windows leaked when it rained. In the early days, there was no phone. A car was kept running beside the tower. When a plane was spotted one of the spotters rushed down the ladder and stairs, jumped in the car, and drove to a private home 0.3 miles away to use their phone. When the homeowners were away, they left the door open.
Snow caused many problems. Sometimes the relief observer couldn't make it, sometimes cars would be unable to make it up the hill, and observers had to walk through deep snow. Later, a pot-bellied stove and a telephone made observer duty somewhat more tolerable. Signs posted in the tower carried the slogans, "They shall not pass unreported" and "Spot. Identify. Report." It was tedious work with few amusements. One observer said, "the only recreation up there is shining the windows." No one could smoke.
Almost nothing was seen. No shipwrecks, no German subs on the Hudson, and no German planes. Once flickering lights were reported on Mount Nebo by nearby residents. The police discovered that the flickering lights were not a spy signal but the watchtower being flipped on when someone climbed the steps or when a parked car from the nearby "lovers' lane" got too near. Still the view must have been spectacular at times.
Orangetown's Nike Missile Base
The Army's Nike missile program was initiated in 1955 as a surface-to-air missile defense against the attack of Russian planes carrying nuclear bombs. American cities were ringed with batteries of Nike missiles placed far enough away that the spent missile housing wouldn't fall on heavily populated areas.
The army already owned the Mount Nebo site from WWII, and it was a perfect place to house an observation post once again, this time with radar. A command center was constructed on the 15-acre site along with a huge golf ball shaped radar dome whose foundation can still be found there. Below the mountain at the northwest intersection of the Palisades Parkway and Rt. 303 was the missile launch site. Missile were kept in silos until there was need for launch.
A third location in Spring Valley housed soldiers and for a time Ajax missile. By 1965 this site was used as auxiliary elementary school classrooms. Later it became a yeshiva.
The missile complex became operational in 1955 with 60 Ajax missiles with conventional warheads. Soon the Ajax missiles were out of date and replaced by larger Nike Hercules missiles with a range of 75 miles that could reach an altitude of 200,000 feet. The Hercules could wipe out a squadron of Russian bombers.
Throwing SALT on the Site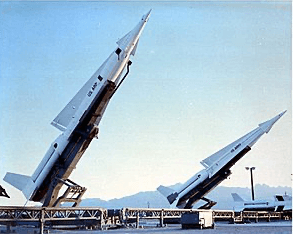 Intercontinental Ballistic Missiles (ICBMS) made the attacks by bombers pretty obsolete. Thus, it was pretty easy for Richard Nixon to throw in closure of US Nike sites by 1974 as one provision in the SALT 1 agreement of 1972. The Orangetown complex was mothballed along with all other U. S. sites. The missile silos were sealed, and the radar site closed. Thankfully, not one missile was ever forced to fire from Orangetown or from any other Nike missile site.  The only death toll from a missile site was a 1958 explosion at a site in Leonardo, New Jersey that killed 10 soldiers. 
The Nike Missile Overlook Park
In 1976, Orangetown purchased the radar track site on Mount Nebo for $10,000. The town made a few improvements including a pavilion and the Nike Missile Overlook Park was born. A pool was planned but never built. In 1995, the Upper Grandview Association made the suggestion that the park buildings be preserved as a Cold War museum, but nothing came of it.
The park is a location known mostly to hikers who use a number of trails in the park. An orange-blazed hiking path connects to the blue-blazed Long Path that runs from the George Washington Bridge to the Catskills. The buildings and foundations that remain including the base of the radar dome are rusted and graffiti-laden testaments to an age when missile crises, the imminent threat of nuclear war, emergency alarms, and school children hiding under desks were on everyone's mind.
Michael Hays is a 35-year resident of the Nyacks. He grew up the son of a professor and nurse in Champaign, Illinois. He has recently retired from a long career in educational publishing with Prentice-Hall and McGraw-Hill. He is an avid cyclist, amateur historian and photographer, gardener, and dog walker. He has enjoyed more years than he cares to count with his beautiful companion, Bernie Richey. You can follow him on Instagram as UpperNyackMike.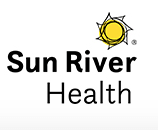 Nyack People & Places, a weekly series that features photos and profiles of citizens and scenes near Nyack, NY, is brought to you by
Sun River Health
, and
Weld Realty
.