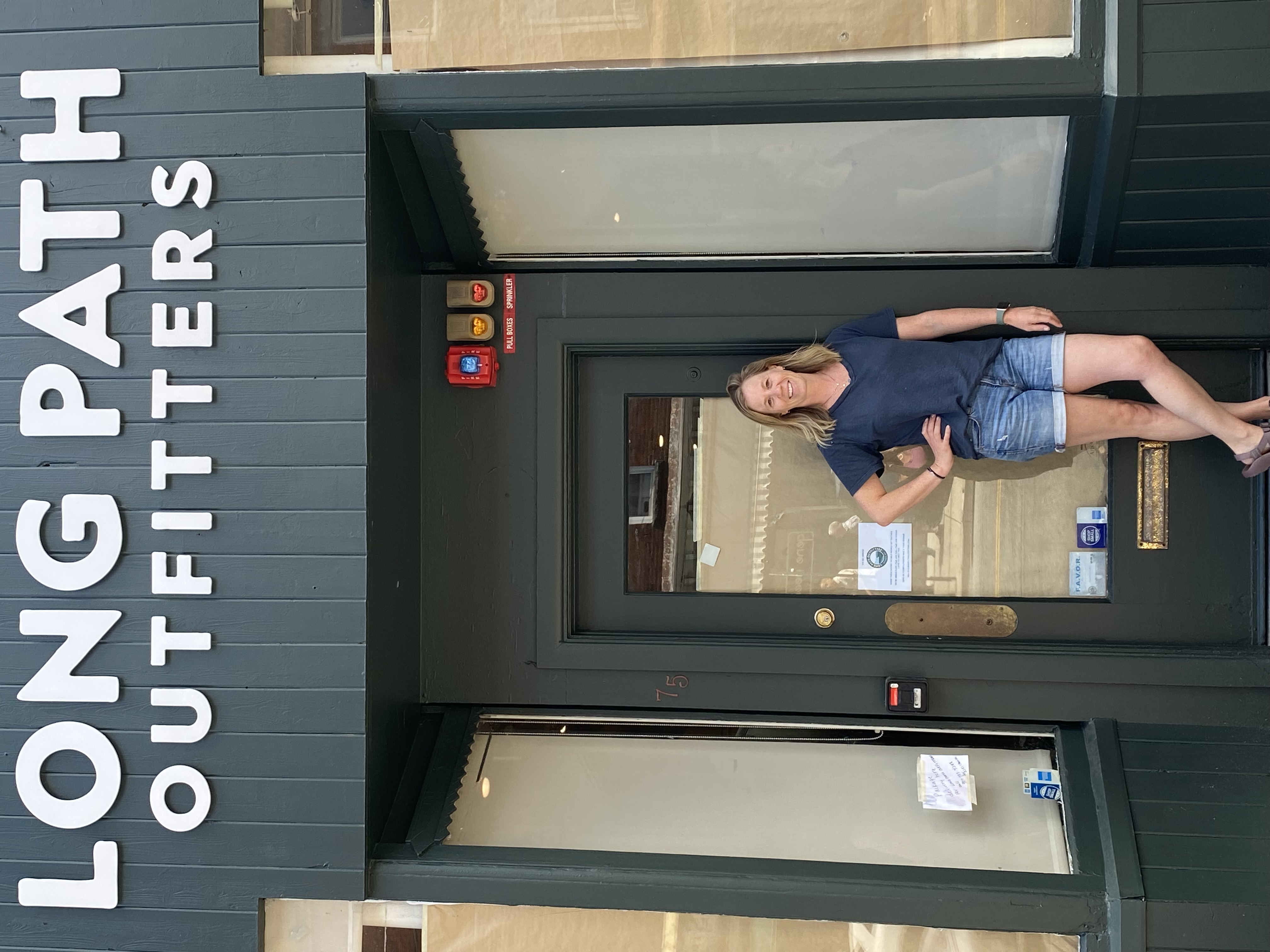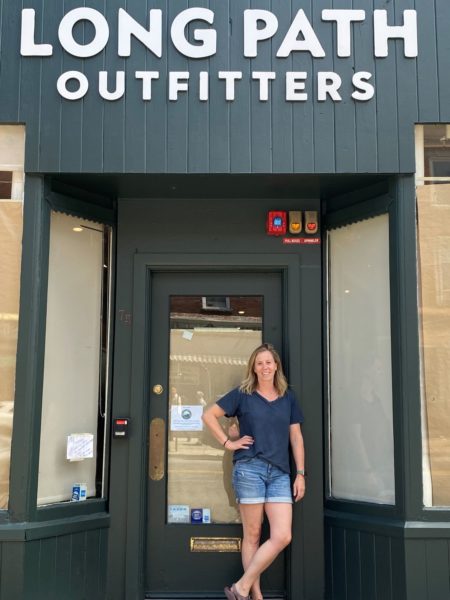 by Dianne Snyder
Those of us who live in Nyack and its surrounding sister towns appreciate that our gorgeous terrain–which includes sweet clusters of mountains, rivers, and hiking trails–is an integral part of life here. Our land lends itself to a good meander, so hiking goes with the area like bread begs for butter.
Now we finally have a retailer that will cater to the unique needs of our community. Planning for a mid-September launch, Long Path Outfitters (LPO), the creation of long-time Nyackian and hiking enthusiast Laura Kreeger-Neil, will be located on South Broadway in Nyack. The name Long Path derives from a 100-year-old path that runs 357 miles starting in New York City at the west 175th subway station near the GW Bridge, and ending at Altamont, N.Y., in the Albany area. This path also leads to many other trails, so Laura feels the company's name lends itself to the question, "What is your long path."
Laura says her goal is to have people come to her store for more than just purchases. "LPO aims to please hiking enthusiasts while also being a resource for new hikers, or hikers new to the county who need more information about trails," she says.
During the pandemic, Laura and her family explored and hiked more than usual. And they visited many stores in small towns, some catering to hiking. It dawned on her that other people also were isolating and taking advantage of trails; she thought, "Why don't we have our own store in Nyack for hiking and outdoor gear?" She had always thought Nyack was a magical place, but now, she says, "The town feels a little more sparkly and I believe this store can be a connection for people." LPO is in an area of Broadway fondly called "SOBRO" (South of Broadway), an intentional community of boutiques and restaurants with a charm all its own, where 18 stores are women owned.   
For Laura, the connection to retail goes back to her childhood. For 14 years her father, Doug, owned a camping store with five locations in New York and Connecticut called Kreeger & Sons. Laura recalls being a kid hiding in the stores' display tents and her father naming a toiletry bag after her called The Laura Pouch. So, for Laura, those rivers run deep. 
The Museum of the Courageous
Laura also brings a good dose of humanity to our town, and to her store. Back in 2017, she and her husband, David Neil, weighed how the negative algorithm of the political landscape was affecting them. "We thought society was celebrating the wrong people and telling the wrong stories," she says. For David, there is a deep, emotional connection. His grandfather, Philip Markowicz, was a holocaust survivor, and Laura realizes her story would have played out very differently if Philip had not been saved by a small bit of sandwich given to him, through a hole in the train car he was on heading to Auschwitz. So they collaborated with a friend, fundraiser and economic development leader, Teresa Vazquez, and came up with the idea for The Museum of the Courageous (MOTC), a place to celebrate the acts of heroic individuals, unknown people who stood up to hate crimes and other moral offenses.
Working with fellow Nyackians Molly and Everard Findlay, their mission is to inspire more people to not only stand up to hate, but also inspire others to act. MOTC, in turn, collects, shares and celebrates their courageous stories. The ultimate hope is that our country will become stronger and more just when more people stand up to hate. The enterprise is now in its second year and Laura says honorees are meeting and learning from each other online. Looking ahead, she plans for MOTC to have a physical space.
What You'll Find at LPO
Long Path Outfitters aims to carry everything from outdoor layering (long underwear, hats, gloves, sunglasses, socks, hiking shoes and sandals, and trekking poles) to books, gifts, and children's items. Eventually, there will also be an online store. 
"The timing is just right," says Maria Whittingham of Maria Luisa Boutique. "With the TZ bridge's walkway, hikers and bikers are introduced to downtown Nyack from the pathway. What better way to greet them than with Long Path Outfitters?"