This week in the villages: On Friday, the South Nyack Board of Trustees voted to move forward with the dissolution of the village. State Senator Elijah Reichlin-Melnick will be holding mobile office hours in Nyack. There's also music and an exotic car show in Nyack. Clarkstown Supervisor George Hoehmann is holding a tele town hall. And the music series continue in the Towns of Clarkstown and Orangetown.
Nyack Area COVID Update for July 31
| | | | | | | |
| --- | --- | --- | --- | --- | --- | --- |
| | 31-Jul | 24-Jul | 17-Jul | 10-Jul | 3-Jul | 26-Jun |
| Active cases by community | | | | | | |
| Nyack | 10 | 7 | 5 | 1 | 0 | 2 |
| Valley Cottage | 4 | 7 | 9 | 3 | 0 | 0 |
| West Nyack | 4 | 4 | 4 | 5 | 3 | 1 |
| Piermont | 0 | 0 | 0 | 0 | 1 | 1 |
| | | | | | | |
| Rockland County | | | | | | |
| 7 day positivity rate | 1.7% | 0.6% | 0.7% | 0.9% | 0.8% | 0.4% |
| Active cases | 239 | 156 | 129 | 96 | 71 | 64 |
| Hospitalized | 5 | 4 | 4 | 3 | 2 | 1 |
| COVID-19 deaths (total) | 968 | 968 | 967 | 967 | 966 | 965 |
Source: Rockland County Health Department / NYS Health Department, 7/31/2021
To schedule an appointment for a 1st dose COVID-19 vaccine from any Rockland County Department of Health Clinic visit rocklandgov.com/departments/health/. To search for additional COVID-19 vaccination opportunities nearby visit vaccines.gov..
Village of Nyack
State Senator Elijah Reichlin-Melnick is holding Mobile Office Hours at the Nyack Village Hall, 9 N Broadway today (Mon, Aug 2, 2021) from 10a-1p. A representative from the senator's constituent service team will be present. The community is invited to attend and learn how the office can help you, ask about legislative initiatives & proposals, and alert the office about community issues.
Music on the Hudson
Nyack Park Conservancy's Music on the Hudson series continues in Memorial Park on Tue, August 3, 2021 at 7p with I Anbassa & The Word Sound Power Movement. Bring your blankets, chairs, and a picnic dinner, and come out to enjoy the music with your friends, family, and neighbors.
Nyack Exotic Car Night
On Thurs, Aug 5, 2021 from 6-9p on Main St between Franklin and Broadway, Nyack's Exotic Car Night will feature a variety of high-performance and rare vehicles from Porsche, Ferrari, Lamborghini and more, including the special attendance of Sleepy Hollow-based supercar manufacturer, Scuderia Cameron Glickenhaus.
Summer Food Program
Just a reminder: Nyack's Summer Food Program is offering FREE breakfast and lunch to ANY child under 18 each weekday through September 3. There are two locations: Waldron Terrace and The Nyack Center. There is no sign-up, no application, no income requirement, and no identification needed. Masks are required.
Village of South Nyack
This past Friday, the South Nyack Board of Trustees voted in support of the South Nyack Dissolution plan. It is expected that South Nyack will be dissolved into the Town of Orangetown by March, 2022.
South Nyack Justice Court will be in session today (Mon, Aug 2, 2021) at 9a.
The Zoning Board of Appeals will meet on Tue, Aug 3, 2021 at 7:30p.
Village of Upper Nyack
A Flyer for Landscapers on the Upper Nyack Sound Law
A flyer for landscapers explaining the Village of Upper Nyack Sound Law is now available in both English and Spanish on uppernyack-ny.us.
Orange and Rockland Tree Maintenance
Orange and Rockland Utilities will be sending contractors from Nelson Tree Service to perform preventative maintenance to vegetation around power lines and poles throughout the village in the coming weeks. Additional information may be found on uppernyack-ny.us.
Save the Date – Public Hearing on Village of Upper Nyack Comprehensive Plan Adoption
The Board of Trustees of the Village of Upper Nyack will hold a public hearing on Thurs, Aug 19, 2021 at 7:30p at the Upper Nyack Village Hall, 328 N Broadway, to consider the adoption of the Village of Upper Nyack Comprehensive Plan. The full text of the Comprehensive Plan is available on uppernyack-ny.us. All interested parties are entitled to appear in person, or by agent, and speak on the subject matter at the public hearing. Comments and questions can also be provided via email before the meeting to Heather Candella, Village Clerk at village.clerk@uppernyack-ny.us.
Town of Orangetown
"Rock the Park" Summer Concert Series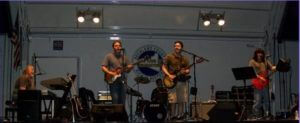 Join Orangetown's Parks & Recreation Department for their "Rock the Park" Summer Concert Series in Veteran's Memorial Park on Fri, Aug 6, 2021 at 7:45p featuring the Mystical Majesty Band the East coast's favorite Beatles cover band.
Town of Clarkstown
Tele Town Hall Tonight (Mon, Aug 2, 2021), 6p
Join Supervisor George Hoehmann for an update on a group telephone call to ask any questions or bring up any concerns you may have. Call 845-207-0875 or 845-639-2150 to join or watch on FB live.
Summer Concert Series
Join the Town of Clarkstown for two  Summer Concert Series shows both at 7:30p at the Lake Nanuet Ballfield, 1 Lake Nanuet Dr and Blauvelt Rd.  The show on Tue, Aug 3, 2021 will feature The Nerds and there will be a collection for People's Back to School with Dignity School Supplies Drive. Please consider bringing donations of new items only (back packs, 1 and 2 inch binders, paper, markers, index cards, folders, wood rulers). A donation box will be at entrance to the concert to help our neighbors in need.  The Wed, Aug 7, 2021 show will feature local high school bands: Jet Lag which plays an edgy rock sound full of spirit, and The Press which plays 90's and alternative rock inspired, but it is all their own. Residents should bring their own chairs or blankets.
Friday Lunchtime Concert Series
There will be a lunchtime concert in the Kevin Landau Park, Corner of Main St and Congers Rd, New City on Fri, August 6, 2021 from 12:15-1:45p featuring the sounds of Dan Lopez. Bring your lunch and a lawn chair and start your weekend on a high note.
Life Guards Needed
The Town of Clarkstown is hiring certified lifeguards. Must be 16 years old. Applications can be found at the Recreation Administration Office located at 31 Zukor Road, New City, on town.clarkstown.ny.us, or you may call 845-639-6200.
Mid-Hudson Region
The New York State Independent Redistricting Commission will hold a virtual public meeting today, Mon, Aug 2, 2021, at 2p for New Yorkers to give public comment before the commission begins drawing the first round of district maps after the Census Bureau releases its data in mid-August. Interested parties may sign up to testify and/or attend the virtual meeting at nyirc.gov.
---