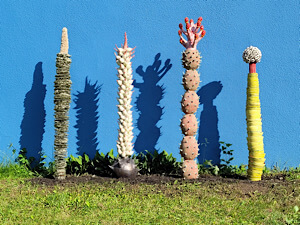 Rockland Center for the Arts (RoCA) recently opened a new botanical sculptures exhibit, Garden Dwellers: Sculptures by Leigh Taylor Mickelson, in the Catherine Konner Sculpture Park. The sculptures, set against RoCA's blue wall, cast dramatic shadows as the day progresses, creating an almost secondary work of art. Mickelson's ceramic sculptures uniquely mimic the range of organisms from their microscopic to the multicellular; however, they also reflect what is recognizably "human": the different components of self, sexuality and family, and how these components relate and conflict with one another. By using natural forms–especially ones found in plant life–she uses her work to "magnify" the elements of this dichotomy: natural forms playing out the spiritual, emotional and physical dramas that exist within our human selves.
Her most recent work gives homage to one of her most recent inspirations: a plant's will to pollinate. For Mickelson, the private "business" of flowering plants mimics human courtship and companionship, seduction and sexuality, to a fascinating degree. It also brings to mind the Garden of Eden story, with its legendary beauty but nascent eroticism. Plant life, once magnified, divulge a beauty and familiarity that is regrettably unseen by the naked eye. Mickelson's work aims to capture the essence and beauty of these organic forms, reveal our shared will to seduce and reproduce.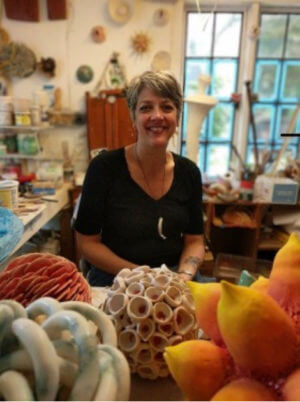 Mickelson is an artist and independent consultant with 22 years of experience in nonprofit arts management. She has served as the Executive Director of Clay Art Center in Port Chester, NY from 2012–2019. In her 22-year career, she has also served as the Exhibitions Director for Baltimore Clayworks and on the board of the National Council on Education for the Ceramic Arts (NCECA) as their Exhibitions Director. She has had several articles published in various publications and catalogs, has taught ceramics and workshops across the east coast, curated dozens of ceramic exhibitions for galleries across the east coast and exhibits her own work widely across the U.S.
The exhibit is open, free to the public, weekends only, during the months of July and August. The sculpture park is not open summer weekdays because of the kids summer camp. Starting August 21, 2021 the park will re-open 7 days a week from dawn to dusk. The exhibit runs through November 30, 2021.
Rockland Center for the Arts is the oldest and largest arts organization in Rockland County, presenting outstanding programming in the arts for over 70 years. RoCA is located at 27 S Greenbush Rd, West Nyack. For more information, call 845-358-0877, email info@rocklandartcenter.org, or visit www.rocklandartcenter.org.