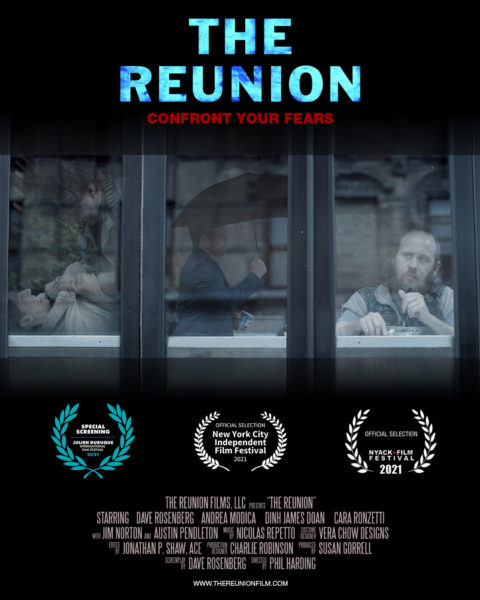 The Reunion is a new independent film created as a passion project by three actors who were close friends living in NYC. The film is about a guy confronting his childhood nemesis at their high school reunion.   
by Dave Rosenberg
Around 2003, I was eating lunch at Cosi Restaurant in Union Square, NYC, when I saw a guy who had traumatized me in my childhood. I told my two best friends, Dinh Doan and Andrea Modica. Dinh said, "You have to write about this" and Andrea said, "You have to confront this guy." 
I set about doing both. I would meet with my friends and we would discuss story ideas and improvise scenes. Then I would go off and write. At the same time, my buddy Andrea was "training" me to confront my nemesis through boxing (physically) and through chess (mentally), and we would implement these training scenes into the script!
One night, when the three of us were having a creative session, Andrea turned to me and said, "You're gonna confront him, right?" I said, "Oh, yeah." "Well, call him up," he said. "What do you mean, call him up? I don't have his number." "Well, find it!" So we set about trying to find this guy's number, for hours–on Facebook, calling old friends, etc. We couldn't find him. The guy was like Kaiser Soze! A few days later, I spoke to a childhood friend, and she told me that her husband had run into him and got his card and asked if I wanted his info. Of course I did. This was like the Holy Grail!
Through a series of emails, I set up a meeting with my nemesis at a bar downtown. I sat at the bar, waiting, praying, meditating. And then he walked in. I had fantasized about confronting this guy since childhood, and here was my opportunity. He walked over and we hugged. He reminded me that we had actually been friends growing up, and he asked me why I hadn't said hello to him when I saw him. This was a completely different perspective than I had! I told him that some things that happened in childhood had stuck with me and I asked him why he did the things he did. He humbly told me that he didn't really remember, that he'd been going through a lot himself, and that he was sorry if these things had stuck with me. 
I could feel all my anger boiling up inside me, and the desire to become the bully I felt he had been to me. But the guy apologized. There was nowhere else to go. I didn't want to be that guy. I didn't want to hurt anyone else. I just wanted to look him in the eyes and make sure he knew (and I knew) that I wasn't afraid anymore and that I wasn't going to let anyone bully me ever again. I later told him that I was writing a movie about all this and he said to invite him to the premiere!
In 2008, we held a staged reading which garnered much attention and accolades, but we were unable to raise the money in the depths of the economic recession. In 2018, with some seed money, the project was reborn and revitalized. We went into pre-production in the fall of 2019 and shot the movie in Manhattan and Brooklyn, guerilla-style for 16 days in June of 2019.

The Reunion is a passion project created by three friends, following in the footsteps of similar films born by brotherhood,  such as Swingers, Good Will Hunting, and Blindspotting. The movie illuminates New York City in the way movies like Annie Hall, Manhattan, and Taxi Driver did in the 1970s. 
The Reunion will be featured at the 9th Annual Nyack Film Festival on August 18th at 9:45p. To view the trailer and purchase tickets for the festival go to www.thereunionfilm.com