New documentary Truman & Tennessee: An Intimate Conversation now streaming with Rivertown Film Society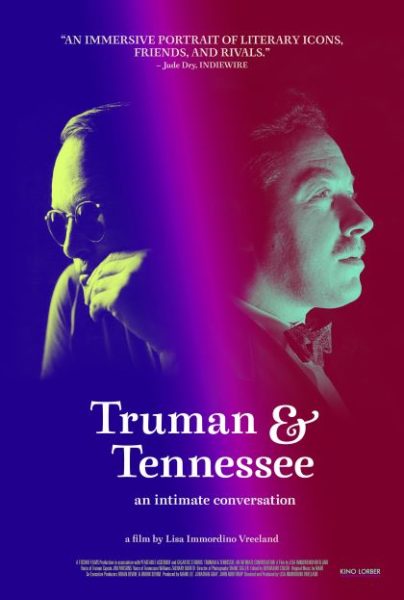 by Juliana Roth
"Anyone interested in Southern Literature—or American Literature, for that matter—should be interested in the work of Tennessee Williams and Truman Capote. For lovers of Carson McCullers, there is the added angle of the two writers' relationships with Carson McCullers. McCullers and Williams—or '10,' as she called him—were very close friends for the last twenty years of her life," says Nick Norwood, director of the Carson McCullers Center for Writers and Musicians. "And Carson's sister Rita, who served as fiction editor at Mademoiselle, was one of the first to publish Capote's work. Carson didn't seem to appreciate that very much since she felt Capote was openly stealing from her!"
Carson McCullers (A Member of the Wedding, The Heart is a Lonely Hunter) lived in Nyack for a majority of her adult life. While McCullers died at the age of fifty, Capote and Williams found themselves together in the public eye for nearly forty years. They were both gay men and literary stars who struggled with success and its consequence. Filmmaker Lisa Immordino Vreeland's new documentary, Truman & Tennessee: An Intimate Conversation, expresses the complexity of their dual life stories through archival footage, voice actors, and clips from the screen adaptations of their work. In so doing, the film unearths troubling mythologies of artistic greatness and the social impact of these two visionary artists.
On June 28th at 7p, Norwood will join Karen Clark, board member of Nyack's River River Writers Circle and instructor of a course on Capote's In Cold Blood for a virtual discussion on the film, which began streaming on Rivertown Film Society's website on Friday, June 18th. Their discussion will be moderated by local writer/filmmaker Juliana Roth.
"I was more interested in constructing an entire movie around their friendship, letting these writers speak for themselves about their creativity, their process, what drove them to write, the struggles and passions of being an artist, the difficulties of trying to make a name for yourself, and maintaining that kind of success at a certain level. I wanted to make a movie about two writers telling their own stories, in their own words," says Vreeland of her vision for the film.
The Nyack Library, River River Writers Circle, Carson McCullers Center for Writers and Musicians ,and Rockland County Pride Center are Community Partners for the screening. More details will be available on Rivertown Film Society's website. Tickets are $12.